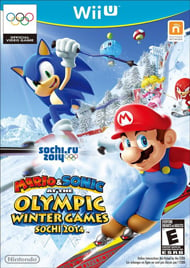 System: Wii U
Dev: Sega Sports Japan
Pub: Nintendo
Release: November 15, 2013
Players: 1-4
Screen Resolution: 480p-1080p
Mild Cartoon Violence
Still Not Good Enough for Gold
by Sean Engemann
Two of video game's greatest mascots are continuing their biannual tradition of sporting the moniker of world-class athlete for Mario & Sonic at the Sochi 2014 Olympic Winter Games. Though SEGA and Nintendo have already played host to the Winter Games four years ago, things are a little bit different this time, as it marks the first time our rival flag bearers have competed on Nintendo's new console, the Wii U. The GamePad controller also brings with it new control schemes for some events as well as other off-TV channels, and the series finally goes online for a global competition. However, not everything is shiny and new, as some of the mundane events from the original Winter Games have received little in the way of upgraded gameplay, and there's plenty of noticeable recycling, which is disheartening considering the we're now playing on a "next-gen" system.
You'll be hard-pressed to categorize the gameplay as either a sports game or a mini-game collection, and it seems to find its niche somewhere in between. There's a nice variation of events, such as hitting the slopes with skiing and snowboarding, strapping on some skates for hockey and figure skating, braving the bobsled and skeleton tracks, and even completing a satisfying round of curling. There are also subcategories of certain events, such as snowboarding, where you can choose between Parallel Giant Slalom, Slopestyle (landing tricks), or a four-person race to the bottom in Cross. The Single Match mode lets you choose any event and dive right into the action.
If you're looking for a little more Mario & Sonic flair, the Dream Events throw conventions and believability out the window. Here you'll find games such as Mario's (or Sonic's) Figure Skating Spectacular, which has you performing moves on an ice rink that has been transformed into an adventure land. Or perhaps you're more into Hole-In-One-Curling, blending the rock-throwing sport with mini putt. Even a little third-person shooter action is added in with Snowball Scrimmage, where you are packing a motorized snowball launcher and playing a not-so-friendly game of capture the giant snowball.
In total, it's a healthy supply of diversions to whittle your hours away, but while some will beckon you back many times, others will likely enjoy only a single attempt. One praiseworthy event is Alpine Skiing, which is a solid slalom and speed dash to the bottom where you use the Wii Remote to control the tilt of your body, trying to nail the flags at the precise spot for a speed boost. Figure skating gets a thumbs up, but more because the animation and move execution is fluid and original. The single-player Skeleton and 4-Person Bobsleigh get top points in the Best Thrill category. Changing the view to a first-person perspective gives a great visual sense of speed. However, it's the sound that had me coming back again and again. The sound of shredding blasts out the speakers as you maneuver your guy through the track using the GamePad, and this sound is mind blowing if you have headphones on. Trust me, all you need is a fan blowing in your face and you'll feel like you're there. Like the original game, curling receives Best In Show, and could easily take thirty to sixty minutes to finish with an abundance of tactics and precision. The GamePad provides a perfect tool called Strategy Time, where you can mark lines, pick target spots, and even have the computer display the optimal shot, all which is then translated onto the TV before you take your shot. The speed of the throw, curl of the stone, and ricochet after hitting another stone all highlight why curling is called chess on ice.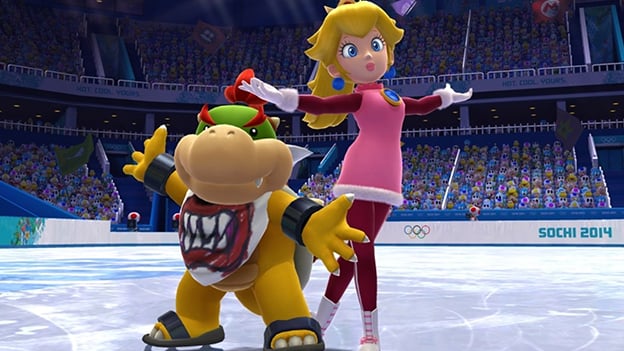 The game contains some throwaway events, many of which just use rehashed Wii controls already seen in the masses of mini-games released for the Wii. One of the biggest disappoints, Biathlon, promised to be an exciting mix of cross-country skiing and rifle shooting. Instead of excitement, the shallow controls deliver a boring, routine mini-game. Instead of working your arms to scale the hills, a simple tap of the B button exhausts some stamina and pushes you forward. The shooting aspect is as simple as it gets–five stationary targets with a bullseye that's easy to hit. The event is over in just a couple of minutes, and thankfully so. And sadly, hockey, the sport of my home country, has received little improvement from the previous Winter Games, occurring in ninety-second periods that require little more than cutting across the Shy Guy goalie and tapping the shoot button.
Despite many of the events lacking in quality, Mario & Sonic at the Sochi 2014 Olympic Winter Games is by far more enjoyable to play with four friends. All the usual suspects of the two series are present, from sidekicks, such as Yoshi, Luigi, Tails, and Knuckles, to villains, such as Bowser and Dr. Eggman. You can also represent your country of choice online and compete for a global standing. Each week, four random events are available, with your skill (or lack thereof) contributing to your country's position in the global rank. The one Snowboard Cross event I managed to find opponents for (due to this being a pre-release review) ran lag free and carried with it more importance than simply besting my record time in the single-player mode.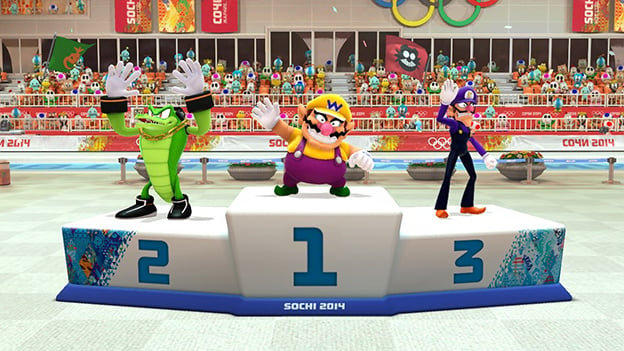 Overall, the graphics are a huge improvement from before. Character models are stock designs, but with smooth outlines and bright colors. The Mario- and Sonic-inspired venues found in the Dream Events deliver a welcome change in the palette compared to the abundance of white found in the standard Olympic events. The spectating crowd is also given a color wash; however, their animations are still slow and rigid, a carbon copy from the Wii game. The draw distance is also a strong highlight, and can be easily admired in events such as Ski Jumping.