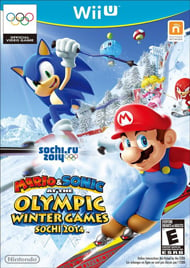 System: Wii U
Dev: Sega Sports Japan
Pub: Nintendo
Release: November 15, 2013
Players: 1-4
Screen Resolution: 480p-1080p
Mild Cartoon Violence
My previous praise of the Bobsleigh sound effects is one of only a couple audio highlights in the game. The figure-skating compositions are nice, rhythmic choices for that particular event. However, the rest of the soundtrack, as well as all the punch lines from the characters, are pulled straight from SEGA and Nintendo's archives, and though they sound clean, the material is dated.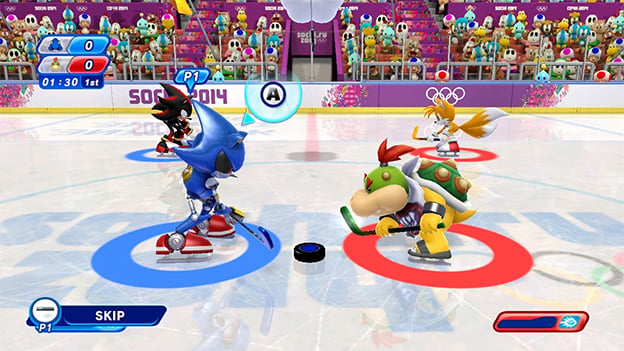 Going beyond the single events, there are a few other game modes available. The Legends Showdown is the campaign of the game, where you make your way through each event against a shadowy doppelganger of your character in order to claim the Legend Trophy. Medley Mania clusters a few events together, where the points are aggregated and the ultimate victor being decided after all the events are completed. Then there's the odd Action & Answer Tour that combines a series of events with a game-show backdrop. Here, you'll find events are given a little twist. Perhaps your curling game has you throw stones with cutouts of a Mii face, or you need to kick a die while speed skating. There are also plenty of points to collect, outfits to unlock, and 248 achievement-like challenges to complete.
Since every event requires the use of the television, the GamePad has been transformed into a separate TV with its own channels. Here you can check updated news and world rankings, compare statistics, download runs from other contenders around the world, view detailed descriptions of the challenges you've completed and the rewards they yielded, and view weekly updated rankings of your friends. It's all menu-screen filler material, and it would have been nice to see a more substantial use of the second screen.
It's always a thrill (especially for us gamers of the bit-war era) to see Mario and Sonic duke it out. Mario & Sonic at the Sochi 2014 Olympic Winter Games is as good a venue as any to support your preferred publisher as well as your country. The updated visuals and online functionality are welcome improvements, but if you've already spent hours nailing high scores and low times four years ago, the events haven't changed drastically enough to warrant two purchases.
By
Sean Engemann
Contributing Writer
Date: November 4, 2013
Game Features:


Join your favorite characters, from Mario and Sonic to Princess Peach and Amy, as they team up and compete in the most exciting sports events at the Sochi 2014 Olympic Winter Games.

Enjoy the thrill of 24 exciting events including bobsleigh, skiing, figure skating pairs, and even snowboard slopestyle, which will make its Olympic debut in Sochi, Russia.

Feel closer to the action than ever before with the first entry in the Mario & Sonic series to utilize the Wii U GamePad and Wii Remote Plus controllers.

Take on Snow Day Street Hockey, Rollercoaster Bobsleigh, and more supercharged Dream Events that combine familiar sports with outrageous settings, rulesets, and extreme action!

For the first time, head online for global competition to help earn top scores for your home country! Let the games begin!