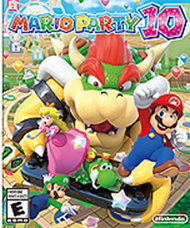 System: Wii U
Dev: Developer
Pub: Publisher
Release: Release
Players: 1
Screen Resolution: 480p-1080p
ESRB
Graphically, this game is exactly what you'd expect from Nintendo. There's a lot of colors that are consistently pleasing to look at rather than irritating. You know, everything is cutesy, but not to the point at which you'd feel like you'd entered a field of My Little Ponies mixed with Care Bears and Strawberry Shortcake all rolled into one. The character models are sharp and crisp and match with the environments. Simply put, Nintendo knows how to make their worlds look good and make you happy you visited the Mushroom Kingdom as often as we have.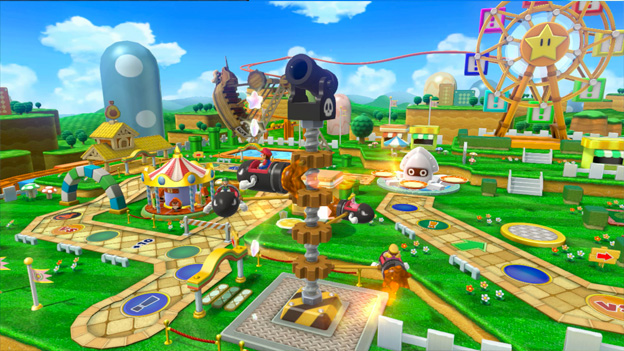 If you were expecting this title to be the one where Nintendo decided to stray away from the familiarity of the sounds of the franchise, you're in for a little disappointment. However, most of us know what type of sounds would come pouring out of this title even before we started, and this too is a comfort thing for Nintendo. The consistent familiarity of the sounds, graphics and gameplay is why both Nintendo and the Mario Party series have been around for as long as they have.
Mario Party 10 does not drastically change the mold. It does not evolve things into unfamiliar territory, nor does it become some gaudy, hollow version of its former self. It's simply you everything you want it to be. I cannot rave enough about how important this simple approach is to the survival of Nintendo. Not just for this franchise, but the gaming industry as a whole. Mario Party 10 has reminded me of the purpose and importance of gaming with friends. These are the games that stand out in a field full of tortured heroes, fallen worlds, and apocalyptic destruction, and it is these games people are in desperate need of to get back to basics of gaming – having fun. It might not be that for everyone all the time, but if you ever find yourself on the brink of ending your gaming experience due to one reason or another, grab some friends and punish each other the old fashioned way with harmless fun. Mario Party 10 has that fun in spades, and will remind you why you are a gamer in the first place.
By
Matt Walker
Editor-In-Chief
Date: March 18, 2015
Game Features:


70 minigames.

Play with your Amiibo.

BE BOWSER!!!