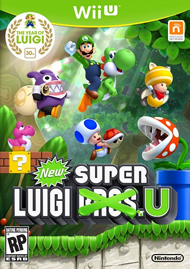 System: Wii U
Dev: Nintendo
Pub: Nintendo
Release: June 20, 2013
Players: 1
Screen Resolution: 480p-1080p
Comic Mischief
But anyway, where was I? Oh yes, the game's challenge brings back the relevancy of lives in a Mario game. Many people often wonder if there is a point to having lives if we'll just end up with 56 halfway through the game. If I ever see someone end up with 56 lives at any point during this game, I'd like to meet them and shake their hand, because obviously, they're a lot better at video games than I am. Personally, I'm willing to bet the general population ends up using 56 continues.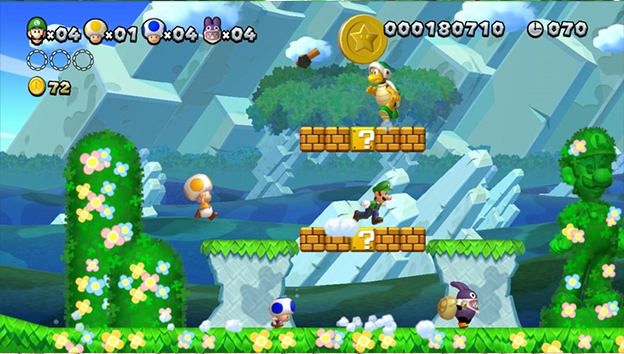 Like the original release, New Super Luigi U also features co-operative multiplayer for 2-5 people. The game plays out in a very similar fashion with one exception: Nabbit is now a playable character. Nabbit is special due to the fact that he doesn't take damage, allowing less skilled players to still enjoy the platforming challenges.
New Super Luigi U is the kind of game the Wii U needs. It's familiar enough to bring in long-time Nintendo fans; it's new enough to bring in the newcomers; and it's challenging and rewarding enough to keep people playing. The discounted price ($19.99 if you own New Super Mario Bros. U, $29.99 at retail) sure helps, too. It makes me wonder what the future for Mario Bros. DLC holds. Will we see a New Super Princess Peach U? Will there be a similar release with Super Mario 3D World? If New Super Luigi U is any indication as to how these games would play out, then sign me up.
By
Jake Valentine
Contributing Writer
Date: June 21, 2013
Game Features:


Revisit New Super Mario Bros. U with Luigi, who can jump higher and slide longer, controlling completely different than Mario.

80+ redesigned courses create an all-new experience.

100-second limit on each course means you gotta get a move on!