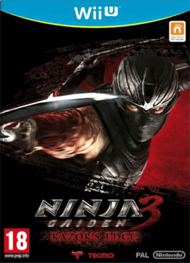 System: Wii U, PS3, Xbox 360
Dev: Team Ninja
Pub: Tecmo Koei, Nintendo
Release: November 18, 2012
Players: 1 (2-8 online)
Screen Resolution: 480p-1080p
Blood and Gore, Intense Violence, Strong Language, Suggestive Themes
Also, the camera in Razor's Edge still has the same quirky inability to point in the right direction. However, it's always redeemable with a few quick swipes of the right control stick, and it reminds me of Mario 64, so it gets a pass.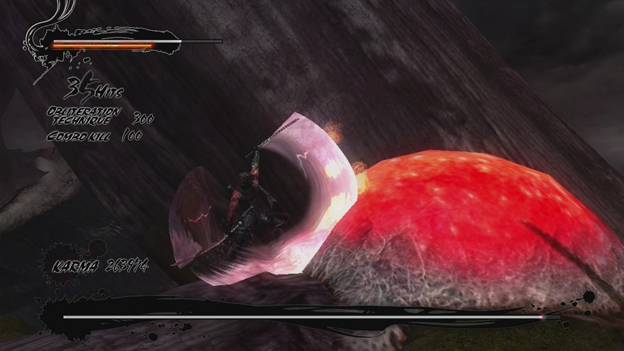 Perhaps the biggest perk to the Wii U version of Ninja Gaiden 3 is the addition of Dead or Alive's Ayane. In the last few NG titles, Ayane made a couple of cameo appearances, but on the Wii U, players can take control of the Dead or Alive mistress in her very own mini-campaign.
Ayane has a slightly more agile fighting style, if that's even possible, and her own little cache of weapons. Her campaign is nothing impressive or lengthy, and it's interwoven with the central storyline, but it is an impressive little extra for Wii U owners.
At the end of the day, Team Ninja has done a remarkable job cleaning up the problematic elements in Ninja Gaiden 3—the phrase "polishing a turd" comes to mind. But the improvements have definitely translated into an incredibly entertaining experience. It's not perfect by any means, but it's just the kind of blood-splatter free-for-all that the Wii U needed to solidify itself in the hardcore market, and it's one of the most enjoyable turds I've ever had.
Wait. Ignore that last thing.
By
Josh Engen
News Director
Date: December 3, 2012
Game Features:


New Playable Character: Ayane - Ninja Gaiden 3: Razor's Edge adds a new playable character: the female ninja, Ayane, who will be available in her own exclusive new chapters within the story mode.

Chapter Challenge Mode - In this separate mode, players can progress through any of the chapters in the story mode using either Ryu Hayabusa or Ayane.

Online Co-op Multiplayer mode with Ryu and Ayane - In addition to an up to eight-player multiplayer battle mode, the game now offers Ryu and Ayane as playable characters in the two-player online co-op multiplayer mode.

Unique Wii U controls - During single-player mode, players can enjoy faster and more fluid action by using the touch screen of the Wii U GamePad controller to select weapons, execute Ninpo or see the combo chart.

New Weapons and Ninpo Types - Exclusive to the Wii U version, the game includes six weapon types and three Ninpo types for Ryu Hayabusa, allowing for greater gameplay variation and deeper strategy. Ayane also comes with her own set of weapons and Ninpo types.

Character/Weapon Progression System - Using the Karma points earned during game play, players can now upgrade their weapons and Ninpo, earn new moves and increase the character HP level.

Faster, More Intense Battles - Improved enemy A.I., the return of dismemberment, as well as new enemy types and battle areas have been added for greater variety in battles and increased replay value.