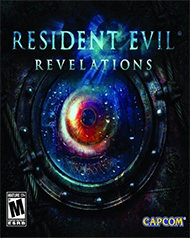 System: Wii U, PS3, PC, Xbox 360*
Dev: Capcom, Tose
Pub: Capcom
Release: May 21, 2013
Players: 1 (2+ Online)
Screen Resolution: 480p-1080p
Blood and Gore, Intense Violence, Language
Classic Survival Horror
by Joshua Bruce
Throughout my time in Resident Evil: Revelations, there was one three-word phrase that popped into my head repeatedly – "For a port." I would think, "the graphics are pretty good on this game, for a port." Or, "this plays really well, for a port." This presented me with an ethical quandary – do I review this game solely on the merit of this version? Or do I take into account that it is ported from the handheld, and not hold it accountable for any flaws that may have come from the transition? Ultimately, I decided that this version of the game must stand on its own.
Not to say that this game is bad. To the contrary, it is probably the best Resident Evil title to be churned out in years. And if you can get past a few annoyances and quirks, this game is actually quite an enjoyable experience.
Resident Evil: Revelations is a return to the classic survival horror gameplay that was established early on in the series. Limited ammunition, unsettling environments, exploration, and scavenging bring back old memories of great Resident Evil games from the past. This game simply feels like Resident Evil, which is a breath of fresh air for a series that seems to have lost its identity as of late.
Throughout the ten-or-so hour campaign, you play as familiar RE veterans Jill Valentine and Chris Redfield during their mission to uncover the resurgence of the bio-terrorist organization, Veltro. The game is centered on a cruise ship (named the SS Queen Zenobia), and follows the horrific events of a bio-terror attack on the city of Terragrigia, a huge floating city in the Mediterranean Sea. The story of Revelations is broken down into episodes that make it a bit less convoluted than most recent Resident Evil outings. Yet, it still manages to deliver a complex story that is befitting the conspiracy style that Resident Evil is known for. And don't worry, there are enough plot twists and character transitions to get your attention and keep it.
But the problem with porting a game from a handheld format isn't the story, it's the graphics. This is where Resident Evil: Revelations stumbles. I could say that the graphics are a dramatic improvement over the original handheld version, which would be true. But that's not enough to bring the visuals of this game in line with the level of graphical quality that we have come to expect from console games.
Let me explain. The character models in the game look excellent. They are detailed and are far superior to the handheld version of the game. However, most of the backdrop of the game has remained unchanged, or at most marginally upgraded. The result is an HD character model surrounded by low-res textures that just looks off. Though, to be fair, some textures were clearly updated along with character models and animations, but this just brought out the visual differences more.
Additionally, you can tell some low-res animations survived the console transition as well, such as the "death melt" of your T-Abyss enemies. These monstrous foes go from a hi-res horror freak-show to a low-res pile of unflinching gelatinous goo in about three seconds flat. Not to mention, you can walk through this muck and come out clean on the other side. I could have done with some bloody footprints and maybe some squishing sounds when I walked through, but, alas, I was forced to drive on, as if this enemy never existed.
But where the visuals of Resident Evil: Revelations fall short, the rest of the game picks up the slack admirably. The control scheme isn't perfect, but it functions well enough, and alternate functions and weapons are easily accessible. The ship sways back and forth slightly as you traverse its dark corridors, which adds an additional layer of control complexity that was both necessary and expected. The ability to shoot and move makes a welcome return to the game, and proves its worth over and over again.
Also, a new piece of equipment is introduced, called the Genesis. This invaluable item gives you the ability to locate important items in the environment – such as ammunition, keys, and other extras that make your life a little bit easier. You can also use this gizmo to scan the corpses of your enemies, which will eventually supply you with a health regeneration item of some type. This is a necessity, especially if you are playing the game on harder difficulties, like Infernal mode.