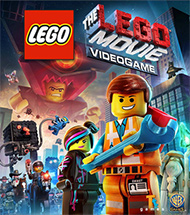 System: Xbox One, PS4, Wii U, PS3*, Xbox 360, PC, 3DS, PS Vita
Dev: TT Games
Pub: Warner Bros.
Release: February 7, 2014
Players: 1-2
Screen Resolution: 480p-1080p
Cartoon Violence, Comic Mischief
But if there is an area that shines above all others in The LEGO Movie Videogame, it's the sound. This game has a serious leg-up on its predecessors, considering it had a Hollywood produced film to pull from. Much like LEGO Lord of the Rings, the voice cast is an impressive collection of A-list actors. But this time around, they are voicing LEGO characters specifically, which adds a lot to the soundscape. Seriously, who doesn't want to play as a mushroom-staff wielding, hippy Morgan Freeman? Everyone does, and if you said no, you're lying to us and yourself. Music is pulled directly from the film as well, and the song "Everything is Awesome!" is destined to be stuck in your head for days after you play The LEGO Movie Videogame. Add to that the polished sounds that have graced LEGO games for some time, such as brick-building and destruction, and you have a complete soundscape. Honestly, I don't think they could have done it any better.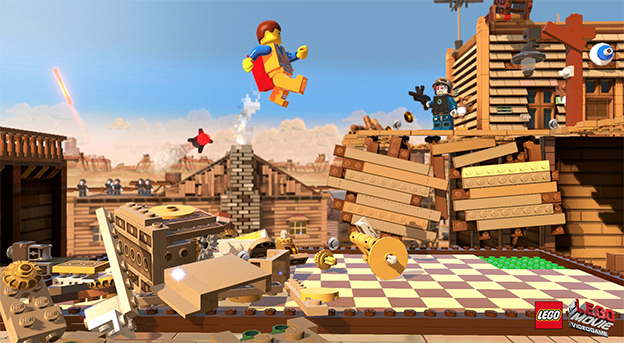 There is a ton to do in this game. Aside from the main storyline, you have over 90 characters to collect, many different worlds to explore and tons of extras to find. You can search for different pants for Emmet, Gold bricks, Special bricks, Gold Instructions, and tons of other extras. Revisit your favorite levels and unlock new areas and items. Play through levels with different characters to add a little flavor to the gameplay. The options are almost limitless.
What I liked most about The LEGO Movie Videogame is that it is completely original. Maybe not in terms of gameplay, though they do get creative in sections, but because it is its own story. So many LEGO games have taken us through our favorite movies, like Star Wars, Harry Potter, Indiana Jones, or Lord of the Rings, but they always ended up being a satirical take on an established franchise. The LEGO Movie Videogame takes a chance and creates an entirely new world, while bringing what they've built over the years together as well, snapping all the pieces into place for an epic adventure where the everyman is the hero, that carries with it a good message. It's not often you see companies break from the tried-and-true method of making money off of licensed games, so The LEGO Movie Videogame and movie were a breath of fresh air. So, if you like LEGO's, comedy, and having a good time, do yourself a favor and get this game.
By
Joshua Bruce
Video Director
Date: February 17. 2014
Game Features:


Journey through fantastical worlds like Flatbush Gulch, Cloud Cuckoo Land and more!

Harness the awesome power of the Master Builders to virtually build extraordinary LEGO creations.

Enjoy a brand new animation style as seen in the film that simulates the movement of actual LEGO toy sets.