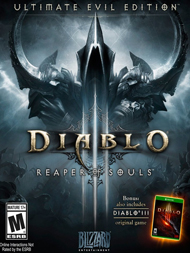 System: Xbox 360, PS3, PS4*, Xbox One
Dev: Blizzard Entertainment
Pub: Blizzard Entertainment
Release: August 19, 2014
Players: 1-4
Screen Resolution: 480p-1080p
Blood and Gore, Partial Nudity, Violence
Adding to the already bountiful selection of extra gameplay features, the addition of the Crusader class includes even more Diablo III goodness to discover. The Crusader is definitely a brawler, but with a bit of magical and ranged ability. This addition rounds out an already complete cast of characters and the power of the Crusader is undeniable.
But, though Diablo III has evolved much, there are some things that just don't need to be changed. At least not much. One thing that remains almost completely intact from the original game is the soundscape, and rightly so. The old adage is "If it ain't broke, don't fix it" and that certainly applies here.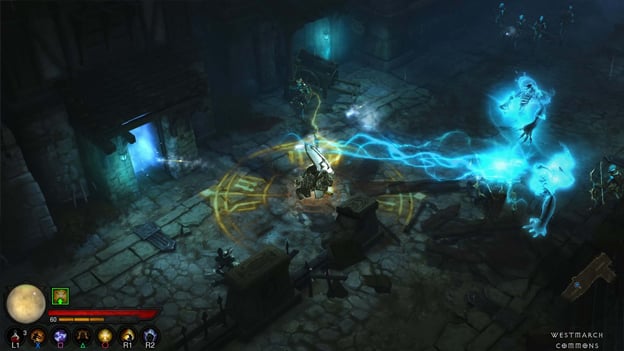 Visually, Diablo III: Reaper of Souls – Ultimate Evil Edition looks better than ever, especially on the PS4 and Xbox One. Upgraded to 1080p on PS4 (the platform on which I played) and locked at 60 fps, there is a noticeable increase in graphical clarity. Most notable is the visual performance though, through about 20 hours or so of gameplay I never saw any glaring issues. No framerate drops and no visual glitches of any kind. Even during the in-game rendered cutscenes which were notoriously finicky on the original version. Even though the visual improvement isn't huge in terms of eye candy, it is easily much more stable and reliable and that make for much better gaming.
So, I guess it's time for the $60 question. Is Diablo III: Reaper of Souls – Ultimate Evil Edition worth buying? First of all, if you've never played Diablo III then the answer is a whole-hearted and resounding YES! You don't know what you're missing. If you have played Diablo III before, you can import your old characters, breathe new life into them and play a totally revamped game. What I love most about the Ultimate Evil Edition is how it does deliver the content in a fresh way and is not just a simple port. So, if you're looking for some Action-RPG goodness, Diablo III: Ultimate Evil Edition is the game for you, no doubt about it.
By
Joshua Bruce
Video Director
Date: August 19, 2014
Game Features:


CALL UPON YOUR ALLIES - Play solo or form a party of up to four other heroes - either with local players together on the same screen or online with players via PlayStation Network or Xbox Live.

RISE AS A CHAMPION - Stand as one of humanity's last defenders - crusader, barbarian, witch doctor, demon hunter, monk, or wizard - and level up with devastating powers and legendary equipment.

LIFT THE DEMONIC SIEGE - Lay waste to hordes of evil throughout all five acts of the Diablo III storyline. Or explore the open world in Adventure Mode to hunt bounties on the elder evils that lurk throughout the mortal realms.