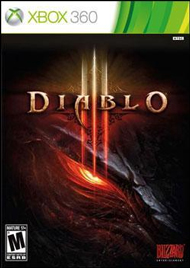 System: Xbox 360, PS3*, PC*
Dev: Blizzard
Pub: Blizzard
Release: September 3, 2013
Players: 1-4
Screen Resolution: 480p-1080p
Blood and Gore Violence
Adding to the already complete package, I am happy to report the soundscape of Diablo III survived the console transition unscathed. The voice-acting is solid throughout, but it can get cheesy at times, even though it seems intentional. The sound effects are excellent, and the unique ambient score sets the tone for dungeon-raiding goodness.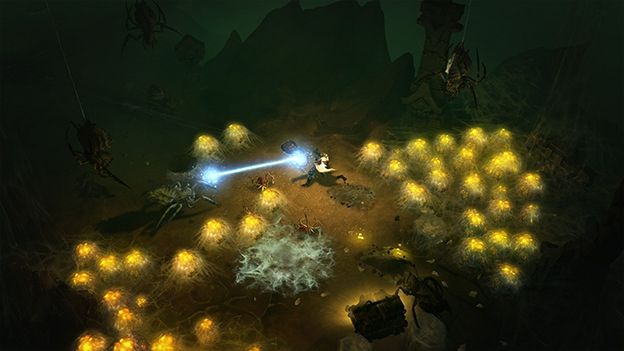 Though Diablo III is a wholly fulfilling single-player experience, everything is better with friends, and this is no exception. This console port that seems to be concentrated solely on the fun of the game adds a few features to the multiplayer that are worth a look. The fun of the game speaks for itself, and the difficulty level of your game scales up with the amount of players fighting in your party. This is nothing new, but it definitely keeps things interesting. Additionally, there are several facets to the game that are specific to every player in the party, which is impressive. Loot drops, cutscenes, and dialogue are unique to each player during a multiplayer session. This means no fighting over the best loot, you don't have to watch a different character's cutscenes, and dialogue that you initiate (with the exception of main-story dialogue) doesn't clutter your sound up and take you out of what you're doing. Somehow, Blizzard managed to let players play alongside one another without keeping the annoyances that typically come with the territory. Add to that the removal of the auction house and the lack of an online requirement, and you may very well have the game that gamers were looking for 18 months ago.
So, PC gamers, burn effigies if you must, but I enjoyed Diablo III way more on console than I did on PC. There, I said it. This is simply because this version is more focused on the fun of the franchise instead of trying to turn a beloved dungeon-crawler into an MMO. No matter how you play it, though, Diablo III is the pinnacle of its genre, especially on consoles. Unfortunately, I fear that those loyal to PC gaming will never get to experience the game in this form, and that's a shame. Now, if I can only find that damn cow level…
By
Joshua Bruce
Video Director
Date: September 4, 2013
Game Features:


Evil Is In Its Prime - Twenty years have passed since the Prime Evils were defeated and banished from the world of Sanctuary. Now, you must return to where it all began - the town of Tristram - and investigate rumors of a fallen star, for this is an omen that the End Times have begun.

Pick Up and Slay - Take a stand as one of humanity's last defenders - barbarian, demon hunter, monk, witch doctor, or wizard. Directly control your character against the hordes of the Burning Hells and unleash devastating powers enhanced for console controllers.

Conquer a Dynamic Battlefield - Lay waste to legions of evil throughout randomized, 3D environments. Face innumerable demonic villains, uncover quests in new locations, and claim an abundance of loot every time you play.

Call Upon Your Allies - Play solo or form a party of up to four heroes - band together with local players on the same screen, invite online players via PlayStation® Network, or mix and match. It's dangerous to go alone!