System: Xbox 360
Dev: 343 Industries
Pub: Microsoft
Release: November 6, 2012
Players: 1 (2+ Online)
Screen Resolution: 480p-1080p
Put your Spartan IV to work in the War Games, with two versions of Slayer, and Regicide (where the "King" is the target of choice) revealed so far. In all game types, you gain experience points with every kill, spree, assist, revenge, and every other recognized achievement in battle. Ranking up unlocks new armor sets, skins, components, emblems, and other trinkets to personalize your Spartan. There's a strong incentive to keep playing, as the highest tiers offer gameplay upgrades that could easily tip the scale in a heated match.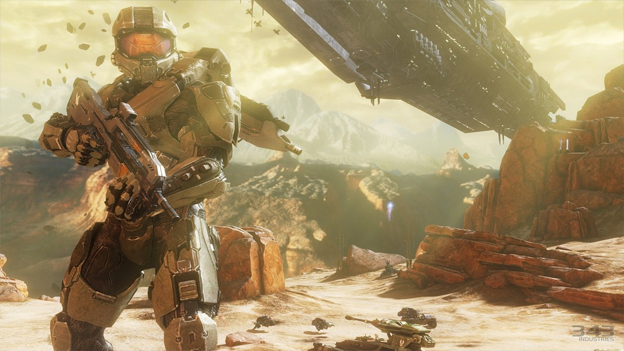 Also, class Specializations further enhance the strategic element, with class-exclusive ability-boosting mods. Wetworks and Pioneer will be the two available at launch, the former tuned with stealth benefits and quicker assassinations, and the latter able to gain experience points at a quicker clip. Future classes include the Rogue, with the Stability mod for easier sniping, and the Stalker, able to track those who've recently attacked or killed you. Capitalizing on the otherwise random ordinance drops, the Engineer will get a heads up on when and where the drop will occur, and the Tracker can "reroll" the choices in hopes of a better pickup. Finally, 343 is trying to entice players into vehicles. The Pathfinder quickens the cooldowns of vehicular armaments, while the Operator boosts the vehicle's defense and hastens the health recharge time.
The limited edition of the game could be a hot ticket item, which, apart from the map packs, exclusive skins, Featurette, digital series, UNSC Infinity Briefing Packet, and even more goodies, also grants you access to all eight class Specializations right out of the gate, a pretty sweet deal for a mere forty bucks extra.
It's a rarity to see a series like Halo—one that "evolved combat" when the original Xbox emerged over a decade ago—keep its integrity and history intact while still evolving with current standards and gamer expectations, especially in the hands of a new developer with a lot to live up to. Halo 4 is doing it all, and doing it right, overloaded with content and scoring high in every pre-release category, from the music and visuals to an exceptionally polished looking multiplayer.
November 6th is a date ingrained in the Xbox faithful, and it's doubtful any of them will wait until the holidays to unwrap this epic new entry in the Halo franchise.
By
Sean Engemann
Contributing Writer
Date: August 22, 2012
Game Features:


The Reclaimer Saga Begins: Experience the dawn of an epic new Halo adventure, solo or split screen with up to three friends.

Go Beyond the Story: Halo 4's Infinity Multiplayer features a vastly expanded suite of multiplayer modes, weapons, vehicles, armor abilities, a new loadout and Spartan IV player progression system.

Spartan Ops: Extend your campaign experience in a massive-scale adventure that builds upon the "Halo 4" Campaign. Receive a weekly series of cinematic episodes on Xbox LIVE followed by new gameplay missions, played solo or cooperatively with up to three friends, effectively delivering two campaign experiences in one game!

War Games: Battle the competition in fresh, immersive new game modes and strategies.

Track your groups, stats, and scores on HaloWaypoint.com.

Edge-of-your-seat Entertainment: Immerse yourself in Halo 4's graphics, sound, and epic gameplay including a mysterious and deadly new class of enemies.