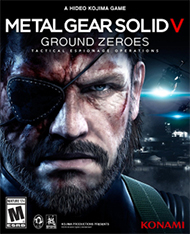 System: Xbox 360, PS3, PS4*, Xbox One
Dev: Kojima Productions
Pub: Konami
Release: March 18, 2014
Players: 1
Screen Resolution: 480p-1080p
Blood and Gore, Intense Violence, Sexual Violence, Strong Violence
The soundscape of MGS V: GZ is complete in every detail. From flags flapping in the wind and the hiss of drizzling rain, to the screech of the brakes of an approaching vehicle and the sounds of automatic gunfire, Ground Zeroes nails it. The astounding voice cast delivers grade-A performances throughout, and Keifer Sutherland hits a homerun as Snake (even though Hayter will always be Snake.) This fully developed audio landscape only functions to bring the amazing visuals to life that much more, so it does its job more than admirably.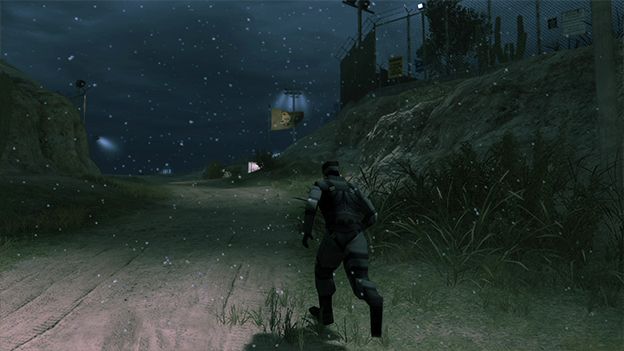 One of my favorite things about Ground Zeroes is how (despite next-gen visuals, sound, and controls) it still retains the soul of the Metal Gear Solid franchise. Even after all these years, these games are still about Tactical Stealth Espionage, and Ground Zeroes is no exception to that, which is a very good thing.
Overall, I was extremely impressed with Metal Gear Solid V: Ground Zeroes. A competent technical package of solid controls, awesome sound and beyond excellent visuals deliver a truly next-gen experience for anyone lucky enough to play the game on a PS4 or Xbox One. The one major drawback to the game is, of course, the severely inflated price which I can't seem to justify, given the length of playtime available in the game.
So, I guess you have to ask yourself one question--How big of a Metal Gear fan are you? If you can wait, the price of this game will almost certainly go down quickly. But if you can't wait and you have the extra money, you will love Ground Zeroes no matter how short it is. It gives us a glimpse of the greatness that is sure to come in The Phantom Pain, let's us get our Metal Gear fix, and shows us the future of stealth games on next-gen consoles. While I don't agree with the price, I can most definitely say it is the most fun I've had in a MGS game in a long time and is easily worth your time. But will fans pay for it? Only time will tell on that one. Hopefully, this little experiment won't start a flood of partially completed games touting themselves as "prologues" hitting the market. If so, we may see the end of demos, and none of us want that.
By
Joshua Bruce
Video Director
Date: March 19, 2014
Game Features:


Ground Zeroes showcases Kojima Productions' stunning FOX Engine, a true next-generation game engine which revolutionizes the Metal Gear Solid experience.

The first Metal Gear Solid title to offer open world gameplay. Ground Zeroes offers total freedom of play: how missions are undertaken is entirely down to the user.

Imagine classic Metal Gear gameplay but with no restrictions or boundaries. Players use intelligence and cerebral strategy to sneak their way through entire missions, or go in all guns blazing. Each will have different effects on game consequences and advancement.

Ground Zeroes boasts a central story mode and Side-Ops missions ranging from tactical action, aerial assaults and "covert" missions that will be sure to surprise.

Ground Zeroes users will benefit from a clean in-game HUD that shows the minimal amount of on-screen data to give a more intense gaming experience.

Available simultaneously with the current generation of gaming consoles, Ground Zeroes will give PS4 and Xbox One consumers the chance to showcase the power of their new machines.