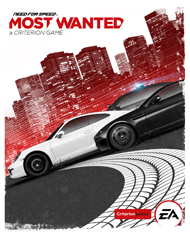 System: Xbox 360, PS3, PC, Vita
Dev: Criterion Games
Pub: EA
Release: October 30, 2012
Players: 1
Screen Resolution: 480p-1080p
Alcohol Reference, Comic Mischief, Violence
Of course, with the Most Wanted title comes a whole boatload of cops. Yes, breaking the law will result in being chased down by squad cars. And these guys are relentless. I once spent over a half hour trying to shake them, though I was told afterward that your Wanted meter cools much faster when your car is at rest. Apparently my strategy of trying to outrun them at top speed wasn't such a good one after all. Initially, I was a bit frustrated by how much of my time I spent trying to escape the hands of the law, but after being taught how to properly avoid them, I'm antsy to get back into the game and test out my new police-dodging skills.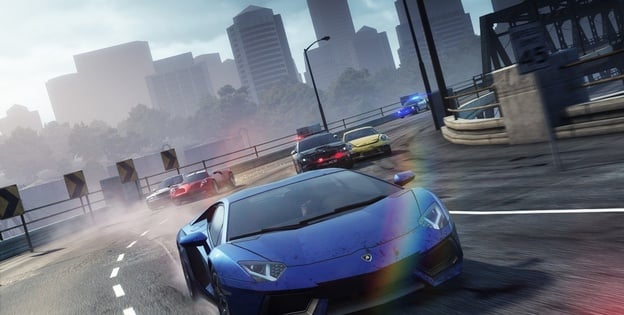 I was also able to try out the multiplayer portion of the game with some fellow journalists. Here, you are allowed to roam freely, but any player is able to start a sequence of tournaments. These involve standard races, team races, free-for-all smash-ups, objective-type modes, and more. Of course, once players get a taste for wrecking each other's cars, pretty much every event will ultimately deteriorate into a demolition derby. But if you happen to find a group of players who don't drive like sadistic maniacs (I was among professional journalists and found no such thing, so good luck with that), the multiplayer races are a ton of fun. Also, you won't have to deal with cop chases here.
Ultimately, my first six hours with Need for Speed only got me hungry for more. It'll be interesting to see how many of the game modes and features have long-term staying power and how many of those will get old and repetitive before all ten of the Most Wanted cars are collected. Well, I'll know for sure later this month when the game hits shelves, and you can bet your transmissions that Cheat Code Central will have a review.
By
Josh Wirtanen
Editor / News Director
Date: October 12, 2012
Game Features:


Connected Open World – Blaze a high score trail through the city for your friends. The next generation of Autolog displays your record speeds, times, pursuits and jump distances throughout Fairhaven City. Cruise past any speed camera, road junction, Jack Spot, or jump to view its unique leaderboard, and then take a run up, hit the gas and see if you can top it. Hit the biggest air off any billboard jump, and we'll even display your face on the billboard in their game! – a constant reminder to your friends that you are Most Wanted.

Find it Drive it – Pick a Car. Make it Your Own. Earn the right to be Most Wanted. For too long you've had to wait to drive the cars you love. Not anymore. In Most Wanted, "Open" means more than just open world. Practically every car's available from the start. Explore the world. If you can find it, you can drive it. Each car has a series of events, designed to showcase its unique qualities. Master each car in your own time, in any order to earn Speed Points and rank up. Score enough and you'll earn the right to take on 10 of the hottest cars in the game - the Most Wanted Racers. Beat them all one-on-one to become Fairhaven's Most Wanted. Swing the odds in your favor by modifying your car with such pursuit-busting delights as: Reinforced Chassis, Reinflating Tires, Impact Protection, Powershot Nitrous, or Track Tires. Customization in Most Wanted is about gameplay. Every mod changes what you can do with the car. Get the drop on your friends, your rivals, and The Law by experimenting with different cars and combinations.

Make Trouble – For the cops. For your friends. For fun. Buckle up, hit the gas and hold on tight; you're in for the ride of your life. In Most Wanted, you'll experience dream cars, the way you always wanted them. No tracks, no circuits, and no simulation. It's about taking your ride to the limit and beyond, nailing perfect 200 mile-an-hour drifts, slamming your friends off the road, outsmarting the cops, and getting away with it in style.

Non-Stop Multiplayer —No menus. No lobbies. Just competition. Our online play is about intense competition, rank and vehicle modification. We're into team games, variety, persistent scoring, and endless rewards. Pick a car, meet up with your friends, and enjoy a nonstop Playlist of competitive events. Fight for position on the start line or turn around to take out oncoming rivals at the finish. It's online driving, as you've never seen it.