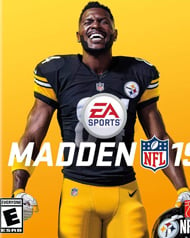 System: PS4, Xbox One, PC
Dev: EA Tiburon
Pub: EA
Release: August 10, 2018
Players: 1-4 Player
Screen Resolution: 480p-1080p
Mild Language
Is Madden still for everyone?
by Lucas White
Last year, EA dropped a "Madden for everyone," an attempt to take the usual Madden experience and turn it into something more accessible. Extra difficulty settings were added, more options to play with friends against the computer were added, and a new, Telltale Games-inspired story mode was not only the marquee new feature, but the talk of the town in almost every bit of coverage. It seemed to work, as everyone walked away from Madden 18 feeling pretty good, especially folks with less experience with the series or the sport. A year has passed, and as I sat down with Madden 19 for the first time, the question on my mind was, "What's next?" The answer is a bit muddled, and now I've found myself in a situation in which I'm scrunching my nose at Madden storytelling canon. That felt weird to type.
Madden games open up these days by telling you specifically what's new, so seasoned players can immediately snap over to what parts of the game they're into and tinker around in a game of "spot the differences." Depending on what has been added, the introduction might also help a newcomer figure out what option to pick first. Last year, that option was Longshot. I think that option is still supposed to be Longshot, but a severe case of sequelitis isn't doing anyone any favors.
The first Longshot was part tutorial, part story mode and part Friday Night Lights homage. The Madden 18 mode introduced a couple of characters, Devin Wade and Colton Cruise, that felt shockingly real, then inserted them into very Hollywood sports movie situations that tried to do a lot of things at once. The result was a little wobbly at the knees, but super memorable and potentially the start of something special. Unfortunately, the follow-up this year feels like a reactionary shift that sought to address as much fan feedback as possible, rather than seek out its own identity.
Madden 19's Longshot: Homecoming is a direct sequel to the first one, which means if you don't know who Wade and Cruise are or why anything is happening, you're going to be lost and the glaze will form over your eyes just as soon as the story starts moving. It's also a bizarre, retcon-laden setup, which ignores the multi-outcome nature of the previous story. It violently pivots away from the Telltale Games-inspired stuff, taking away some of the simpler, minigame-like moments and dialogue choices in favor of some light tutorial moments and a bunch of football segments that feel like an attempt to appease more serious players who were put off by the, well, story mode and its more casual interactions last year.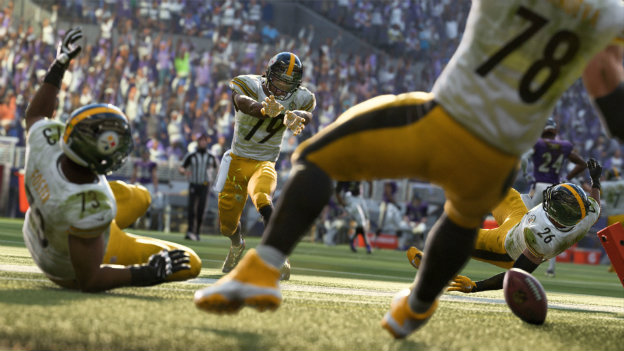 Longshot: Homecoming also tries to go a bunch of places at once within the span of not nearly enough time, has tons of bizarre moments where characters stomp around and mouth wordlessly at your successes or failures, and Rob Schneider is there to awkwardly repeat the "kooky money man" presence for no actual narrative reason. Dramatic moments that are supposed to be impactful just sort of happen without much buildup, and the entirety of Wade's story may as well not be there for most of the short run. Longshot: Homecoming now feels like another mode that's a collection of "fixes" instead of "choices," and it's weighed down by trying to push more gameplay into the story, which Madden 19 is not lacking in any other part of the game. I started hopeful, and by the end I was frustrated and ready for it to end.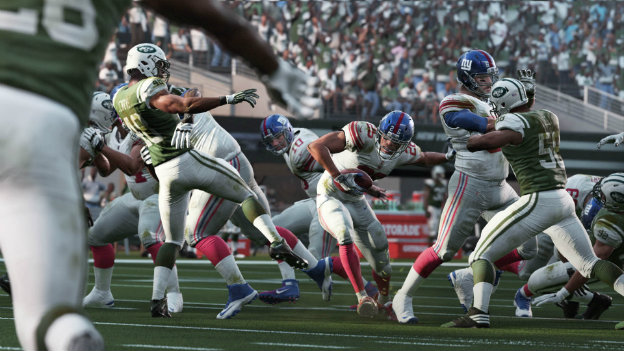 The real meat of Madden 19 is Real Player Motion, which is something EA is pushing this year as a major selling point in all its sports titles. Essentially, now that all the sports teams are on Frostbite, everyone was able to collaborate more. That led to a lot of innovation and improvements in the physics department. Each game, including Madden, NHL, NBA Live, and FIFA, are all much more responsive to player input, and the games themselves are more complex and accurate when it comes to players and objects colliding and interacting on the field. It's truly impressive stuff, as each game finds its own unique way to present the Real Player Motion concept. With Madden, the difference in response when a player is running with the ball feels like night and day compared to last year. Essentially, you have much more control over your actions, you can fight easier against opposing players trying to take you down, and everything feels much more skill-based as a result.