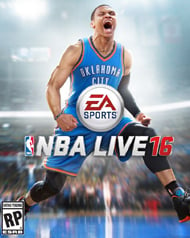 System: Xbox One, PS4
Dev: EA Sports, EA Tiburon
Pub: Electronic Arts, EA Sports
Release: September 29, 2015
Players: 1-4 local, 2-10 online
Screen Resolution: 480p-1080i
Content is generally suitable for all ages. May contain minimal cartoon, fantasy or mild violence and/or infrequent use of mild language.
Big on Offensive, Fails on Defense
by Patrick Tretina
EA Sports' fall lineup is shaping out to be one of the best the publisher has dished out in a very long time. This year has been all about EA's redemption story and how they've managed to pick up the pieces and improve the quality issues that's plagued them in the recent past. For me personally, it all started with the vast improvements in NHL 16, FIFA 16, and reportedly Madden 16. I'll have to admit, after reading several optimistic press releases, I was skeptical that EA Sports could even come close to recapturing my heart as they did when I was young. However, after spending some significant time with both NHL 16 and FIFA 16, they've definitely managed to instil some much needed old-school nostalgia into this year's titles. Yes, the only question that remains is can NBA Live 16 make it four in a row for EA Sports' fall 2016 lineup, or will the highly touted basketball simulator fall flat on its face?
This year's version of NBA Live 16 seems to focus solely on you, the player. Upon initially booting up the game disc, you're presented with the option of downloading EA's NBA-Live GameFaceHD Companion app, which allows players to scan their face with a mobile phone. I whipped out my iPhone 5S and followed along with EA's on-screen guide that is built right into the opening game tutorial. Once the facial scan was complete, EA uploaded my captured image directly to their servers, which I then applied to my created character. Once I managed to get past the pain of capturing and recapturing of my face, along with navigating the buggy iOS app, the result was actually pretty cool. My captured facial image didn't come out as perfect as advertised, unless I just look somewhat like an alien in real life, but having the option to do so was pretty awesome regardless.
After being buried knee-deep in the GameFaceHD app as if I was learning to change a diaper for the first time, I decided to customize my new baller so that he didn't stick out like a sore thumb. It's no secret that the game of basketball, regardless of what level you're at, is shrouded in both hip-hop and fashion-based culture. The quality of a player's game is just as important as the shoes beneath their feet and the shorts that hangs from their hips. NBA Live 16 is no exception and I took full advantage of the customization options. The Live Spot is where players can completely personalize their character from the ground up. Everything from tops, shorts, shoes, headbands, and even socks can tailored to the player's liking.
Feeling like reliving the glory days of Allen Iverson and his famous array of on-court accessories? Not a problem, head on over to the Live Spot Outfit Selection screen and rock as many finger bands, knees pads, shooting sleeves, and just about everything else that made Iverson standout from his competition. Similarly, if you're one of those dudes that shows up to the court like a weirdo in jeans and a long-sleeve on a 90-degree summer day, NBA Live will oblige you with a wealth of unorthodox options - the choice is entirely up to you, even if it's the wrong one.
Take your fully customized character from Live Spot into either Rising Star Career mode or Live Pro-Am, which features the reemergence of the popular Live Run option that allows players to play 5-on-5 over PSN or Xbox Live. I spent a majority of my time engrossed in the Rising Star Career mode and the wealth of options that came along with it. The mode started me out in the Adidas Rookie Showcase, where I matched up against this year's past rookie draft class before being selected by the Phoenix Suns with the 13th pick in the 2015 NBA Draft. After logging nearly a dozen or so regular season games, I have to say that I'm really impressed by the overall offering of the mode. Not only will you have to work your way into the starting lineup, but you will also need to adjust your playing style in order to fit with how the team runs their particular scheme. Your player is awarded experience points, which can be spent on gear and attributes, based on how stellar your gameplay was. Don't worry, if you suck like old man Kendrick Perkins, then the game will simply give you some much needed pointers rather than deduct attributes.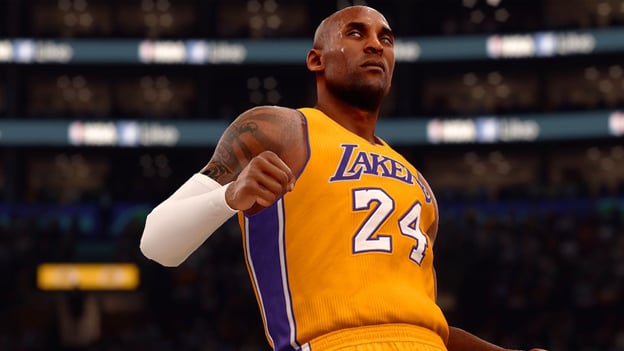 When I was looking for a break from the traditional organized basketball set of Rising Star mode, I took my created player over into the Live Pro-Am offering, which reminded of the classic NBA Street games. I faced off against follow PSN members, presumable fellow reviewers or rich kids with massive connections, in a competitive game of 5-on-5 that was set on the historic courts of Rucker Park, Harlem, New York. The really awesome aspect about transitioning from one created-player mode to the next, was the ability to keep my player's stats and gear unbroken. Gone are the days of building two and three separate players for each different mode - this year's version lets you streamline the offerings by creating one player to be used across all modes. This was especially nice to see my hard work from Rising Star mode projected on court during my first game of Live Pro-Am.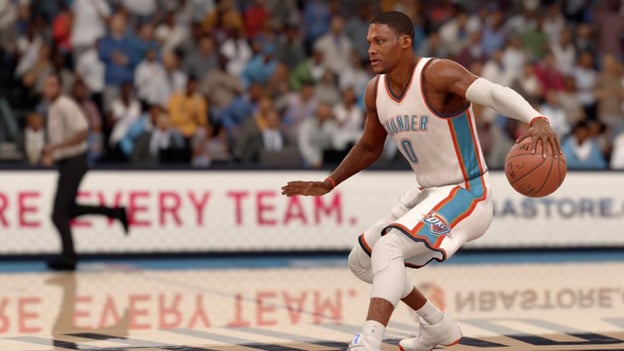 After logging most of my time with the created-player modes, and a handful in both exhibition and GM, the overall presentation of the game was good, but not great. This was upsetting because it provides a massive amount of content for players to explore. When I say massive, I mean it could easily have been broken down and refined into a series of different titles. I really liked most of the sights and sounds like the chatter amongst players, the swoosh of the ball on a three pointer, and even the timeout cutscenes. I was particularly stoked to see the crowd get rowdy during a close game as they stood up and yelled "three" when I chucked one from 25-feet away. Yes, they also went ballistic if I managed to bomb one from that far away to either take the lead or cut it even closer.