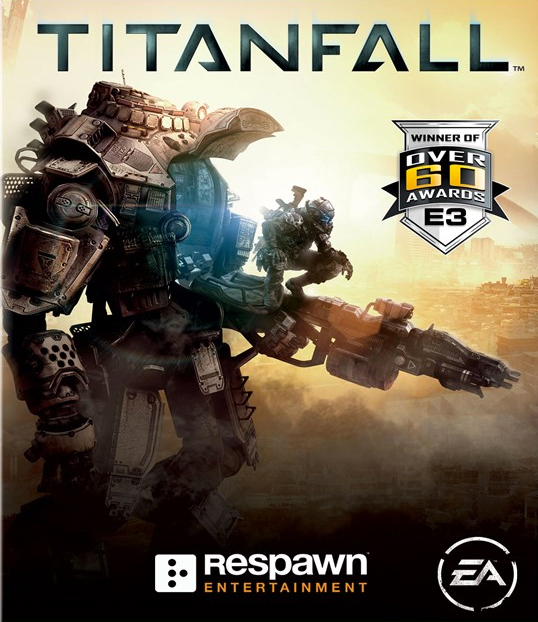 System: Xbox One*, Xbox 360, PC
Dev: Respawn Entertainment
Pub: EA Games
Release: March 11, 2014
Players: 1 (2+ Online)
Screen Resolution: 480p-1080p
Blood and Gore, Strong Language, Violence
Map design is incredibly versatile, allowing both Pilots and Titans to fight concurrently without feeling constrained or out of place. To me, this is the biggest achievement in TitanFall. Without this, the multiplayer that flows throughout the entirety of the game would feel unnecessarily confined. These maps allow for Titans, while obviously being more powerful, to be vulnerable to nimble Pilot attacks on foot, and vice versa. So even though you may find yourself without your metallic guardian, you can still be an effective force in the match.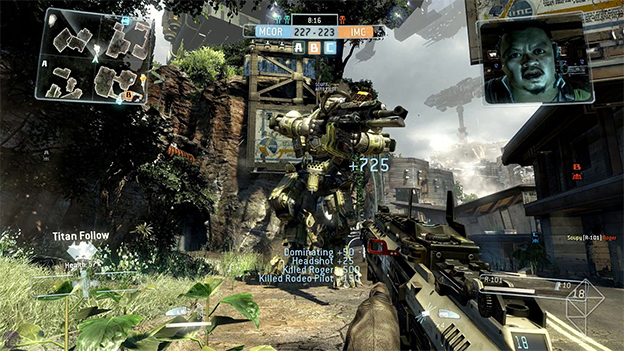 Lastly, when I heard TitanFall would only be six verses six, I was a bit disappointed. I'm quite used to the 64-player madness that is Battlefield 4, and thought this low number of players would be boring and feel small. I was completely wrong. TitanFall gets around this issue by supplying NPC soldiers to the battlefield that play a role especially in the Attrition game mode. This makes the games feel larger and more complete, while keeping the core action on the 12 players that are tearing each other apart on-screen. To be completely honest, I couldn't imagine the craziness that would ensue if there were more than 12 players in a TitanFall game.
So, no, TitanFall is not perfect. But it is a huge step forward for the FPS genre. It brings new mechanics to the table and throws several FPS conventions out the window, while keeping enough familiarity to keep FPS fans engaged. There is so much going on in a TitanFall match that you will be unable to catch it all (even though you will try) and the solid soundscape just adds to the immersion with a limitless supply of projectile, Titan computer, Pilot voice, and ambient sounds that might scramble you brain a little. But that's part of the fun, right?
In short, TitanFall has the goods. If you have an Xbox One, buy this game. If you don't have an Xbox One or gaming PC and love FPS multiplayer games, go buy an Xbox One and buy TitanFall. They even have a convenient bundle for you. Even though I wish TitanFall had a more complete campaign, it doesn't detract from the fact that it is probably the most fun multiplayer FPS I've ever played. Sorry Battlefield. Now, if you'll excuse me, my Titan is ready.
"Order Confirmed. TitanFall incoming."
By
Joshua Bruce
Video Director
Date: March 11, 2014
Game Features:


Prepare For TitanFall - Crafted by one of the co-creators of Call of Duty and other key developers behind the Call of Duty franchise, TitanFall is among the most highly anticipated games of 2014, having been shrouded in mystery for nearly three years. The visionaries at Respawn have drawn inspiration from their proven experience in first-person action gaming, and are building on that pedigree by taking a new approach to game design and creating an all-new universe with TitanFall.

Fast-Paced Advanced Combat - The advanced combat techniques of TitanFall give you the freedom to fight your way as both elite assault Pilot and fast, heavily armored Titan.

Welcome to the Edge of Civilization - In TitanFall, many generations of humanity live in the deepest reaches of explored space. This vast region is known as The Frontier. It contains many well-known and inhabited solar systems, but many more worlds remain uncharted. Most people will never travel this far away from normal civilization. But for pioneers, explorers, mercenaries, outlaws, and soldiers - the Frontier offers both adventure and opportunity.