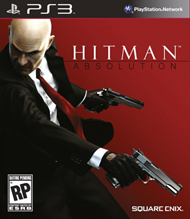 System: PS3, PC, Xbox 360
Dev: IO Interactive
Pub: Square Enix
Release: November 20, 2012
Players: 1
Screen Resolution: 480p-1080p
Blood, Intense Violence, Partial Nudity, Sexual Themes, Strong Language, Use of Drugs
That's just the single-player campaign, though. There's also a multiplayer challenge mode, called "Contracts," which provides that much-desired malleability. In a contracts map, though it's a campaign level, there isn't a specific goal to speak of other than to pick "marks." Marks are chosen as one walks through a level with the press of a button, which seems fairly intuitive. A player can choose up to three marks, then upload the contract mission online (either privately to friends, challenging them to successfully complete it, or to the overall database where anyone can access it; the latter is also combed for the best of the best, which are featured for the sake of exposure), at which point others may try to complete it. The true challenge, though, isn't in simply killing the people in a given level chosen by the player who made the contract. That would be far too simple.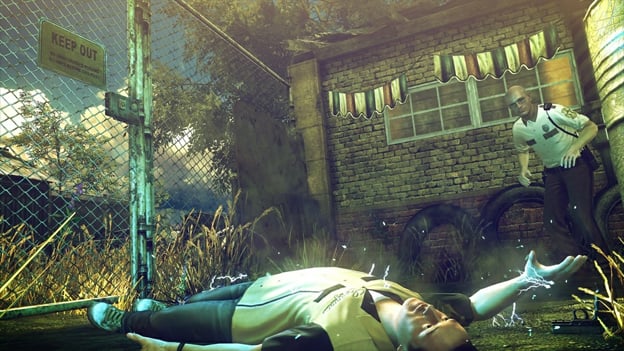 Instead, the individual who makes a contract, once they pick a mark, must then kill the mark themselves. Those accepting the contract are then tasked with duplicating the means by which the contract creator killed a mark, in addition to performing the kill itself. This can entail avoiding detection, killing no one else, or using a specific weapon (among other idiosyncrasies players are bound to discover). It's an extremely unique means of allowing players to create emergent content, as anything a player challenges others to do (assuming no glitches are involved) is, by definition, fair. It can be done, the sticky part is managing to actually do it.
Hitman: Absolution is a game with two halves: a cinematic and linear campaign tied to an innovative and freeform multiplayer mode. Will these two come together into a cohesive whole? Who can say?
By
Shelby Reiches
Contributing Writer
Date: August 27, 2012
Game Features:


Freedom of Choice - Stalk from the shadows or rush in guns blazing thanks to fully-evolved game mechanics and a sophisticated A.I. system that responds realistically to every tactic you employ

Disguises - A huge variety of disguises, you can impersonate your victims and blend into the world around you, affording you new actions, options, and the element of surprise

Instinct Mode - Predict enemy patrols, identify weapons and escape routes, and temporarily enhance your disguise—even engage in "Point-Shooting," making full use of your skills as an expert marksman to clear entire rooms with stylish efficiency