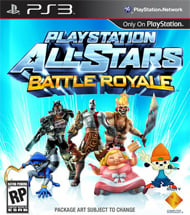 System: PS3
Dev: Superbot
Pub: Sony
Release: TBA
Players: 1-4
Screen Resolution: 480p-1080p
This frantic mashy gameplay only breaks down further when fewer human players are involved. If you play with computer controlled opponents, then the game becomes a race to exploit the crappy A.I. Simply hammer on the attack that gives you the most meter knowing that the computer won't ever block it, and then unleash your most powerful super as soon as it is available.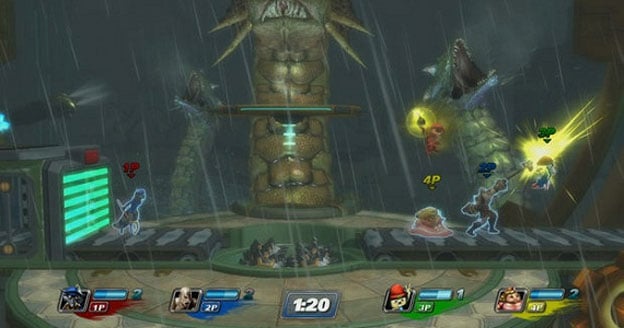 We weren't able to play the game in one on one mode, but I have a feeling that these issues would only be magnified in that mode. Players would attack each other skillfully and relentlessly until the first kill was scored. After that, all the player in the lead has to do is run away. The opponent can't build more meter if he doesn't attack and if he doesn't build more meter, he can't ever score another kill and even up the match.
That's not to say that the game doesn't have potential, though. Characters control well and their moves accurately represent the games they come from. Most of the characters were fun to play and the stages were an absolute blast. When the mashing was over, I was able to figure out some rudimentary combos (not that it mattered because I would routinely get stabbed in the back while performing them.) Overall, the base is very good, it's just that the rule structure acts against it.
That being said, there is still a lot of development time left before PlayStation All-Stars Battle Royale hits shelves, and hopefully a lot of these issues will be fixed by then. An addition of a stock mode would be nice, and an increase to meter gain would be nice as well. I honestly don't think that PS All-Stars is down for the count yet, it just needs a lot of work. I never lost a match of PS All-Stars, and that's because I played the game as in as lame a way as I possibly could. I'm not proud of it, and I hope that Superbot fixes it so that I deservedly lose some time in the future.
By
Angelo M. D'Argenio
Contributing Writer
Date: June 25, 2012
Game Features:


Play with third party characters like Big Daddy.

Utilize iconic special and super moves.

Battle against your friends or an opponent.

Compete in mashed up stages where worlds collide.