Getting a solid speaker setup can, frankly, be difficult. Not everyone has the money to go throwing at least $100 into a sound system. Especially if you're relying on a laptop, an older computer, or some sort of handheld system. You might not want to invest big money, but you still want big sound. Of course, Creative has always had a line of Pebble speakers , and now the Pebble V2 has arrived to give people another option with a few extra features. You know, in case they want an affordable sound option with some quality of life adjustments.
First, the Pebble V2 is a pair of two desktop speakers. Each one is shaped like a, well, pebble, connects via USB-C, and are powered by said USB so you don't have to go real crazy trying to find another power outlet for an accessory or spot to organize cords. They have a USB-C to USB-A converter, if someone needs it. They connect to your device via a 3.5mm jack, so its a universal connector that gets you immediately going. The initial differences between it and the first Pebble start here, as it has a longer cable between the left and right speakers that is about six inches longer, so you have more give when positioning them. Also, the first model didn't have the USB-C option at all.
Now, things really start getting interesting with the sound. That's where some of the real changes come in. The Pebble V2 goes with the 2" full range speakers driver and improves upon it to provide and even greater range of sound. They are still elevated by 45 degrees, to create a sense of sound surrounding you as you play and listen. Just they'll be more efficient and with a better bass boost. It also boosts up the total system power by about twice as much as the original, from 4.4W RMS to about 8W RMS, to provide greater strength and sound.
Of course, that strength and quality also relies upon a feature the Pebble V2 has and original Pebble lacked. There is a high gain switch. It is built into it, though people who aren't aware of when to properly use it don't even have to ever worry about it. In addition to a manual one, there is an automatic mode for when it is plugged into a USB-C port. If you have it in one, it automatically takes advantage of the extra power to provide better quality sound at higher levels without getting pitchy or awkward.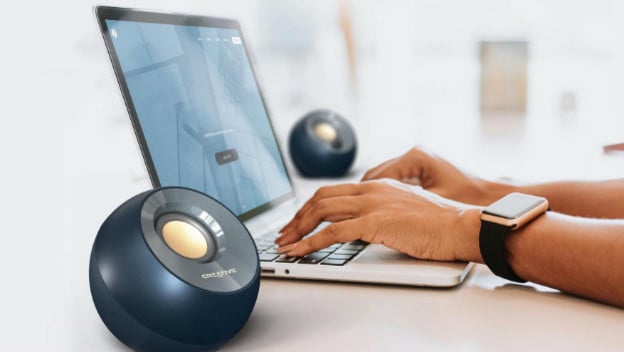 From there, it really might come down to price. Is what the Pebble V2 offers enough for the money. Well, there's a real good way to look at it. It's only $5 more. The standard Pebble is $24.99, and the latest model is $29.99. This means you can get something that works with more modern devices, has a potentially better power output, and still gives you the adapter for older USB-A ports for a little extra money. Think of it as being better and backwards compatible, while the original is just standard.
It's a way to keep things real cool and loud, but in a good way that doesn't sound cheap. (Even though you're paying a low price, of course.) The Creative Pebble V2 is there to keep you in a sound environment.