With tablets getting more capable of delivering quality gaming experiences and the Nintendo Switch being the rockstar that it is, playing games on the go is getting more attractive. I mean, these are amazing titles. But, going portable does present a problem. We have to consider others and can not enjoy the full experience unless we pack extras. You know, like the Creative Aurvana Trio . These in-ear headphones are inconspicuous, could be fantastic for your on-the-go gaming needs, and have you covered for whenever you need to use some headphones.
"Aurvana Trio" may sound like an odd name for headphone, but it makes sense. The reason being, they have a triple driver array. You have a Balanced Armature Super Tweater to focus on high sounds, the balanced armature mid-range driver for noises in the natural spectrum like voices, and the bio-cellulose dyamic woofer for when the bass drops. Combine all three, and you get the kind of rich sound that would not only cover listening to any music or media, but perfectly handles the range of noises you would experience in a game. These headphones are going to make sure you hear the background music, character voices, and even those little ambiance sounds perfectly.
Creative's Aurvana Trio happens to be a master of shutting out other sounds too. While you can use headphones at any time and in any place, odds are you will most often pull these out when you're outside of your home. Knowing there is up to 98% noise isolation is a comforting thing. It means you have this guarantee that you will be hearing everything that is important to you as you play or listen. It means outside distractions, like crying babies on a flight or the sound of a crowd when you are on a bus, will fade away. All you have to worry about is you and the sounds of your game, music, or show.
But what about comfort? I mean, we all know what earbuds can be like. Especially if we rely on ones we pick up for around or under $20. Maybe you are even still using some you got for free on a flight. The Aurvana Trio is about accommodation When you get this $149 pair of in-ear headphones, you get one pair of foam earbuds and three pairs of silicone earbuds in small, medium, and large sizes. It is going to fit your ears. You have all different kinds of accommodations available to make sure this is read and comfortable for you, so you can wear them for any period of time.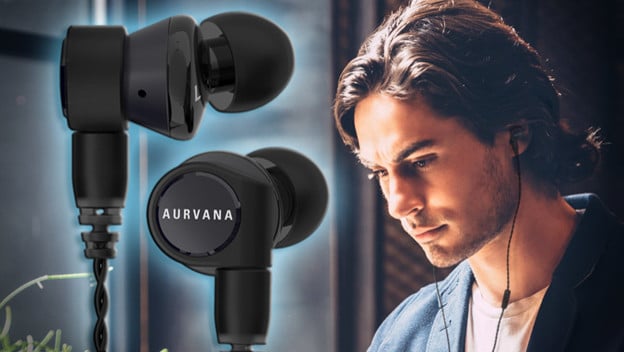 Speaking of accommodations, the Aurvana Trio also comes with plenty of other extras to make sure you have no trouble taking and using it anywhere. There is a hard travel case, to protect these tiny wonders. You have an airplane travel adapter, so you have no problem using it wherever you go. An inline mic with a button that lets you control music playback or pick up and hang up on calls is built into its braided cable. Plus, that same MMCX cable is detachable, so you could always switch to a different one that might suit your needs.
Headphones are the sort of item that have become ubiquitous. In a world where people are relying on phones, tablets, laptops, and consoles in all areas of their lives, you need to have a product you can rely on when you need to work or want to play and still hear everything. Creative's Aurvana Trio is the exact sort of accessory that could play a big role in your daily life.