When Graphics Aren't Enough
I remember the first time I played Gran Turismo on the PSOne. I was at a friend's house and he had just received the PSOne as a gift and Gran Turismo was one of the games he got (the other was Final Fantasy VII, but that's a whole different story). We spent hours playing it, despite the fact that we both hated racing games. We thought they were some of the biggest wastes of time. After all, they usually just meant poor graphics, awful sound design, and meaningless accomplishments. Gran Turismo changed my mind completely, and changed my gaming habits forever.
Part of the magic of Gran Turismo has always been the work you have to put into it. The hours spent gaining access to certain cars. The precision it takes to achieve gold on your license tests. It was just what you came to expect, and for the most part, it was what you wanted in a racing simulator. However, times have changed – not only the mentality of gaming, but gamers as a whole. Can the amount of extra work synonymous with Gran Turismo really survive in this day and age?
The simple parts first. In Gran Turismo 6 the graphics look wonderful. It's really no surprise honestly, as this is one area in which Polyphony Digital has always been able to excel. Seriously, this game is gorgeous. For example, during your replay after the race, you will see some truly outstanding textures and lighting effects. For the most part, it is astounding that these graphics are on the PlayStation 3. Because of this, I, like many others, will not be able to contain my excitement for what the recently announced Gran Turismo 7 will bring visually.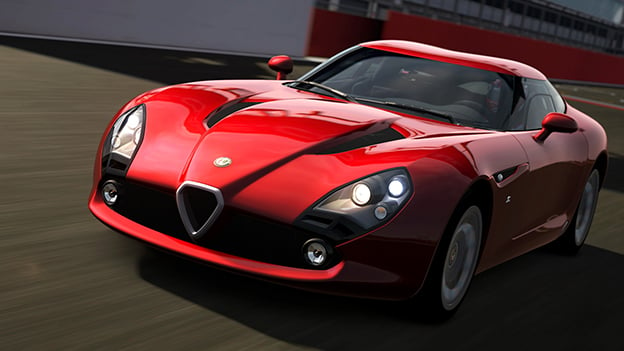 The visuals continue to impress as you look at the gorgeous tracks Polyphony Digital has created. Of course, having older favorites appear is a pleasant surprise, but adding to it such famous tracks for the Silverstone Circuit, Goodwood Hillclimb, and Willow Springs International Raceway, only helps continue the immersive experience you get from Gran Turismo 6 . Unfortunately, the biggest offender of the graphics are the older model cars. It's not that they look bad, just an obvious sore thumb when compared to some of the other more beautiful models.
While it is fascinating to have the option of buying older classic modeled cars (and Gran Turismo 6 has plenty), there are certain models carried over from previous entries that probably need to be left in the garage–or put on the used car lot.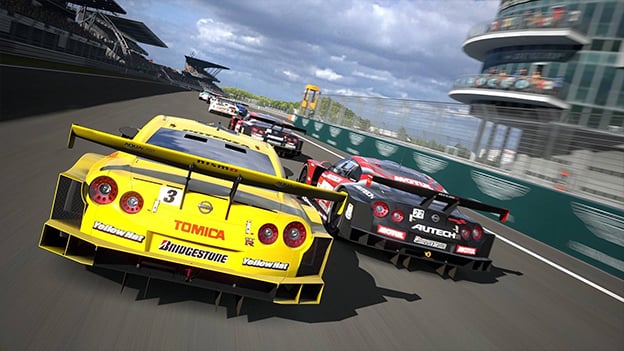 The used car lot is back once again, only this time it is not the mundane chaos it was in Gran Turismo 5 . Instead of you playing Russian Roulette with the used car section to find that one car, all vehicles have been made available under their manufacturer. Since most of the models available in Gran Turismo 5 were hidden in the used car section, it is a good step forward to see the cars no longer separated into standard and premium categories.
Unfortunately, the steps made to improve the franchise can still be hindered by some things not yet ready to advance: sound design, for example. I used to love the soundscape of Gran Turismo . I took a stance against anyone that said it was faulty and no longer represented the soundscape of a racing game. After spending time with several other racers this generation, the low roars purring from the engines are far more pleasing than bumblebees in a hair net on Sloppy Joe day. That may be a bit too harsh. Suffice to say, the wheezing whine of the engines is not horrid in small doses. It's when you have several races back to back to back that it becomes an issue, and one that most will want to drown out. Unfortunately, Gran Turismo 6's soundtrack leaves plenty to be desired as well. Maybe it is to create the ambiance of the genre, but I don't think anyone would mind adding a bit of variety.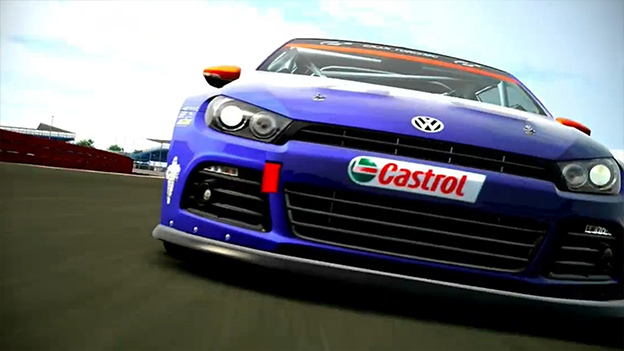 Another fault/annoyance, is the absence of damage to the vehicles. While there are some options in the online multiplayer, albeit only a few of them, there's nothing really in the single player mode. It is somewhat amusing at first when you go flying into a wall at 340 mph and you get a solid "thunk." That's it. You back up or turn the wheels on the car until you are no longer having a make out session with the wall. There's no punishment. I mean sure, you lose some time, but there's nothing after that. I would have thought that by now we've come so far as an industry that we'd be able to have some realistic damage both visually, and to the areas of a car we don't see automatically. I know other racers have done this, quite well in fact, so it pains me to see there are still these types of issues when talking about one of the biggest racing franchises in gaming.
Is Gran Turismo 6 a horrible game? Absolutely not. It is a fantastic game. It is a game that fans of the series will love. Plain and simple, Gran Turismo 6 has that clout to just release a title and say, "Hey, here's the new one! Enjoy," and people will be at the ready when it is released. This is not a bad thing, however it's not all that great either.
Gran Turismo 6 will make you glad you are a racing fan. A few small annoying hindrances aside, there's nothing out of place from the game. There is plenty to do and plenty to explore in this racing world. For content alone Gran Turismo 6 pulls ahead of its competitors. Stunning graphics will keep you guessing which system you're actually playing on. A solid multiplayer experience itching to become the new norm for the series. All of these things have helped the series become the giant it is today, and while Gran Turismo 6 may not be the icing on the cake it is another delicious layer.
RATING OUT OF 5 RATING DESCRIPTION 4.5 Graphics
This is a beautiful racing simulator – in parts. 4.0 Control
What you'd expect from the franchise. 3.5 Music / Sound FX / Voice Acting
A mixed bag of good and questionable sounds. 4.0 Play Value
For those willing to do it, there's just as much grinding in this installment as ever before. 4.0 Overall Rating – Great
Not an average. See Rating legend below for a final score breakdown.
Review Rating Legend
0.1 – 1.9 = Avoid
2.5 – 2.9 = Average
3.5 – 3.9 = Good
4.5 – 4.9 = Must Buy
2.0 – 2.4 = Poor
3.0 – 3.4 = Fair
4.0 – 4.4 = Great
5.0 = The Best
Game Features:
Drive the world's most stunning cars.

World famous tracks.

Never Drive Alone.

The latest technology for the ultimate experience.