Marketing is a messy game. There aren't a lot of easy ways to predict how the people will react to your products, so the best you can do is figure out how to get them talking about it before it comes out. Then you have to find how how to keep them talking about it afterwards. Sometimes it's obvious the PR teams are just throwing darts at a board and praying something sticks. Here are some of those moments, ones that will leave you scratching your head, laughing, or saying to yourself, "I remember that!"
Sonic Gumball Ice Cream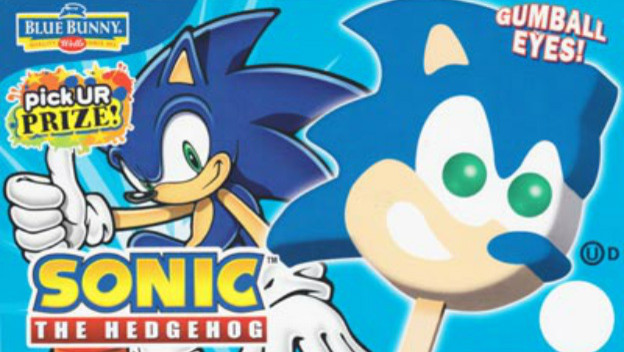 Every single one of you knows about this one. Despite being a long-running joke, these Sonic bars have been around for years and refuse to go away, no matter how hideous they are. Bad character ice cream with never-in-place gumball eyes were bigger when my generation was younger, but for some reason the Sonic bars still persist. They're super gross, but worth the few bucks for the novelty factor.
Destiny 2 Pop-Tarts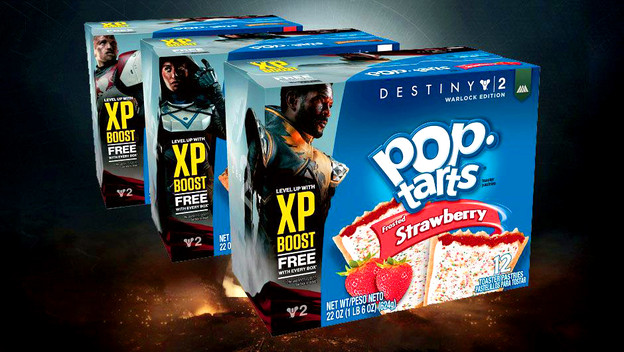 Nothing gets me hyped for getting online and shooting at and/or with my friends like Pop-Tarts! Video game branding is no stranger to cheesy crap like energy drinks and awful gimmick sodas, but the Destiny 2 Pop-Tarts deal stands out as a bizarre mashup of brands that don't really seem to fit. I usually associate Pop-Tarts with silly cartoons and super heroes, you know?
Horrifically Offensive PSP Ads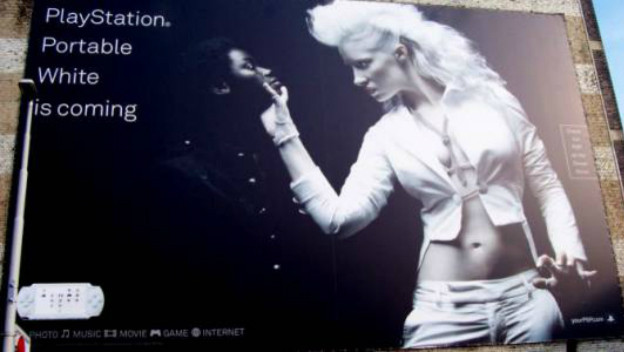 The PSP was a dope system (mostly because of all the things you could do with it that Sony really didn't want you to do), but man was the global marketing push for this thing peak "is anyone at this company in tune with reality" era Sony. The blatantly racist ad from Europe pictured above is the most famous example, but others include subway ads joking about being awful to your spouse or even suicide humor. Yeah.
Call of Duty Jeep Wrangler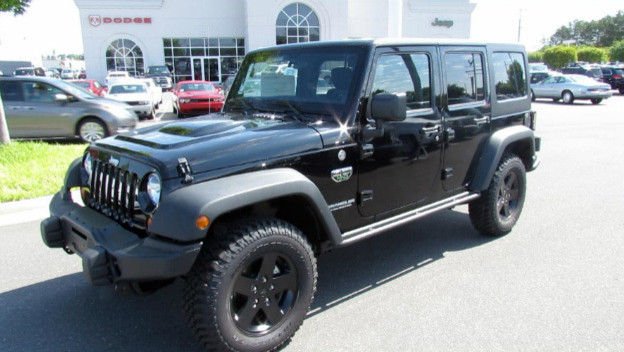 Activision and Jeep had a bizarre partnership that saw several iterations of this concept. For several thousand more dollars than a normal Jeep Wrangler, you could get one in solid black, with a tiny Call of Duty label affixed somewhere on the car's body. Why you would expose yourself as someone who gleefully wastes money on the dumbest things is beyond me, but it must have been successful, since they did more than one.
Hitman Facebook App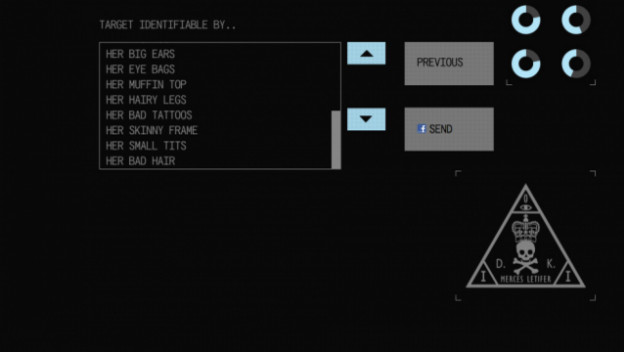 To promote one Hitman game, the marketing team thought it would be a great idea to make a Facebook app all about playfully assassinating your friends. While this may have taken off under different circumstances, part of the app had players label their friends in fake assassination contracts with some bizarrely degrading identifiers, quickly taking things from goofy and harmless to actually creepy and messed up. Unsurprisingly, the app was taken out behind the shed within hours.
Gross, Cheap Energy Drinks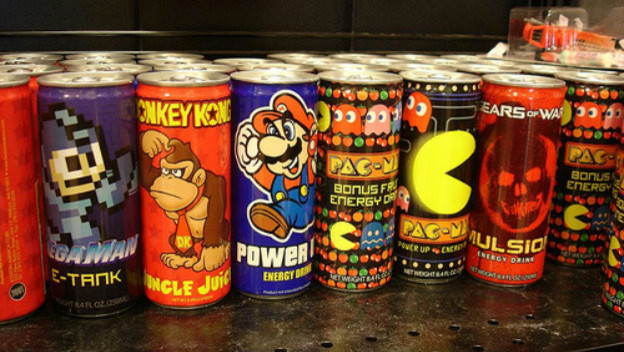 Go into any store selling crummy video game merchandise, a convention dealer room, or other sources of cheap snacks and you'll inevitably see one of these. Samey-looking energy drinks, branded with various energy drinks, in these tiny, cheap cans and running seldom more than a buck or two. I have never summoned the courage to try one of these things, because just standing near one is enough of a cringeworthy experience.
Baby-Naming Contests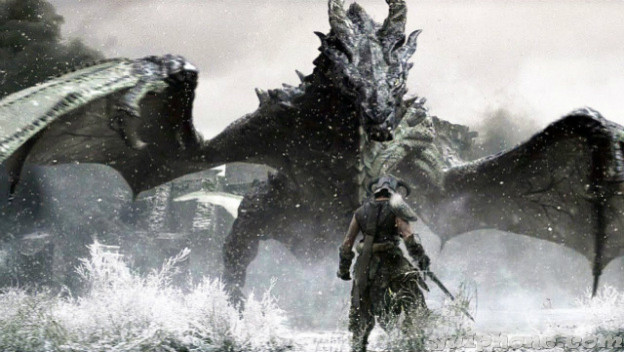 Believe it or not, this ludicrous PR stunt is something that has happened more than once, from multiple publishers over the years. The craziest, most thoughtless (and most recent) example was from Bethesda, a company with a lot of power that should know better, but of course doesn't. It went like this: parents with children born on Skyrim 's 11/11/11 release date could name their child after some unpronouncable character, and they would be entitled to free Bethesda games for life. Of course, someone obliged, and they certainly got their free games. Poor kid.
Gamer Fuel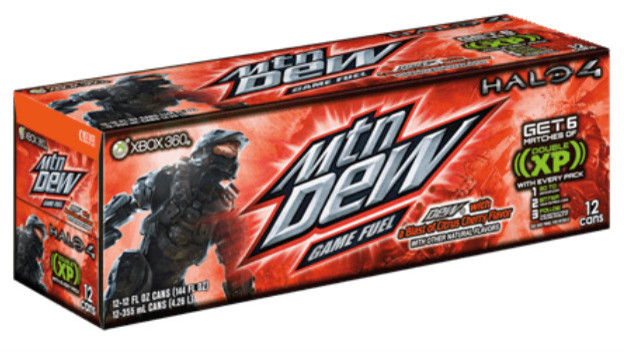 Mountain Dew Gamer Fuel is the standard-bearer for embarassing video game cross-promotion. This was the gross, unhealthy food item that set the stage for years and years of memes making fun of impressionable gamers willing to spend money to their own detriment, pouring disgusting soda down their throats for the fleeting cause of brand loyalty and EXP boosts. In making fun of video game Mountain Dew, you'll probably see Doritos involved as well. Let's leave it there for now.
Blind Boxes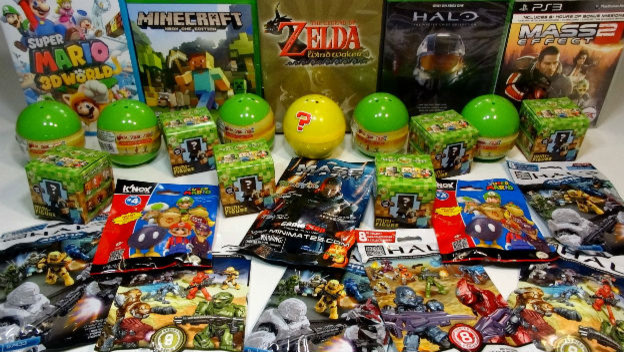 I don't know about you guys, but I am sick of these. Blind boxes are some of the most transparent, manipulative methods of screwing with people in the name of siphoning money from hapless nerds since the advent of pre-order bonuses. Wow, want a cool trinket for x game you like? Have a favorite character? Buy these boxes at ten bucks a pop or more and maybe you'll get one? Good luck, suckers!
Super Mario Bros. Shower Power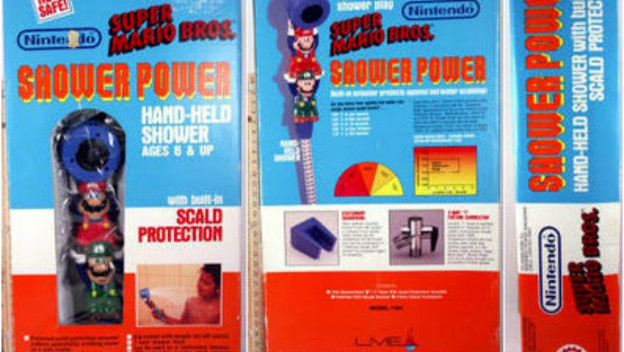 Super Mario Bros . Shower Power. Super Mario Bros …. Shower Power. Super Mario Bros. Shower Power . I wonder how many children in the 1980s gleefully attached this creep,y gargoyle-like figure of Mario and Luigi watching them in the bathroom to their shower heads. I wonder how many parents were aware of how creepy this was. I wonder. I… have some questions. Actually no, no I don't.