Video games can certainly have some pretty adult material in them. Hell, even when the material is relatively PG, they can still sound kind of inappropriate to anyone listening who isn't given proper context. Anime fans are probably very familiar with this problem. As I look back on my awkward teenage years, I find it kind of comical but at the time, it wasn't funny so, as a public service, I am providing you with a list of gaming scenes that you might want to skip or mute when parents, siblings, or pearl clutching house guests are nearby.
Dante's Inferno
Okay, so Dante's Inferno doesn't just have scenes that you don't want your parents to see, it has entire levels. In particular, the circle of lust level can get pretty bad. Not only is the level filled with nudity, but the topless boss, Cleopatra, forces the protagonist to grope her, moans a bunch, and then kills him. There's also a tower that is probably modeled after a dick. In fact, this game has a ton of dick in it.
I used to work at Gamestop and sold countless copies of Grand Theft Auto and other mature titles to parents who were buying it for their very young kids. Dante's Inferno is the only game that ever got me yelled at by a concerned parent demanding their money back. From then on, I told parents about what was in the game and they refused to buy it. Grand Theft Auto IV remained fine, though, because "it's nothing they won't see in school."
Grand Theft Auto: San Andreas
Speaking of Grand Theft Auto , you've probably heard of the Hot Coffee Mod present in Grand Theft Auto: San Andreas. Gamers who played on the PC could download the mod that allowed them to access a minigame that had been blocked off in the final release. In that minigame, their character would have sex.
What made the whole thing worse is that it was all over the news. If you got caught playing this minigame, you couldn't say it wasn't intentional, because the media had already informed mom and dad what pervy teenagers were getting up to. Hell, owning the game was enough of a reason to face an inquisition. But probably worst of all is how damn awkward and kind of gross the scene looks.
Final Fantasy X-2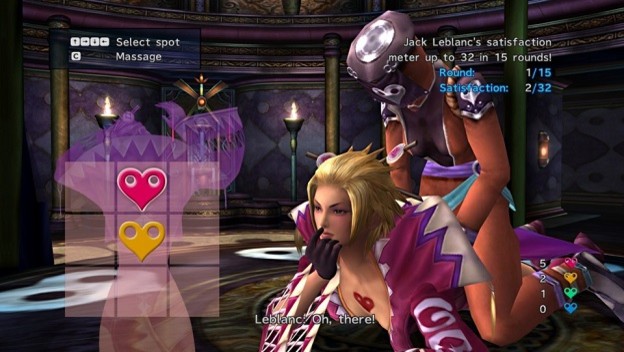 Final Fantasy is not a series totally devoid of scantily clad women, but when it comes to sexuality, Final Fantasy X-2 takes the cake. The game is basically Yuna's college years, now that she's free from her quest of martyrdom. She sings, she dances, and the party of three girls change job classes by swapping clothes on the fly. Yeah, beams of light obscure the parts you'd expect to be censored, but if you're 14, it's unlikely that your mom will care about that distinction.
The absolute worst thing, though, is a massage minigame that has to be perfected to get the true ending. The game consists of the player giving a sultry women a massage while she moans and moans and moans.
Catherine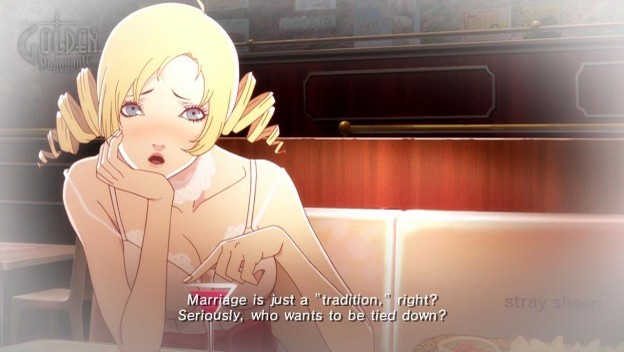 Catherine is a phenomenal puzzle game that also asks its players to be introspective about their romantic habits. The game explores infidelity, demons, succubi, and other things that don't always play well with prudish people. Also, when a player is asked about their views on relationships, it might get uncomfortable to have people around. Especially if they are in a relationship with that person.
But there is one stage that I kept dying on while I was still getting used to the game, and I am super thankful that I was an adult and not a kid trying to play it on my parent's big screen. In that stage, the main character, who is wearing only his underwear, climbs a tower to get away from a giant, horrific, creeping butt that has a tongue that is violently lashing about protruding from its crack. The game is also graphically and sonically suggestive but it's this image that I would really struggle to explain.
Lunar: Silver Star Story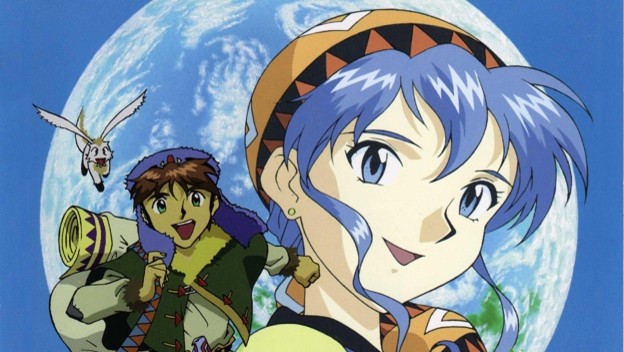 It's not uncommon for games to have combat noises that sound like sex. It's even a trope called "Orgasmic Combat." Lunar: Silver Star Story didn't have a whole lot of these noises in succession, so it never really sounded like sex, but it makes the list because of its atypical reward for completing the game: the outtakes.
In the outtakes, the voice actors are trying to record their lines but are having some difficulty. These combat and pain noises are drawn out and repeated. One actor in particular is very aware of this because after a very, very lusty sounding recording attempt he says "I refuse to do this scene, I'm under 18." I can't recall exactly how long that exact part was but it felt like forever while I was trying to listen to about half an hour of outtakes. I doubt many kids will be playing this game these days and I also doubt that anyone will bother with the outtakes.  Regardless, I wanted to throw this on the list as a fun little fact and as a surprise for whatever fans of the game might be reading this. Cheers!