What is one of the most used peripherals a gamer might use? Well, a controller is the obvious answer, but it has competition in this world where online multiplayer and streaming has become such a big deal. Headsets are just as important. People need ones that are better than the flimsy options that can come packed in with a system like the PlayStation 4 or picked up for under $20 at a Walmart. That is when a company like Turtle Beach comes in. Coming in for the 2018 holiday season are two options for people to choose from. One is the $79.95 Atlas Three headset , while the other to keep in mind is the $249.95 Elite Pro 2 + Superamp for the PS4 or Xbox One. Each one has its own sort of specialties that might earn it a spot on a wishlist.
The Atlas Three is a good basic headset. When you look at it, you see something solid. It is designed to accommodate pretty much any kind of gamer. While it is billed as being for the PC, its standard 3.5mm connector lets it work with the Nintendo Switch, PS4, Xbox One, and mobile devices too. It becomes something you can use anywhere, especially since its rechargeable battery lasts 40 hours before needing a new charge. It has the sort of memory foam padding you expect, so you can wear it for hours comfortably, the ProSpecs Glasses Relief Systems makes sure it is not pushing your glasses into your ears, and it has a sturdy, metal-reinforced headband.
Of course, a headset is about making sure you hear everything clearly and sound good. The Turtle Beach Atlas Three has 50mm speakers and is ready to support all of the major surround sound options. Using it with a PC or Xbox One? It is compatible with Windows Sonic for Headphones, to make sure you catch the highest highs and lowest lows. Do you have access to Dolby Atmos for Headphones? It will be compatible with it and make the most of the technology too. This headset also makes sure you sound perfect. The Variable Mic Monitoring lets you also accurately hear yourself, to be certain people understand you, while also offering battery-powered amplified sound, in case you think you can't be heard. Turtle BEach Signature Sound, Treble Boost, and Vocal Boost presets are all available, so you could plug it in and begin gaming. Plus, should you need a moment, you can flip up the mic to mute it.
The Turtle Beach Elite Pro 2 + Superamp is, as its name suggests, a more elite headset for people. Available for the PS4 and Xbox One, while also compatible with the PC, this is basically a sort of Cadillac of headsets. The headset has 50mm Nanoclear over-ear speakers, with DTS Headphone:X Surround Sound Technology that has a 7.1 channel soundstage to make it sound like you are actually in the gaming environments. It covers 12Hz-20kHz frequency, so you hear ever possible sound, so everything sounds true and accurate. In addition to the audio presets you expect, like Signature Sound, Vocal Boost, Treble Boost, and Bass Boost, this headset also has a Superhuman Hearing sound setting that gives you an edge by making subtle audio cues in games, like footsteps or reloading, more obvious. This is combined with the TruSpeak Technology with the unidirectional mic.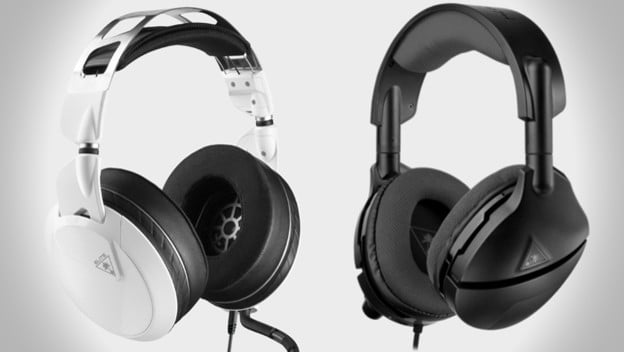 But what really makes the Elite Pro 2 + Superamp special is the Superamp. This is an additional audio controller that works with the Elite Pro 2 to make sure your experience is completely customized. This device lets you better control your headset as you play, working with the Turtle Beach Audio Hub App on an iOS or Android device to allow you more control over your gaming situation. This means you can go with EQ audio presets or handle chat controls. This lets you monitor your mic and handle the game/chat mix. It is all about customization. This is just a more techie one than the more aesthetic option to swap magnetic speaker plates on the Elite Pro 2 to change the headset's look.
Both the Turtle Beach Atlas Three and Elite Pro 2 + Superamp are great headsets ready to compete for your attention. People who want a more basic, but still well rounded and comprehensive, headset should consider the Atlas Three. Those who want to stream or get competitive may want to consider the Elite Pro 2 + Superamp instead, since it offers more control and better tech. But in general, both should be on your radar if you like playing online.