Liberty City is a fan-favorite location in the Grand Theft Auto franchise. The city adds to the catalog of locations, including Vice City, Los Santos, San Fierro, and Las Venturas. This article will break down exactly what Liberty City is, including its real-life inspiration. The vast city has endless areas to explore that keep players returning for more.   
Geography 
Liberty City, aka The City of Liberty, is based on the real-life New York City and New Jersey. The area has four boroughs, similar to New York's five, separated by bridges on their own island. The only borough Liberty City doesn't feature is Staten Island. 
One of the city's best features is the 56 individual and distinct neighborhoods. Below is each borough, along with its respective neighborhoods. Besides economic and social status, the only difference between boroughs is that Algonquin, a stand-in for Manhattan, has three areas.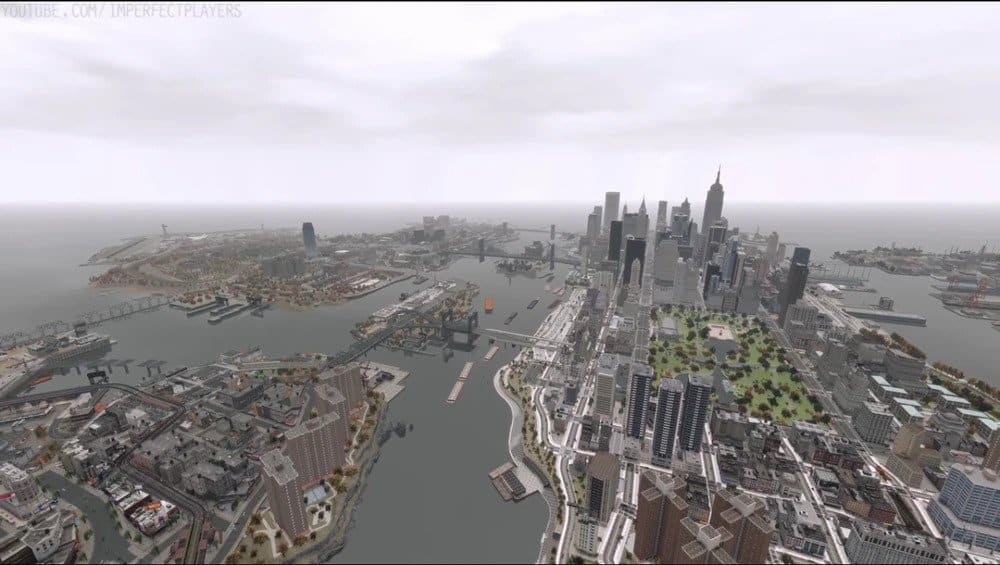 Algonquin, Uptown 
East Holland (East Harlem)
Lancaster (Yorkville)
Middle Park (Central Park)
Middle Park East (Upper East Side)
Middle Park West (Upper West Side)
North Holland (Harlem)
Northwood (Washington Heights and Inwood)
Varsity Heights (Morningside Heights)
Algonquin, Midtown
Colony Island (Roosevelt Island)
Easton (Murray Hill and Midtown Manhattan)
Hatton Gardens (Tudor City, Midtown Manhattan and Turtle Bay)
Lancet (Kips Bay and Turtle Bay)
The Meat Quarter (Meatpacking District and Chelsea)
Presidents City (Alphabet City)
Purgatory (Hell's Kitchen)
Star Junction (Times Square)
The Triangle (The Flatiron District and Midtown Manhattan)
Algonquin, Downtown
Castle Garden City (Battery Park City)
Castle Gardens (Battery Park)
Chinatown (Chinatown, Manhattan)
City Hall (Civic Center)
The Exchange (Financial District)
Fishmarket North (Bowery and the Fulton Market)
Fishmarket South (South Street Seaport and the Financial District)
Happiness Island (Liberty Island)
Little Italy (Little Italy, Manhattan)
Lower Easton (East Village)
Suffolk (SoHo)
Westminster (Greenwich Village and Chelsea)
Broker
Beachgate (Sea Gate)
Beechwood City (Flatbush and Far Rockaway)
BOABO (DUMBO)
Downtown (Downtown Brooklyn)
East Hook (Red Hook/Brooklyn Navy Yard)
Firefly Island (Coney Island)
Firefly Projects (Brownsville, East New York and Ocean Hill)
Hove Beach (Brighton Beach and Bay Ridge)
Outlook (Prospect Park)
Rotterdam Hill (Clinton Hill and Brooklyn Heights)
Schottler (Bedford-Stuyvesant and Bushwick)
South Slopes (Park Slope and Crown Heights)
Dukes
Cerveza Heights (Corona, Jackson Heights, and Ozone Park)
Charge Island (Randall's Island and Wards Island)
East Island City (Long Island City)
Francis International Airport (John F. Kennedy International Airport and LaGuardia Airport)
Meadow Hills (Forest Hills)
Meadows Park (Flushing and the Flushing Meadows-Corona Park)
Steinway (Astoria and the Queensbridge Projects)
Willis (Hollis and Jamaica)
Bohan
Boulevard (Grand Concourse, Pelham Bay Park and Van Cortlandt Park)
Chase Point (Hunts Point)
Fortside (Fordham, Tremont, and the Bronx Hub)
Industrial (Soundview and Port Morris)
Little Bay (Pelham Bay and Throggs Neck)
Northern Gardens (Co-op City)
South Bohan (South Bronx)
Liberty City Games
Liberty City makes a handful of appearances in the GTA franchise, most notably in Grand Theft Auto IV. This iteration of Liberty City sets the foundation for the area's grim, dark, and depressing nature. These features have been beloved by fans of the game, who have created mods that further increase the atmosphere and graphics to create a realistic experience.
Grand Theft Auto IV (2008)
The Lost and Damned (2009)
The Ballad of Gay Tony (2009)
Grand Theft Auto: Chinatown Wars (2009)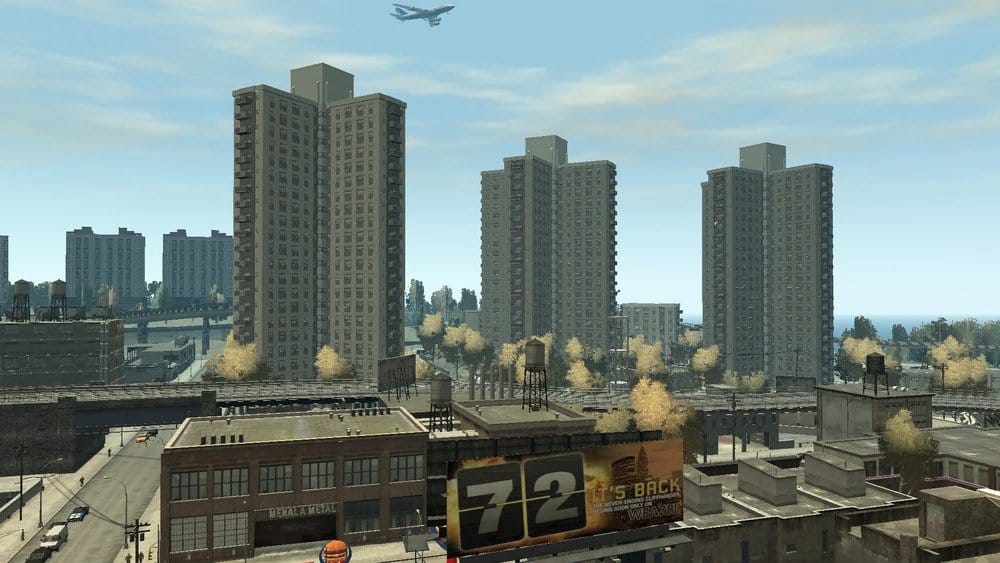 Key Features 
Like any other major city, Liberty City has a diverse network of schools, public transportation, public services, etc. These features only add to the depth and detail added to make the world come alive and play dynamically. The character of these services adds to the city's atmosphere that players can feel while walking around the streets.  
Schools
Bohan Leadership Academy–Bohan
Castle Garden High School–Castle Gardens, Algonquin
East Holland High School–East Holland, Algonquin
Easton Academy For Boys–Easton, Algonquin
Fort Side High School–Fortside, Bohan
Meadows Park International–Meadows Park, Dukes
Rotterdam Heights High School–Rotterdam Hill, Broker
South Broker High School–Broker
South Slopes High School–South Slopes, Broker
Police Stations 
East Holland Police Station–Algonquin
East Island City Police Station–Dukes
Fortside Police Station–Bohan
Francis International Airport Police Station at the Francis International Airport–Dukes
Hove Beach Police Station–Broker
Lower Easton Police Station (headquarters)-Algonquin
Middle Park East Police Station–Algonquin
Northern Gardens Police Station–Bohan
South Slopes Police Station–Broker
Star Junction Police Station–Algonquin
Suffolk Police Station–Algonquin
Varsity Heights Police Station–Algonquin
Westminster Police Station–Algonquin
Hospitals 
Bohan Medical & Dental Center–Bohan
Cerveza Heights Medical Center–Dukes
City Hall Hospital–Algonquin
Holland Hospital Center–Algonquin
Lancet-Hospital Center–Algonquin
Schottler Medical Center–Broker