Skylanders inducted me. Rather, "infected" is a better word. After grabbing a complete version of Skylanders: Spyro's Adventures shortly after launch for a steal at Goodwill ($24.99!), I was hooked. I love the mechanics, find the world delightful, and, most importantly, I dig the NFC thing; it just seems cool. Which means the thought of more games using that kind of technology gets me all kinds of excited. I'm ready to resort to bribery to get the Pokemon Rumble U figures I want at GameStop later this month. (I've got two GameStop managers in the palm of my hand.) But when it comes to Disney Infinity , I want absolutely no part of it because Disney's ignoring a very important demographic.
Simply put, the company is ignoring the people who grew up wanting to be pretty, pretty princesses.
Personally, I see myself as a "Belle." My love/obsession with Beauty and the Beast as a child scarred my parents, and to this day, I still hear from my mom how I "forced" them to take me to see the movie at the dollar theater down the road 27 times. Had Belle, the Beast, Gaston, or even Cogsworth made an appearance, Disney would have hooked me on Disney Infinity . Except it didn't, so it doesn't.
Hell, I'd even have been happy with some The Little Mermaid or Aladdin love. Ariel, Aladdin, and Jasmine are all amazing characters. I could have attempted to recreate Virgin Interactive's Aladdin game on my PS3! That would have been so cool!
Except Disney pretty much decided that Disney prince and princesses don't exist for Disney Infinity . The first wave of Disney Infinity figures consists of characters from Cars , The Incredibles , The Lone Ranger , Monster's Inc. –sorry, Monster's University –and Pirates of the Caribbean . Considering the range of the Disney character catalog, it's a very limited line that completely ignores classic movies and series. We won't even see Mickey until Wave 2, which means he could appear sometime between October and a vague "early 2014."
It just boggles my mind that Disney would create a game designed to tap into feelings of nostalgia and then completely ignore its most beloved series. Instead of dragging out the overexposed Pirates of the Caribbean , or reminding us of the wreck that is The Lone Ranger with Lone Ranger and Tonto, let us root for one of the princesses. Brave just came out, and Merida is a perfect example of an action girl. Let's have some archery and exploration adventures! Even better, once upon a time, there was a movie called Pocahontas . Let's add some forests to Disney Infinity and let Pocahontas see what's around the river bend with Meeko and Flit. I suppose, in the loosest sense of the word, we could even consider Nala a Disney princess. Give us a Lion King Play Set!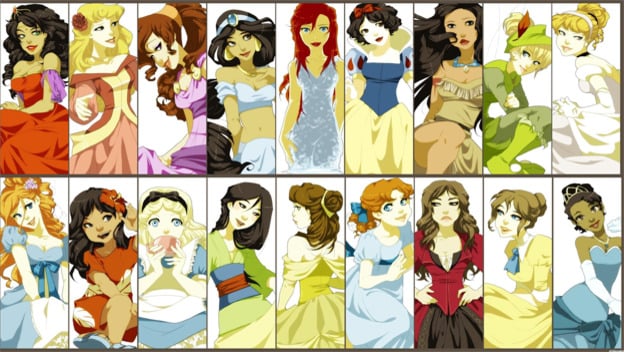 Disney's missing out. Instead of targeting the 25- to 35-year-old gamers who grew up on movies such as The Little Mermaid , Beauty and the Beast , Aladdin , The Lion King , Pocahontas , Hercules , and Mulan , it's going with a mishmash of Disney Pixar releases and hoping for the best. It's disappointing because Disney Infinity has such potential. There are so many amazing characters in the catalog that have left marks on the lives of gamers and non-gamers alike, and instead of using that to lure people in and take their money, it's shoving Pirates of the Caribbean and The Lone Ranger in our faces.
Sadly, the power of the Disney princess will remain untapped, at least until 2014. The second wave of Disney Infinity characters has been confirmed, and while Rapunzel and Vanellope Von Schweetz, who absolutely counts as a princess despite being a "president," join the cast, it's still ignoring many series that could lure in an even larger audience. At this rate, we'll have to wait until a sequel ( Disney Infinity… And Beyond ?) to play as characters from the series that raised us.