Headsets are a gaming necessity. Whether you are an ordinary gamer or someone with dreams of going pro, you need to be in constant communication with the people you are playing both with and against. You need something reliable. That means, investing in something beyond the cheaper headsets. For those looking to upgrade to something more comprehensive and impressive, it might be time to check out Roccat. Its Khan AIMO headset is a $119.99 beast doing its best to make sure both your games and you sound good.
The Roccat Khan AIMO really shines when it comes to its specialties. This is a headset that stands out from all others, in terms of features. For starters, this has a 24-bit 96kHz DAC sound card built into it. That means guaranteed 7.1 audio with no interference. This is combined with a suite of features and technologies that make it a high resolution surround sound headset that captures rich bass tones, higher noises, and the intricacies of natural speech and mid tones. It is designed to make sure you hear everything perfectly, with easy earcup volume and surround sound control in your hands. Paired with Swarm, Roccat's audio software, you can manage drivers and settings for games to make sure each one sounds as good as it can while you play. After all, when you have 50mm neodymium magnet drivers capable of 10-40,000Hz responses and 32Ω impedance, you want to be sure everything is handled properly.
The Roccat Khan AIMO has an incredible microphone too. It offers a 100-10,000Hz frequency response, –40dB sensitivity at 1Hz, and a 60dB signal-to-noise ration, guaranteeing that people will have no trouble hearing exactly what you say. The mic will always be working to pick up on your voice, not ambient noises around you, and makes sure you sound like yourself when speaking with others. There is also an easy mic auto-mute option, to keep people you are playing with from hearing unintended noises that might impair or distract them while you all play together. It might just help you sound like a professional.
Staying comfortable is as important as being reliable. After all, someone could be wearing a headset for hours as they play. The Roccat Khan AIMO is only 275 grams, so it will not feel like it is weighting down on you as you play. The stainless steel sliders let you adjust its size, so it perfectly matches your head. Not to mention the memory foam earpads protect your ears, keep them comfortable, and helps with the passive noise cancelation to make sure you are heading what is happening in your game, and not other distractions in the area.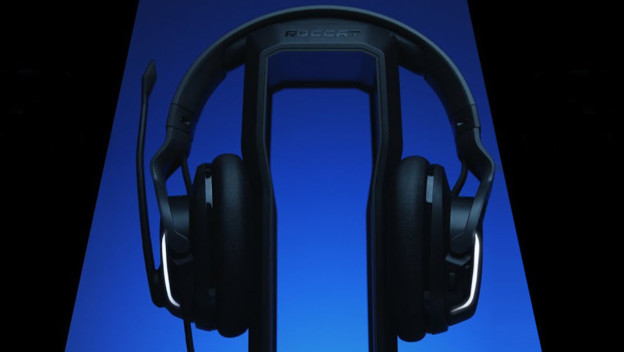 People with Roccat's Khan AIMO are also able to set themselves apart. Wearing one of these headsets will naturally make people stand out. But the illumination effects take things to another level. It has an intelligent illumination suite, with 16.8m colors available with its four LEDs. It has its own lighting engine built in, which means you can configure designs you like, have them work with the app to configure events for different scenarios, and have the headset react while you play. The effects and presets also synchronize across devices, so once you are set, you are completely set.
People who want to have the bests sorts of equipment to aid them in their gaming endeavors will definitely want to explore and find what works for them. The Roccat Khan AIMO is a headset that might be the kind of peripheral that aids them in their everyday gaming life, whether they are playing professionally or casually. It is a comprehensive headset that seems to always be doing its best to provide the user with quality sound.