When it comes to playing games, we are always thinking about the items we need to make our sessions better. We make sure we have the best systems, like the PlayStation 4 Pro or Xbox One X. We get specialized controllers or elite headsets. We'll crowdfund special gaming mice and invest in subscriptions that allow us to backup data to the cloud and play online. But, sometimes we tend to neglect our own comfort. That is when something like a Couchbed can come in incredibly handy. It is the ideal item for not only a gaming den or mancave, but any living room setting.
The Couchbed is exactly what it sounds like. It is a couch that is also a bed. But, it is not like those normal sleeper sofas that you end up seeing in stores. You know, where you pull out or unfold a mattress, then have annoying bars or discrepancies when different parts of the bed and couch meet. Those are never 100% comfortable in "bed" form, while Couchbed is better than any of those pullouts by being easier to use and more accommodating for people who will be sitting and sleeping on them. Not to mention cheaper, since they start at $299.99.
Here is how a Couchbed works. It is a 10" memory foam mattress with a hinged cover attached to it. When you move this segment around, it can either make the Couchbed a flat mattress with 100% CertiPur ultra-dense memory foam or move to provide a backrest and arms for its couch form. The transformation happens in a matter of minutes, resulting in a near seamless mattress when completely flat. It also comes with two bamboo-infused, memory foam pillows that can be used when the Couchbed is a couch or a bed.
If you have it in a gamer den, then you have comfortable seating for multiple people. Memory foam is cozy and contours to people's body, and the Couchbed in particular has phase change material that keeps the temperature from getting too hot or sweaty due to the foam. If the gaming session goes too long and people feel like spending the night, you pull down the back in a swift motion and have a bed that should sleep one person very comfortably or two rather well. You even have the pillows ready for them, with their memory foam ready to accommodate the height they need.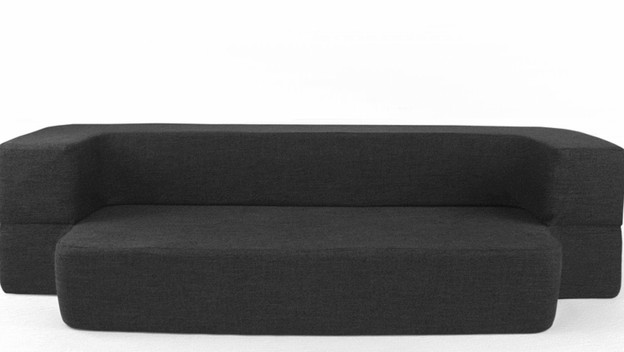 Let's look at it another way. Let's say you are young, just getting out of the house for the first time, and getting your first apartment. Maybe you can only afford a studio, but still want to have people come over to enjoy games with you. The Couchbed is designed to function as both a part-time couch and bed or as a full-time couch and bed. Combine that with a 10 year warranty and free shipping, and you could have an incredibly affordable asset for your home. Which could then mean maybe having more disposable income to spend on things like, I don't know, games?
The Couchbed is a best of both worlds sort of product. This is something that allows you to completely relax. You can play and be cozy, getting into the zone. Or, if you have it in a gaming den, it can quickly turn into a guest room with the flip of a cushion. It is an incredibly accommodating thing, which people who enjoy their hobby and having friends around might appreciate.