Sometimes, you just want things to be simple. If you are going to set up a console, you want to plug it in and have it start playing without much ado. You don't want to mess around controllers, trying to get things right. You also don't want to always have to fiddle with a headset to get it working. LucidSound has a plug-and-play option for people, the LS35X Wireless Stereo Gaming Headset .
The LS35X Wireless Stereo Gaming Headset is designed with the Xbox One in mind, complete with a number of features to make it simple to use with the system. It is a 100% wireless headset with about fifteen hours of battery life on a single charge. It's ready to work with the Xbox One Dolby Atmos compatibility. All you do is press a single button and you're ready to go. Your console recognizes the headset and you can start playing and enjoying your games. Plus, because of the integration, Xbox Wireless lets you see the battery life and how strong your connection is by looking on your screen. It constantly keeps you informed.
But, the Xbox One compatibility doesn't mean it is just for one system. The LucidSound LS35X headset brings its amplified stereo sound and either Dolby Atmos or Windows Sonic surround sound to both PCs and mobile devices too. If you have a Xbox Wireless Adaptor, which might be necessary, it can connect wirelessly to a PC as easily as it would to an Xbox One. Or, if you use the included mobile 3.5mm cable, you can just go ahead and attach it, make it a wired headset, and use it as needed.
Which you might want to do, as it's fairly comprehensive. The LucidSound LS35X Wireless Stereo Gaming Headset has 50mm speakers with a 20-20,000Hz frequency response and 70mW 32ohm per channel. It'll be great for hearing deep base sounds as well as more ambient noises as you game. Plus, it'll help ensure you hear whoever you might be talking to. You don't have to fumble for controls, as you can press the button in the center of the ear cup to mute the game or microphone or turn its ring to adjust the volume of everything you're hearing.
The LucidSound LS35X Wireless Stereo Gaming Headset also offers multiple mic options. You have a standard boom mic which people have the option of attaching. This is designed for gaming and streaming. If you are going to go on the go and use this headset with a mobile device, you remove that and use an integrated mic for conversations. Additionally, sidetone is present, so you can monitor the sound of your own voice while talking to others.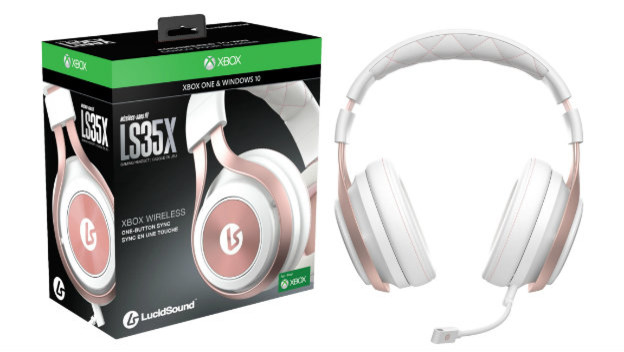 There are also two different options with the LucidSound LS35X. People can find the black model anywhere. It is completely black, with a silver LucidSound logo on it, the memory foam earcups with cooling gel with them and a cloth liner, and a lightweight metal frame. Or, you could go to Best Buy for the white and rose gold version. Each one is $179.99.
Getting a good headset you can use quickly and easily can be a big help. Especially if one is already taking a specific console into account and doing all it can to work with it. The LucidSound LS35X Wireless Stereo Gaming Headset could be a good option. It comes in two color schemes. It's well integrated into the Xbox One ecosystem. You can use it with a PC or mobile device. It's just quite compatible.