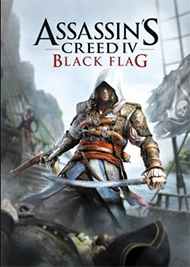 System: PS3*, Xbox 360, PC, PS4, Xbox One, Wii U
Dev: Ubisoft
Pub: Ubisoft
Release: October 29, 2013
Players: 1 (2+ Online)
Screen Resolution: 480p-1080p
Violence, Language, Sexual Themes, Blood, Use of Alcohol
Assassins on the High Seas
by Matt Walker
Assassin's Creed has been that one title I always wanted to love but, depending on which one I was playing at the time, never could get behind. This all changed last year with Assassin's Creed III. I love that game. Maybe it is the moving away from Ezio; maybe it is the slightly more complex nature of the story; perhaps it is even the conclusion of Desmond's story, but for some reason, I absolutely love it. Of course, despite all the things Assassin's Creed III does right, my love for it might just come from the sea missions.
I have a confession; I think pirates are really cool: not the Disney movie pirates mind you, nor the modern-day pirates (who are kind of evil). No, I am speaking of the pirates from novels I read as a kid--Treasure Island, The Curse of Black Beard, etc. The pirates in these novels are some shady people, no doubt, but there is always some sense of nobility, honor, and some tackling of the larger issue of the way our circumstances in life changes us that I really respond to.
This is really the main plot point of Assassin's Creed IV: Black Flag. You play as Edward Kenway, ancestor to Connor from Assassin's Creed III. Edward dreams of wealth and notoriety. He wishes to become more than who he is. It is this dream that sets him upon his journey as a privateer (fancy word for pirate). What's more, it is this journey that puts him into alliances with both Templars and Assassins, playing both sides for his own gain. As the story unfolds, it becomes more than just wealth and power Edward seeks. Purpose slowly begins to shape his goals. Much like real life, we all start out wanting more than we have, but slowly the desire to find reason behind who we are, and ultimately decide the type of person we want the world to remember us as, begins to creep in.
But Edward has some great supporting characters who help him along his path. When you meet someone in Black Flag, they aren't just a throwaway character. Which is good, mostly due to the fact that in Assassin's Creed III, while migrating people to the plantation, characters tended to get lost in the shuffle after you did a few missions for them. Maybe it is the honor-amongst-thieves feel between you and your shipmates that assists in keeping things more like a family of sorts, which I assume is the goal, considering how much time you will spend on your ship, the Jackdaw.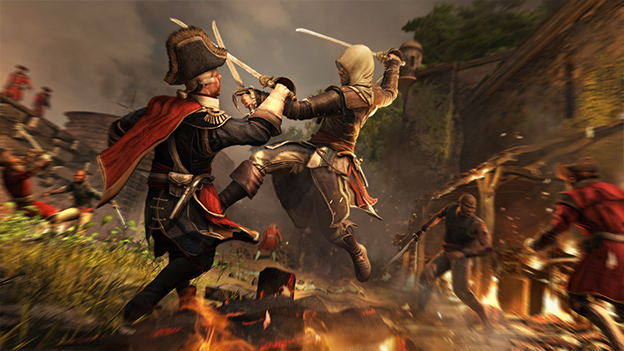 Black Flag takes what many gamers, myself included, enjoy about Assassin's Creed III and explodes it all over the place. I am talking about the rare sea missions. Here, in Black Flag, players find themselves with a ship and nothing but the open sea, beckoning them to come and do what they will. Attacking other ships, plundering cargo, hell, even hunting is all done with a flair of dramatic we all associate with being a pirate. However, it is not just the simple acts that are rewarding here. Rather how it feels when you do them.
For example, when you are sailing about the high seas and you see a vessel worthy of plunder, it becomes very apparent where this system graduates from the previous installment. You will be able to scout out the ship before you attack. Whereas in Assassin's Creed III, it is simply just being attacked by enemy ships. Scoping things out will allow you to figure out if the ship is stronger than yours and if the ship is worth the time it takes to engage in a nautical battle. It is this freedom of the open seas that is my favorite part of the game. The only other game where I spent this many hours at sea is The Legend of Zelda: The Wind Waker, but this is a more authentic experience worthy of any pirate lover.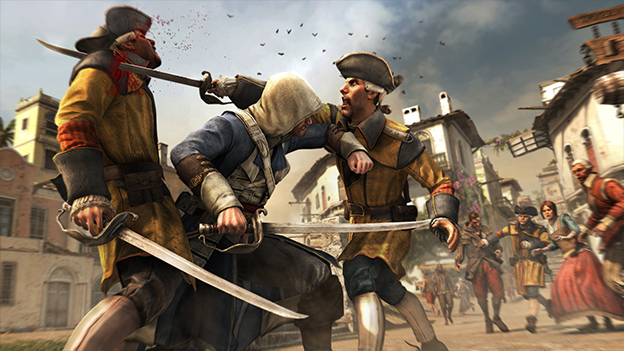 Another example of refinement comes in the hunting. You still hunt the various animals. You still collect goods and various other things. While the system is satisfactory in Assassin's Creed III, in Assassin's Creed IV, it exceeds expectations. In fact, I think Ubisoft Montreal carried over many of the lessons it learned from Far Cry 3. There is a level of fluidity here that makes the hunting process more enjoyable. It is also necessary to scour for the right animals in order to enhance some of your equipment. This, coupled with the open-sea exploration, really adds up to a pirate experience so enticing it can draw you away from the main story for hours.