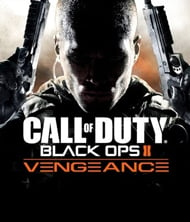 System: Xbox 360
Dev: Treyarch
Pub: Activision
Release: July 2, 2013
Players: 1 (2+ Online)
Screen Resolution: 480p-1080p
Blood and Gore, Intense Violence, Strong Language, Suggestive Themes, Use of Drugs
Vengeance Is like a B-Sides Record from Your Favorite Band
by Josh Engen
Even if you're not a Call of Duty fanboy, it's hard to deny that Activision's Henry Ford-style production process is nearly flawless. CoD titles hit the market with a level of polish that very few developers, even triple-A studios, can pull off. But every so often, it feels like the development team loses focus. And Black Ops 2's latest content pack, Vengeance, feels like one of these unfocused releases.
The last two content drops, Revolution and Uprising, had judicious mixes of multiplayer maps and zombie missions—Revolution even included the Peacekeeper, a flashy new submachine gun. But Vengeance feels like a particularly zombie-heavy release. Treyarch has managed to top themselves yet again with "Buried," the new zombie map, but the multiplayer maps lack the kind of self-scrutiny it takes to be truly brilliant.
Let me see if I can explain.
Vengeance comes with three central maps: "Rush," "Detour," and "Cove." "Rush" is the most lighthearted of the trio, placing players on a paintball course. Though, only a portion of the map is actually on the field. The battle quickly spills into the offices and storefronts as well. Unfortunately, like I said, the map lacks focus. There are far too many routes, cover is sporadic, and even though the sight lines are often favorable, the lack of choke points makes them impossible to cover.
One of the strongest parts of Treyarch's map design, at least up until now, has been the restraint that they've shown with their routes. This, combined with Treyarch's unique talent for crafting vertical choke points (something that no developer has been able to pull off successfully), gave Black Ops 2's multiplayer matches a unique flow. But "Rush" loses sight of these defining elements and reverts back to a Quake-influenced map design. Without any real choke points, the kills come from enemies shooting one another in the back. Gunplay is fairly nonexistent, and the battles only last as long as it takes for someone else to show up to shoot one of the players.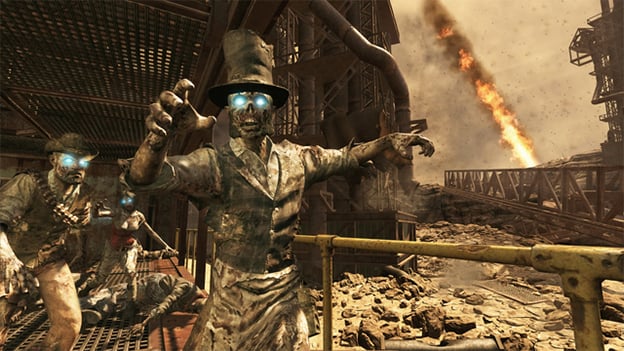 Unfortunately, everything that I just said about "Rush" also applies to "Cove." Treyarch took a page from Far Cry 3 and set this little map on a desert island. "Cove" is essentially an elaborate maze of tiny tunnels, and the only real choke point that the map possesses is in the center, where a downed plane offers enough cover to provoke some gunplay. However, if you're anywhere else on the island, you're probably going to spend your time shooting enemies in the back (or getting shot yourself). Everyone's favorite submachine gun, the Vector, gets an annoying amount of airtime on this island, and face-to-face battles are rare. I should mention that most of my complaints about "Rush" and "Cove" are mitigated slightly when the game mode is switched to Domination. Domination's control points act as heavy-handed choke points, but the routes and sight lines, unfortunately, don't improve.
The most well designed map in Vengeance is probably "Detour," which is set on a suspension bridge that's seen better days. "Detour" has some very solid choke points and the sight lines provoke lengthy, intelligent movement. Unfortunately, it feels like the entire map should be shrunken by about ten percent. It's just too damn large to let players provide effective cover for their teammates. So, player movement is mostly dictated by spawn locations, not the map's natural push and pull.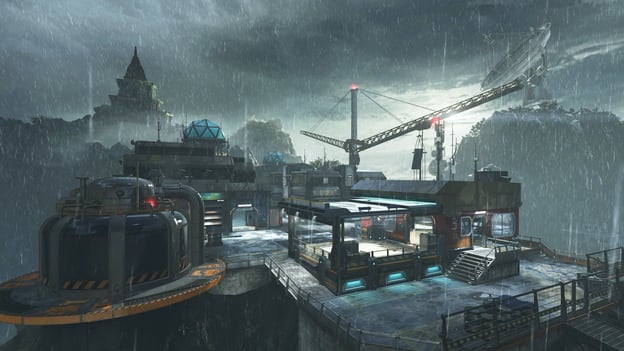 Oddly enough, the crown jewel of Vengeance's map pack is "Uplink." "Uplink" is a remake of "Summit," a very popular map from Black Ops 1, so its quality shouldn't be surprising. But it also doesn't feel like it's really a part of Vengeance's core, which is why I didn't include it in my introduction. This map forces players into organic attack patterns and encourages both aggressive and passive movement. Choke points can be difficult, but not impossible, to hold, which is the defining feature of any good choke point.
I hate to say this, but Vengeance's multiplayer maps are some of the most disappointing things that I've seen from Treyarch in this generation. Aside from "Uplink," they really do feel like the B-side recordings from one of your favorite bands. The songs weren't good enough to make the original cut, so they were shuffled into a compilation that probably shouldn't have been released.
I say all of this knowing full well that these maps have only been out for about 24 hours. Multiplayer maps evolve as players learn their intricacies, and some of my least favorite maps have eventually become my favorites. It's difficult to gauge a map's successfulness until the community has a chance to get to know it.