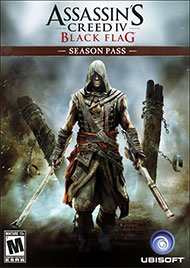 System: Xbox One, PS3, PS4, Xbox 360
Dev: Ubisoft Montreal
Pub: Ubisoft
Release: December 17, 2013
Players: 1
Screen Resolution: 480p-1080p
Blood, Sexual Themes, Strong Language, Use of Alcohol, Violence
A Cry Echoing Through History
by Becky Cunningham
Assassin's Creed IV: Freedom Cry is a heavy piece of DLC. It's fundamentally unsettling, at times deeply upsetting, and often problematic. It covers a period of history that far too few Americans are familiar with, and I think it's an important piece to play through in a thoughtful manner. Freedom Cry isn't something I'd describe as fun, but it's one that's worth experiencing and discussing.
Freedom Cry stars Adéwalé, Edward Kenway's former quartermaster, who has at the time of this adventure been an Assassin for fifteen years. When shipwrecked in Port-au-Prince while intercepting a Templar package, Adéwalé becomes involved in the growing slave revolt. Joining forces with the Maroons, escaped slaves who are fighting to live independently, Adéwalé begins to undertake large-scale missions to free slaves, such as capturing slave ships and liberating plantations.
The story of Freedom Cry takes place during the lead-up to a widespread slave revolt that eventually became a revolution, culminating in the abolition of slavery in the colony and the foundation of the Republic of Haiti. Adéwalé doesn't see the ultimate results of his labors, however, and there are several very disturbing scenes found in the story. The game's scenes touch on some heavy topics such as Adé's survivor's guilt and the fact that freedom for some slaves meant even worse treatment for those who remained in captivity. It doesn't have time to do more than graze against these themes, unfortunately.
Freeing slaves is central to all of Adé's activities in the DLC, from liberating small groups of slaves in "side activities" around Port-au-Prince to freeing up to a hundred at a time in larger activities. Stealth is very important throughout the DLC, as an overly aggressive approach (or being spotted at all when liberating plantations) results in overseers killing slaves in panic over the threat of a revolt. It certainly doesn't feel good to slip up and watch innocent people be killed as a result.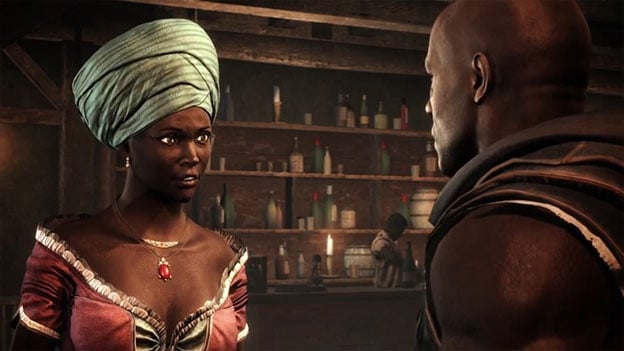 Mechanically, Adéwalé plays a bit differently than Edward. His primary melee weapon is a machete, which feels quite different from Edward's dual swords. His gun is a blunderbuss, which only works at close range but can take out multiple targets. The need for extreme stealth in nearly all his missions means it doesn't get used much, however. Finally, he's able to use firecrackers to distract guards en masse. The nature of Adé's mission means that there's not really a sense of play in the use of these new weapons. It's all too real for the kind of gleeful amorality that accompanied Edward's exploits.
This DLC also isn't as polished as the main Assassin's Creed IV game. I encountered difficulty finishing several missions when my targets simply didn't appear or their scripts didn't execute as they were supposed to. Some of the mission setups ranged from frustrating to downright unfair (especially one particular tailing mission), forcing me to cheese the game in order to complete them. Others seemed easier than they should have been, giving the feeling that the DLC could have used a few more weeks of balancing and play-testing.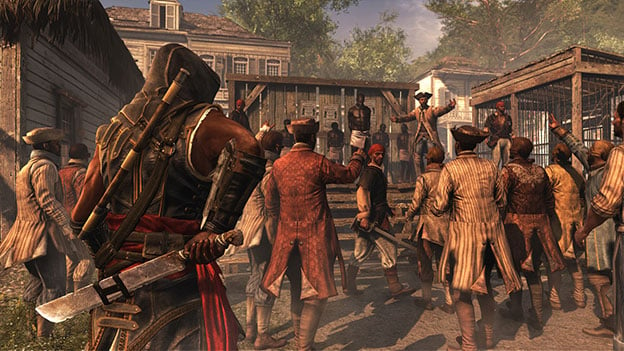 Freedom Cry takes place in a small segment of the Caribbean, giving Adéwalé a miniature open world to explore on foot and by ship. The game's missions are interspersed with requirements to free a certain number of slaves or liberate slave plantations before going to the next mission. In fact, most of Adewale's progression hinges on the number of slaves he's freed and the number of Maroons he's recruited. This is the thing I find most problematic about Freedom Cry. It doesn't quite feel right to gamify slave liberation, to promise players an improved machete or a bigger ammunition bag as a reward for freeing x number of slaves.