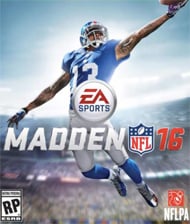 System: PS4, Xbox One, PS3, Xbox 360
Dev: EA Sports
Pub: EA Sports
Release: August 25, 2015
Players: 1-4 offline, 2-4 online, remote play
Screen Resolution: 480p-1080i
Content is generally suitable for all ages.
Once you have your team, you can face off against either the CPU or other players with it. These games are much shorter than usual, which is genius. It allows you to see the results of your draft immediately, without being attached to them for too long. Winning earns you coins, which opens up more draft picks. Then you get to draft all over again, pick a totally different and hopefully better team, and continue the process. It's a quick gameplay mode that shotguns content down your throat - which is the exact opposite of what long, drawn out football seasons are usually like in Madden games.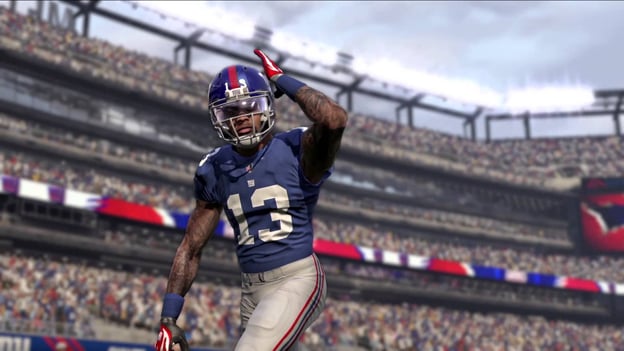 Madden 16 is one of the best looking Maddens yet. Player models, while still sometimes diving into the uncanny valley during cutscenes, animate incredibly on the field. Bodies bounce off each other in ways that feel real, and each tackle has an incredible impact. The game does a great job making the experience of football come alive, from the stats overlayed on the action to the announcers. This is one category where Madden simply continues to outperform itself year after year.
As I have reviewed every Madden game these last few years, I saw systems get more and more complex, making the game feel like it was out of my reach. Madden 16 feels like it is geared around simplicity. None of the systems from other Madden games were taken out, but the core of the game has been shifted toward simple mechanics interacting with other simple mechanics. This is a breath of fresh air to me. It makes Madden NFL 16 a fantastic place to start playing Madden, as well as being different enough to warrant a follow up buy after 15.
By
Angelo M. D'Argenio
Senior Contributing Writer
Date: August 26, 2015
Game Features:


Total Control Passing - Place the ball where only your receiver can get it with body-relative throws including high-point, low-point, back-shoulder, and the ever-popular touch pass.

Receiver/Defender Controls - Dictate the outcome of each passing play while the ball is in the air for the first time ever in Madden.

Integrated Broadcast Graphics - Your playmaker highlight reel has arrived with new player spotlights, dynamic goals and achievements, and innovative on-the-field cameras bringing you closer to the game than ever before.

Connected Franchise - Whether playing solo or online with friends, your quest to build an NFL dynasty comes complete with a brand new scouting and draft system as well as all-new dynamic goals throughout each game.

Madden Ultimate Team - Build your ultimate team with your favorite NFL players from the past and present while dominating the opposition in head-to-head seasons, solo challenges, and more.

Skills Trainer - With 60+ tutorials and drills, Skills Trainer focuses on teaching the strategy behind different passing and run concepts, as well as how to play Madden for new users to the series.