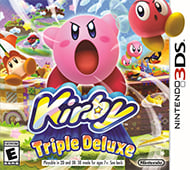 System: 3DS
Dev: HAL Laboratory
Pub: Nintendo
Release: May 2, 2014
Players: 1-4
Screen Resolution: N/A
Cartoon Violence
There's another bonus to the moves being so comprehensive. It makes Kirby Fighters, a sub game available from the outset, a lot more interesting. It's exactly what it sounds like, a fighting game featuring different Kirbys. Each one can use one of 10 of the copy abilities available in the Story mode and someone can play alone or against three other people over local wireless. Why? To determine power superiority. It's a surprisingly fun diversion, even solo, and plays a bit like Smash Bros. and Guilty Gear Dust Strikers. There can be stage hazards, like an occasional appearance from Lololo and Lalala, and items can be used to improve your Kirby's performance or hinder opponents.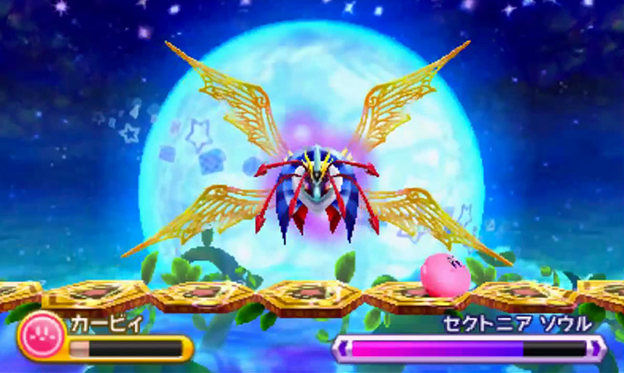 Kirby Fighters isn't the only impressive extra in Kirby Triple Deluxe, which only further serves to make it a more essential addition to our libraries. There's also Dedede's Drum Dash, a rhythm platformer that requires players to move through a stage, jumping on drums with perfect timing to earn medals if they keep up with the beat. Given how wonderful the music from the Kirby series is, it's a fantastic bonus. I only wish there were more than four levels, because there are so many memorable tracks from the series.
The other two modes require players to actually beat the story mode. Dedede Tour takes players through a harder version of the main game as King Dedede. All of the Hypernova power areas are removed, every mini-boss and boss is tougher, the final fights are different, and, naturally, you're playing as King Dedede. Saving the day as Kirby also unlocks The Arena, which is the requisite boss rush mode.
There's just so much to do in Kirby Triple Deluxe, further proving that Kirby is still our lovably stalwart companion. He's been by our sides as we've grown up, and will undoubtly remain a part of our lives as long as Nintendo makes games. For this, we should be thankful and, it seems as long as HAL Laboratory is around, we will be guaranteed fantastic installments. Kirby Triple Deluxe is an amazing game with tons of replay value and is one of the few games that makes the most of the 3DS' capabilities. It's a sure winner and will long be remembered one of the best games the 3DS has to offer.
By
Jenni Lada
Contributing Writer
Date: April 28, 2014
Game Features:


Kirby's powerful copy ability returns, allowing him to inhale, spit and transform.

Jump from the foreground to the background in dynamic 3D side-scrolling levels.

Employ new and returning abilities, including: Archer, Beetle, Fire, and Sword.

Kirby's new Hypernova ability lets him inhale obstacles and big chunks of levels!

Use the Download Play feature to duke it out in Kirby Fighters, a fierce battle mode for up to 4 players! You can also sharpen your skills by playing solo

Enjoy a selection of additional game modes including Dedede's Drum Dash and Arena.

Unlock improved items and new keychains by using the StreetPass™ function to tag other players.