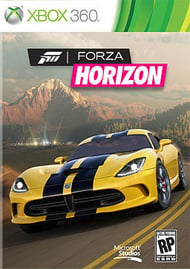 System: Xbox 360
Dev: Playground Games, Turn 10 Studios
Pub: Microsoft
Release: October 23, 2012
Players: 1-8
Screen Resolution: 480p-1080p
Drug Reference, Language, Suggestive Themes
Aside from the basic free-roaming single-player, the game has a plethora of multiplayer modes to choose from. You will be spending most of your time in the game's competitive multplayer, taking your cars online and racing them against the best the Internet has to offer. This is another great way to earn cash and cars, as you are given a reward from a slot machine interface every time you level up in this mode. The netcode is phenomenal and you can barely tell the difference between racing online and offline. The lobby system is also streamlined and easy to use, allowing you to find other players to race with in no time flat.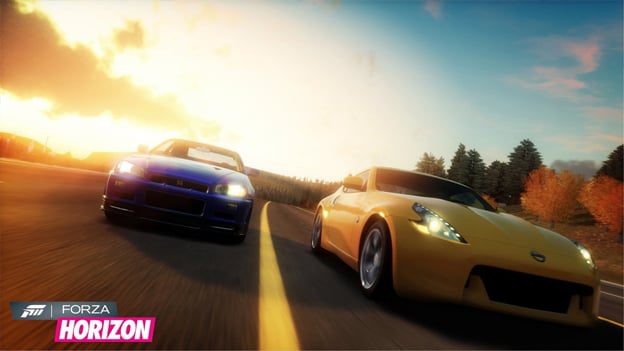 There's also a "cooperative" multiplayer mode, but this is kind of a misnomer. Yes, you can cooperate with your friends to complete challenges—which, once again, dish out rewards—but that's about all you can do. It feels a little barebones compared to the rest of what the game offers. In addition, the only way to enter either of these modes is by specifically exiting out of the single-player mode; you can't drop in and out of your friends' open worlds on the fly. It's a needless separation that causes the open world to have a bit less of an impact in the long run. After all, one of the most enjoyable things to do in any game is to futz around in an open world with your friends.
I wouldn't say Forza Horizon is as "hardcore" as Forza 4 or other racing titles that are currently on the market. However, I would say it's probably more fun than Forza 4 and those other racing titles. Yes, the list of cars is smaller, the customizability is tuned down, and you don't have access to any real-world racing circuits, but none of that matters. The sheer fun of driving through the open country trumps all of this. You can tune up or down the simulationist aspects of the game to your choosing, just like you could in previous Forza titles, and this can give the game a bit more of a "hardcore" feel if you are into that sort of thing. But even the story and environment of Forza Horizon are geared toward players who prefer a more laid back approach to the racing genre.
Forza Horizon is made of pure, unadulterated open world racing fun, and I can't take off points for that.
By
Angelo M. D'Argenio
Contributing Writer
Date: October 24, 2012
Game Features:


Competition Meets Culture: rivalries and leaderboards baked into the world. Online playground games like "cat & mouse" or "tag," set in an automotive music festival. Find multiple radio stations curated by Rob da Bank (BBC One DJ and festival promoter).

Freedom of the Open Road: race on some of the best driving roads in the world, including pavement and dirt, explore reimagined Colorado with broad environmental diversity—red rocks, aspen reservoir, and small towns—and discover hidden challenges and collectables like barn finds.

This Is Action Racing: smash through fences and picnic tables or drift through civilian traffic at high speeds to gain fame, race against planes and helicopters in showcase challenges, and race at night with full 24-hour light cycles for the first time in the Forza franchise.