CES 2020 kicked off January 7, 2020, and so many electronic goods were shown off at this year's show. While it wasn't as gaming-focused as it has been in years past, this was still a big event for showing what computers, new electronic devices, TVs, and other big ticket items can do now and could do in the future. Maybe we'll even eventually see the Concept UFO become a thing!
Sony boasted big numbers and a logo.
CES 2020 kicked off things right with Sony's… well, somewhat anticlimactic media briefing. We knew it wasn't going to be a very gaming-oriented presentation. The company didn't make a big deal about the announcements on any of its major gaming social sites. Still, we did know a few things would come up, and boy were those announcements small!
Cursory details came up. We learned what the PlayStation 5 logo looks like! Remember the PS3 and PS4 logos, with the P-icon in front and the same stylized P, S, and number fonts? Well, the PS5 one looks the same.
We also learned about different notable PlayStation 4 figures. 106 million PS4s have been sold, 1.15 billion PS4 games have been sold, 5 million PlayStation VR headsets have been sold, there are 38.8 million PlayStation Plus subscribers, and the PlayStation Network has 103 million active monthly users. Good for Sony!
MyArcade is making people Super Retro Champs
Want to play console games on the go? Well, the MyArcade Super Retro Champ could be an option. This was revealed at CES 2020, and it will let people play Genesis or SNES cartridges at home or on the go. The handheld has a screen built into it, a slot on the top for SNES games, a slot on the bottom for Genesis games, and the ability to also plug into a TV and work with extra controllers for at-home adventures.
Arcade 1Up has even more kinds of cabinets
The Arcade 1Up cabinets have proved themselves to be these really neat ways to invite arcades into your living room on a smaller, easier to maintain, and more affordable scale. CES 2020 was about showing where they'll go in the future. While there were expected updates, like light up marquees and better control parts, lots of new cabinets were announced.
This means new sorts of possibilities. There will be Zen Studios pinball cabinets with Bally/Williams and Star Wars options. One Star Wars cabinet will have a sit-down seat built into it. The NBA Jam cabinet will be WiFi enabled, so people will be able to go online to play NBA Jam, NBA Jam Tournament Edition, and NBA Hangtime together. New Frogger and Golden Axe cabinets are coming too!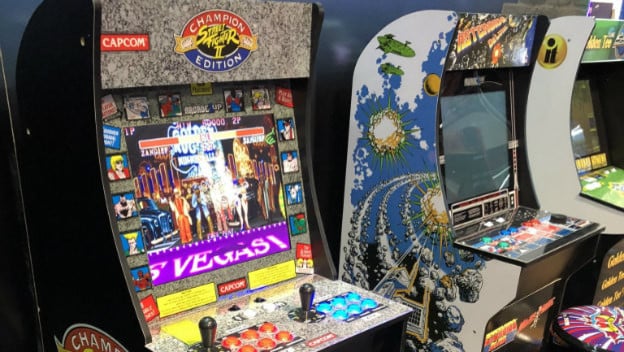 Razer Tomahawk is basically a plug-and-play PC
Building PCs now can be a bit involved. At CES 2020, Razer announced the Tomahawk. It would be a PC where you plug in all of the parts and have a fully-built computer in under a minute. You get an Intel compact NUC computer that has your processor, RAM, and SSD built into it. (It doesn't have any software.) You then add a GPU. All that gets loaded into a case. It'll even be possible to take the NUC and quickly change its hard drive or RAM later.
Origin combines a computer with a console
Get ready for the true master race. At CES 2020, Origin announced it will be creating the Big O. This is a hybrid device that, for $2,500, will give people a big box for their living room that acts as both a gaming PC and either a PS4 Pro or Xbox One S. Each one has the PC in there, which you can have built to your liking, one of the two consoles, and a capture card. You can go from one platform to the other without pauses, gaming in every which way.