Call of Duty: WWII is a bit overwhelming! And that's a good thing – while a bombastic narrative and arcade-like target-shooting have long been the focus for this series, now it wants to be taken seriously again. What better way to be taken seriously, suggests developer Sledgehammer, than to go back to real-life, historical settings instead of sci-fi grandeur? I watched a video presentation of the campaign and had hands-on time with multiplayer behind closed doors at E3, and this is my account thereof.
Without saying too much about the story's details (yes I know, you can't spoil World War II, but still), the campaign trailer showed off many of Call of Duty: WWII 's core concepts in action. Players will see the campaign largely through the eyes of a single soldier and interact with a distinct supporting cast along the way.
Along with a new, character-focused plot, Call of Duty: WWII also does some things to switch up the gameplay. Beyond the obvious lower-tech weaponry, players will also utilize skills from the supporting characters to get through the game. In the presentation, one side character had binoculars that could tag enemies (used in a scripted sniping sequence) and the other was able to generate medkits. Yes, medkits are back and health no longer regenerates. Is the intent to emulate the dour mood of the war? Or bring back a level of challenge that had been lacking? Only time will tell.
Multiplayer for Call of Duty: WWII really had the red carpet rolled out for it. A new hub mode, called Headquarters, was introduced before we were handed controllers, which is a sort of online lobby taking an actual, in-game form. Players can mingle or select various different game modes, including smaller ones run in Headquarters itself. This includes competitive target shooting and one-on-one matches.
When dropped into multiplayer, we were presented with different sets of classes, each with a specific loadout theme. We were also able to try various game modes. One was a pure, Axis vs Allies deathmatch, one was the typical point capturing, and a new, objective-based mode was also introduced and playable.
In this mode, teams pushed against each other in a series of related objectives, ultimately forming a small narrative of events. First, the two teams battled over a stronghold of sorts. When that fell, the advancing team then needed to build a bridge across a vital gap. Next, the team had to infiltrate their opponents' armory, steal a tank, and then drive that tank to the opposing army's anti-air weaponry.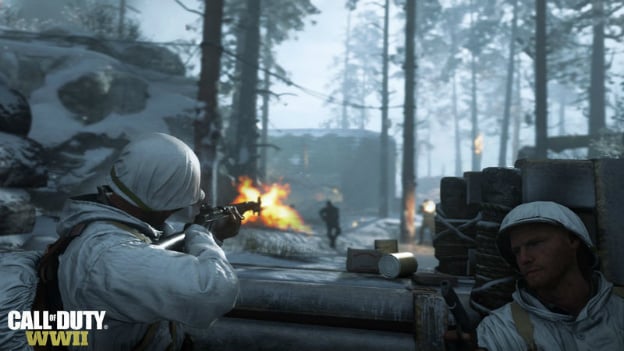 Multiplayer, of course, gave off a different feel almost entirely from the taste we got of the campaign. It's fast and unrelenting – the arcade feel rushes back and you better believe if someone gets the drop on you, you'll be respawning before you realize what happened. It's loud too; the game presents a multiplayer match like a small part of the war at large, shells and ordinance pop and burst around you in addition to the enemy fire you actually have to worry about. This goes a long way to bring some tangible, effective, light storytelling to this mode of play. It feels like a battlefield, not just an instance of dudes playing a videogame. Just… everyone has their names floating above their heads.
One of the best things about Call of Duty 's multiplayer is the low entry barrier, and that appears to be the present here. Just aim, shoot, and figure out the rest as you go. There aren't meters or bars everywhere and are limited control options outside of the usual crouching and grenades. If you do well, you gain the ability to call for things like airstrikes, which just requires a quick tap on the d-pad. If you don't do well, in most cases you get to try again in a few seconds anyway. I'm normally a campaign-only kind of player, but from an outsider's perspective, it's easy to see why Call of Duty has such broad, mass-market appeal.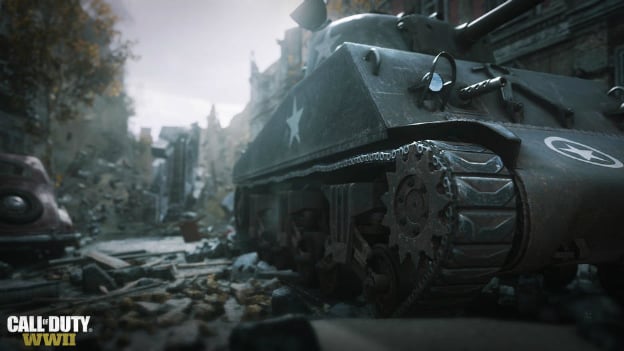 Call of Duty: WWII has a lot going for it. People seem ready to go back to a World War II game, especially after Battlefield 1 reminded everyone how cool historical fiction can be, and after the most recent, sci-fi epic Call of Duty didn't fare so great in the long-term with the casual fans. This move feels prudent, and when Activision also has another big, sci-fi shooter on the docket in Destiny 2 , necessary. While I doubt the days of future or alternative-history Call of Duty games are completely over, I do feel like this is a welcome change for now. Perhaps it is the kick in the pants the long-lasting franchise needed to get the buzz rolling again.
Game Features:
THE DEFINITIVE WORLD WAR II CAMPAIGN – Call of Duty®: WWII tells the story of the unbreakable brotherhood of common men fighting to preserve freedom in a world on the brink of tyranny. Players enlist in a gritty, intense journey through the battlegrounds of war. The Campaign features bold, lifelike visuals with the kind of blockbuster cinematic authenticity that only Call of Duty® can deliver.

BOOTS ON THE GROUND MULTIPLAYER – Call of Duty: WWII Multiplayer offers players true franchise innovations across the entire experience with brand new ways to connect, compete and engage as a community. Divisions redefines how players develop their WWII Multiplayer Careers by enlisting in five iconic WWII-era divisions. War Mode lets players compete against each other in team-driven, objective gameplay. And Headquarters is a transformational new experience that will connect players like never before.

HIGH-OCTANE CO-OPERATIVE – Call of Duty®: WWII's co-operative mode unleashes a new and original story. Play with your friends in this next-level standalone game experience full of unexpected, adrenaline-pumping moments.