Every once in a while, you just gotta unplug! Fear not, as we've assembled an awesome rundown of great gifts for kids both big and small (we're looking at you 30-somethings). Here you'll find everything from scooters to collectibles and a few fun surprises thrown in from our friends at LootCrate! Trust us; you're gonna want a few of these under the tree this year!

Neca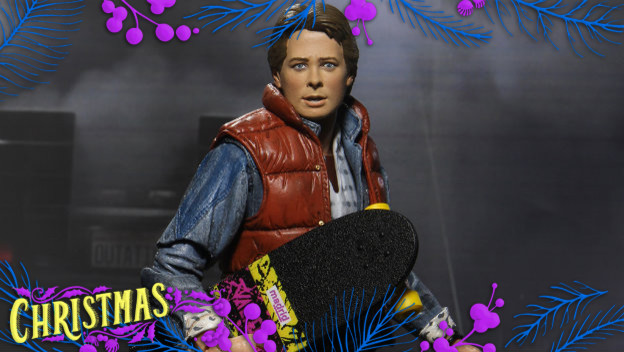 We have to go back… to the future with Neca. This year, Neca has some radical, tubular Back to the Future figures for people to collect. Each one is highly detailed,with intricate accessories and even extra heads, to allow you to shift things around and recreate your favorite scenes with Marty and Biff. There's a 7" Back to the Future Ultimate Marty McFly , a 7" Back to the Future Biff , and a 7" Back to the Future Part 2 Marty .
Sporting his signature vest and denim jacket, Back to the Future Ultimate Marty is ready to meet Doc Brown at the Twin Pines Mall parking lot with camcorder, backpack, and skateboard in hand. Marty also comes with an alternate sunglasses head and a guitar, primed to blow out the giant speaker in Doc's lab from the movie's opening scene. The Back to the Future Part 2 Marty is wearing the auto-adjusting jacket and self-lacing sneakers, and includes multiple heads and hands, with future soda and hoverboard accessories!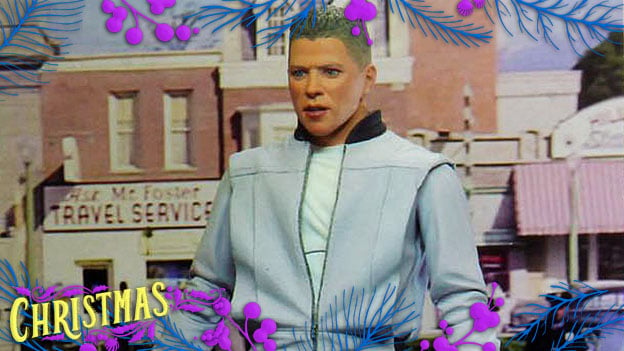 Finally, dressed in his Enchanment Under the Sea Dance outfit, Ultimate Biff features the licensed likeness of Tom Wilson and comes with interchangeable heads, hands, the Gray's Sports Almanac and Case from Part 2!

New Wave/iam8bit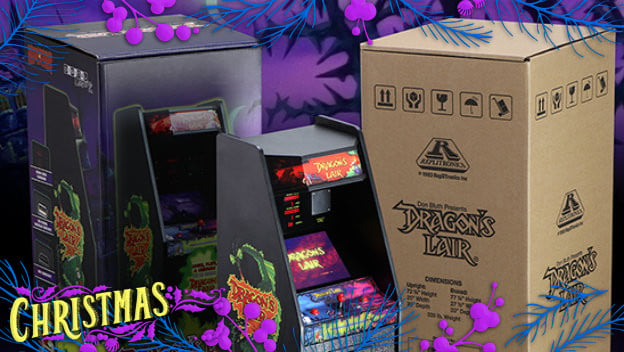 Maybe 2020 is the year you go retro with gifts? Both New Wave and iam8bit are ready to help you cater to that need. Each outlet has their own items that pay tribute to the coolest parts of the past. You can remember the likes of Dragon's Lair and Mega Man X with playable throwbacks. Or, maybe you go practical and get a cassette power bank!
The Hotline 16000 mAh Power Bank is $39.99 and lets you charge three devices at once with its USB 3.0QC, USB-C ports and even 10W wireless charging options. It even acts as an LED flashlight!
As for the Dragon's Lair X Replicade , it's a little 1/6th scale replica of the arcade adventure game for $119.99. It runs the original LaserDisc ROM on the Daphne emulator and features a fully functional digital score board to provide the ultimate arcade accurate experience. It even features HDTV connectivity and external USB controller support, so you can sit back and play on the big screen, and comes with little replica coins and a laser disc player.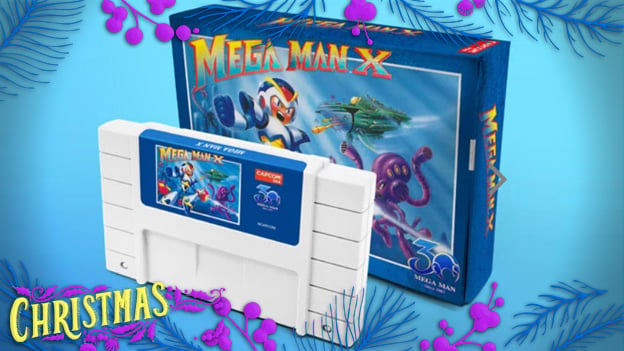 Finally, iam8bit's got its $100 Mega Man X 30th Anniversary Classic Cartridge . It's an actual, playable brand new SNES game… but that's not all. No luxury was spared in crafting the ultimate cartridge version–including an embossed, foiled, spot-varnished beauty of a box with upgraded tri-fold cover, a premium instruction booklet with foreword by Mega Man historian/superfan Jirard "The Completionist" Khalil, and other retro pack-in surprises.

Diamond Select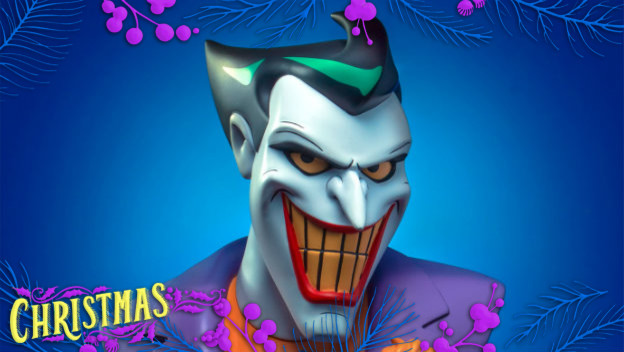 We're busting out this year! Go figure, right? That's because Diamond Select has a bunch of new comic and game character busts that stand out. Each one is a high quality piece of art that would look amazing on a desk or shelf. Which someone might especially need in 2020, considering how much time they spend at home. Gotta make your rooms look good, right?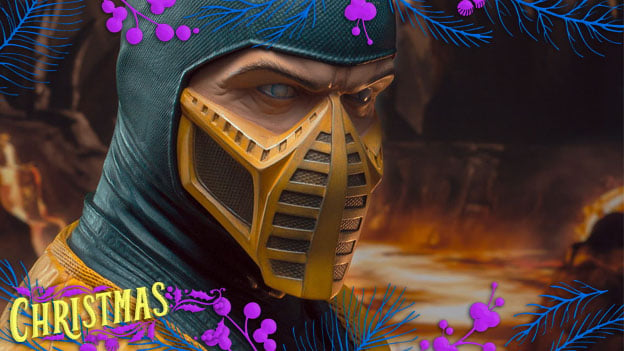 When it comes to busts, there are two to keep in mind. One is an incredible half-scale bust of The Joker , as he appeared in Batman: The Animated Series! Part of the Legends in 3D line of busts, this approximately 10-inch portrait costs $175, is limited to only 1,000 pieces, and comes packaged in a full-color box with a hand-numbered certificate of authenticity. Another is a 10-inch tall, $175 Mortal Kombat Scorpion half-scale bust. It is $175, inspired by his earliest video game appearances, features detailed sculpting and paint applications, and is limited to only 1000 pieces.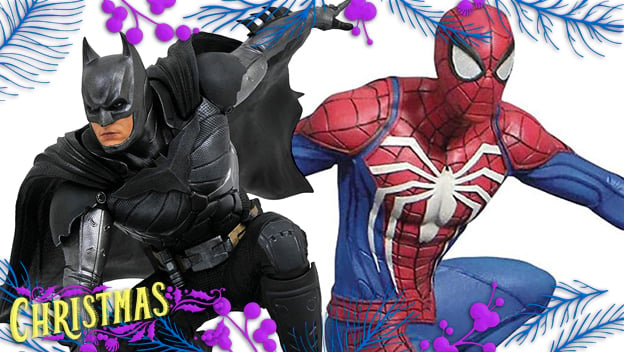 As for figures, there are another two to keep in mind. One is the $49.99 Injustice 2 Batman PVC Diorama . It's a 1:8 scale figure that's 6 inches tall. You could also pick up a Marvel's Spider-Man Marvel Gallery figure , which is also about 5 finches tall and 1:8 scale. For $49.99, you can bring Peter Parker home!

PlayMonster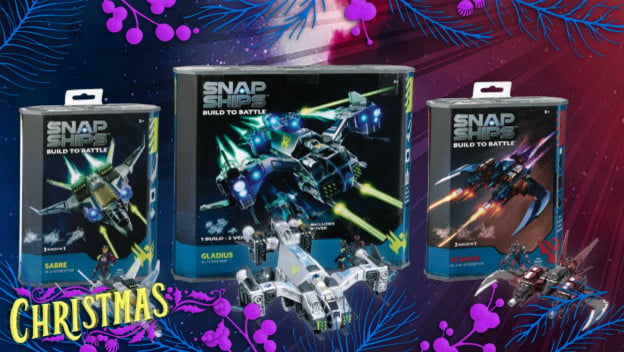 2020 is an odd sort of year. It means settling in and staying home with friends and family. Which means you might need new games and toys to keep people busy and happy. That's when you turn to PlayMonster . It keeps people covered with an array of opportunities.
Want to play a game? Things… is $19.99 and has everyone write responses to topics and share them with the group. The $19.99 5 Second Rule 10th Anniversary Edition has you try to names things in categories in 5 seconds. For $19.99, Break In Alcatraz has a group try to break into a place most would try hard to break out of! The $19.99 Relative Insanity: See What I Mean?! game challenges the group to caption funny photos. And the $19.99 Drone Home tries to get your aliens in a drone and away before your competition does.
You can also get crafty. You can use My Fairy Garden Fairy Light Garden and Treehouse to build a small fairy house and tend to a real garden for $29.99. Spirograph Scratch and Shimmer lets you get creative with normal paper or special coated, glitter paper for $19.99. Someone could also build their own starships with Snap Ships Gladius You can make a Gladius AC-75 Drop Ship with 124 parts for $39.99.

Globber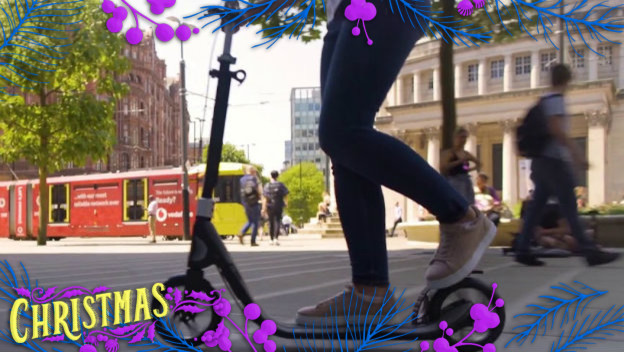 You might not be getting out of the house as often as usual, but people are still encouraged to get some air and exercise in 2020. That's when a Globber could be a lot of fun. The company makes 2-wheel scooters that let people zip around smoothly and safely.
For example, there's the All ONE NL 2-Wheel Scooter that can collapse in one second. You just lift up and pull a clamp, and it's ready to head inside. Reverse that, and you're ready to zip around outside. It has a height adjustable T-bar, so one size fits all. Plus, the aluminum frame can handle up to 100kg. Depending on your model, it will cost you between $149.99 and $179.99.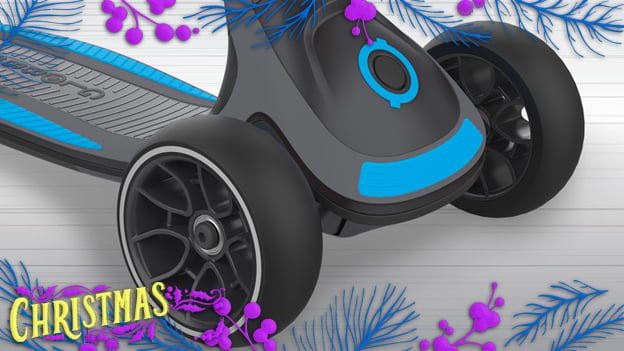 There's also a $149.99 Globber ULTIMUM 3-Wheel Scooter . This scooter for kids and teenagers is designed to be easy to use, so eventually they can upgrade to a more advanced Globber scooter. It has the widest scooter deck, which can help them stay comfortable and safer while learning. You also have a knob on the front so you can adjust the turning radius of the front wheels of our 3-wheel scooter. Plus, it also supports up to 100kg.

Mobile Edge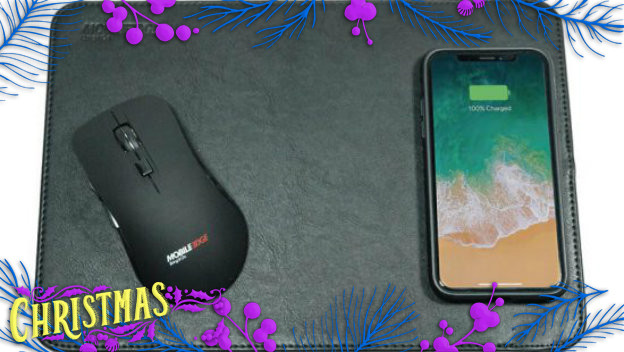 You might not find yourself traveling as much in 2020. But if you do, Mobile Edge has you covered. The company is known for gadgets and accessories that help you keep things tidy, together, and functioning when you need them. And this year, it has all you need to be ready when you're at home or maybe if you are working outside the home.
For example, there's a Mobile Edge Wireless Charging Mouse Pad for $34.99. It works with Qi-enabled devices to act as a charger for a smartphone while you also use it as a mousepad for your computer. It also has 3 different micro USB input ports and an LED power indicator so you know what's going on.
Mobile Edge also makes an All-In-One USB 2.0 Card Reader and 3-Port Hub for $14.99. As with the Wireless Charging Mouse Pad, it's great for saving space or working on the go. It's a three-port, high speed USB 2.0 device that works with SmartMedia, xD, Secure Digital, MMC, MemoryStick, MS Pro Duo, CompactFlash and MicroDrive cards and your PC or Mac.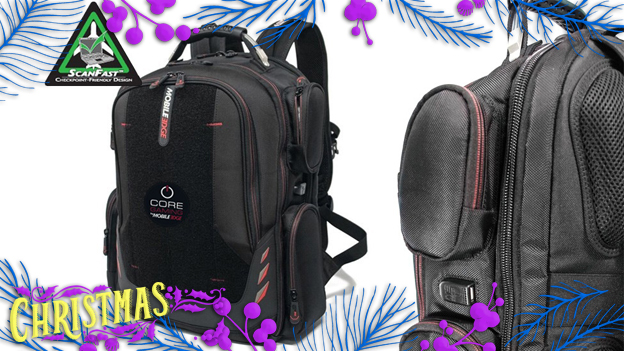 And to carry everything you need, there's a Mobile Edge CORE Gaming Backpack that includes a 17.3"-18" Velcro panel for $129.99. It can hold any console or gaming laptop, and it's designed to flip open easily to show your devices at an airport. It has a prewired universal power bank pocket for charging items in each section, three sections for items, an organizer, and a poly-fleece pocket for a smart device. It even has an external USB 3.0 quick-charge compatible port and built-in charging cable.

Loot Crate Gaming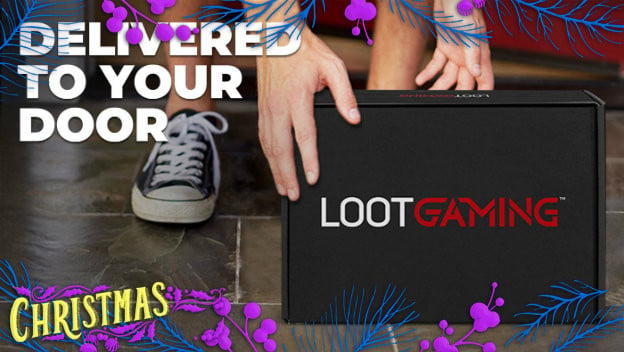 It's one thing to give a person one gift and be done. Which is fine! Everybody loves that. But it's even better if you can maybe guarantee people surprises for a set period of time. Loot Crate Gaming Crates let you do that. For about $28.95 per month, give or take depending on the chosen option, you can buy crates and guarantee that people get something exciting at their door for months to come. It's especially great, since each crate has a $50 value.
Every Loot Crate Gaming crate will have between four and six items inside of it. For example, in the DOOM Eternal crate, you could have Bethesda-themed items. Among them would be a DOOM Cacodemon Stress Ball you would only get in that box. It wouldn't be sold anywhere else. They can also include premium add-on items, in case you want to make someone feel extra special. So for that DOOM crate example, the add-on was a Fallout Mondo Tiki Mug as an extra bonus you could buy. And each month can celebrate a different game.

Around the House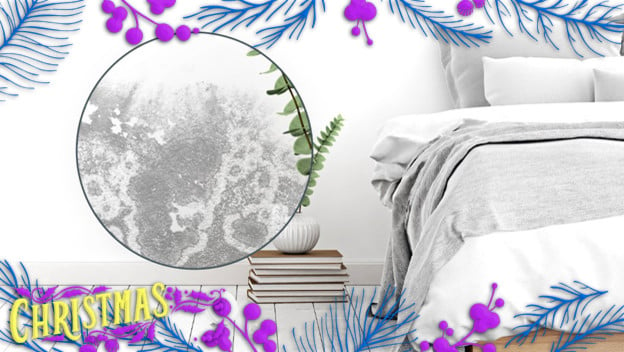 2020 is a year when people spent a lot of time around. Odds are, you're at home way more often than you'd expect. You want to protect it and the people who live there. You want to help make better meals. You might even want to help deal with not being as active. Well, lots of products are out there to help.
To start, Airthings' Virus Risk Indicator is a good way to keep the people you love safe and monitor your home. Both business and home options are available The €1,626.00 business kit gives you five Wave Plus monitors and a hub that can tell you at a glance about CO2, TVOCs, Radon, as well as things like humidity, temperature, pressure, and light for a year. The House Kit is €299.00 and gives you a Wave Plus and Hub that offers 24/7 monitoring of your air quality data from anywhere in the world with the free online app. As with the business one, you can check for CO2, Radon, TVOC, humidity, temperature, and pressure.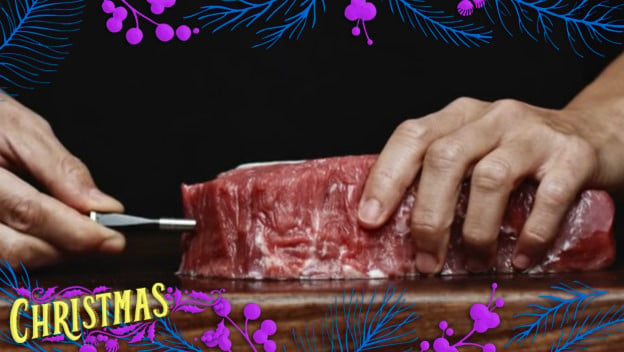 You might also want to pick up a Meater to keep people safe and maybe help with a new hobby. The Meater is a smart meat thermometer available in standard $69 and Meater+ five-times longer range $99 options. Each one is a wireless probe you could use with things like ovens, stovetops, gas grills, and rotisseries and your smart app or Alexa. It has a magnetic charger, 24 cook time, and uses its two sensors to properly gauge your meat. There are even advanced estimator algorithms and guided cook systems.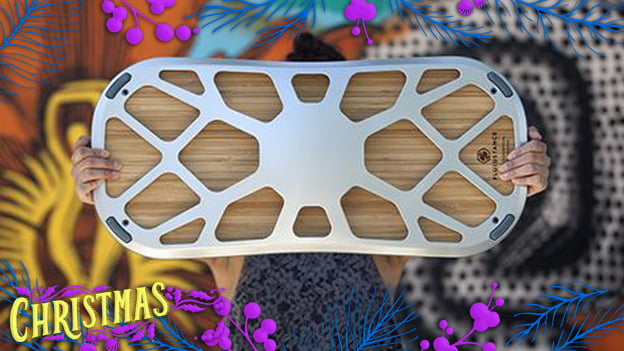 Finally, there's Fluidstance's The Level . This is a $249 balance board to use with standing desks. Since people might be working or playing at home, standing on one can trigger micromovements that strengthen and stabilize your body, soothe stiff joints, burn calories, and keep you awake and alert while you work. It even includes a Challenge Cap to make it more of a workout.

Hasbro Toys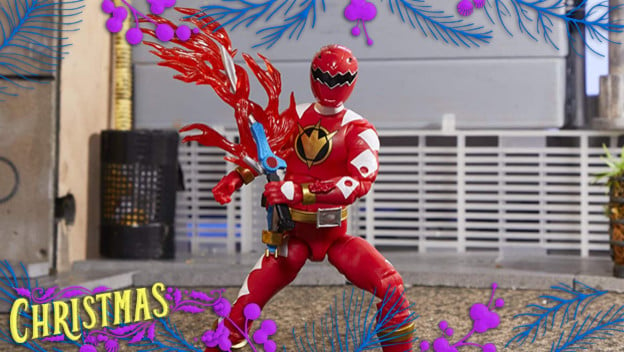 The staples never go out of style. There are certain toys that will always be cool. So cool that they're honestly both items kids can play with as-is or people of all ages could keep as collectibles. Hasbro is known for its quality, and it has tons of toys to choose from this season.
For example, there are the Ghostbuster Kenner Classics . These are blast from the past figures inspired by the original toys. They're $14.99 each at Walmart and give people a chance to bring Peter, Ray, Winston, Egon, Slimer, and the Stay Puft Marshmallow Man home. Slimer even has his pizza, while the Ghostbusters all have their equipment to help them save the day.
You also have the Power Rangers Lightning Collection figures. These are incredibly elaborate, 6" figures that cost $19.99 each. Each one has two heads, one with or without the helmet, and their respective weapons. You could get Time Force Red Ranger, Mighty Morphin Blue Ranger, Mighty Morphin Ranger Slayer, or Zeo Gold Ranger.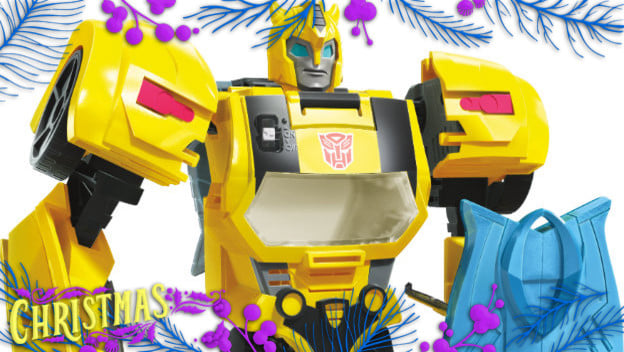 Finally, there's the Transformers Cyberverse Adventures Battle Call Officer Bumblebee and Optimus Prime toys. Bumblebee is a $49.99, 10" tall figure that has car and robot modes. It also has over 15 voice-activated phrases, pull-and-covert weapons, and translucent Energon Armor. Optimus Prime is also 10" tall and $49.99, though it takes 14 steps to take him from robot to truck. He has over 20 voice-activated phrases, his own pull-and-convert weapons, and additional Energon Armor of his own.

VIZIO 32″ 4.1 Sound Bar with Wireless Subwoofer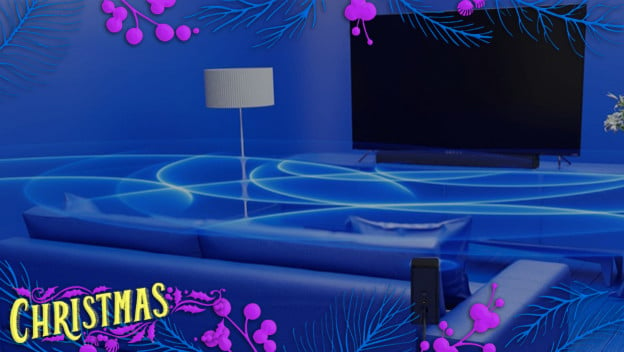 So let's recap; you just spent tons of money on that brand new HDTV setup, you sit down to enjoy your favorite movie…and then it happens. The sounds coming out of those dinky, on-board speakers just isn't cutting it. Your beautiful Dolby Digital is being piped through what can only be seen as a travesty of audio justice! You wanted to replicate the visual experience of the theater, but you forgot that you need an equally awesome sound experience to go with it. Well have no fear, because VIZIO is going to rescue you and take you to new heights as an audiophile!
Optimized for Dolby audio, VIZIO 's 32-inch 4.1 wireless subwoofer soundbar system is exactly what you need to insure your movie nights aren't a bust. The key to replicating the sounds of a theater in your home is to fill the entire space. Many people just settle for a simple sound bar directly in front of their couch, but they're missing out on many of the nuances 3D audio by VIZIO can offer. This sound bar is incredibly immersive, ensuring that you'll be enveloped in crystal clear, bass-pumping sound for both movies, music and television (from floor to ceiling)!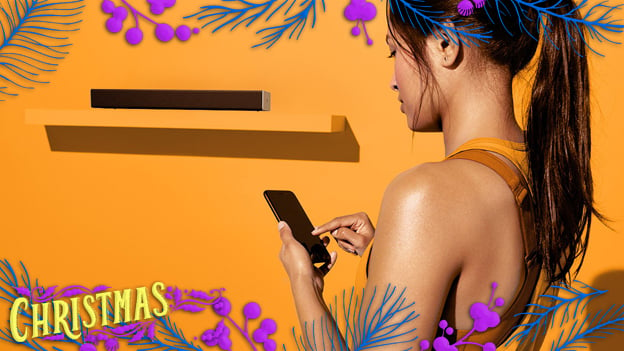 And let's not forget the importance of cutting the cord and ensuring we're not tethered to our devices. While our soundbar system may not move, you certainly will! Which is why it's important that a great wireless setup is always at your fingertips. With its Bluetooth connectivity , you can stream your favorite tunes, podcasts, media content and more directly from your smartphone or tablet. It helps supplement not just an awesome viewing experience, but allows you the freedom to have your media broadcast from a variety of locations throughout your home. You'll never be stuck plugging into a headphone jack or auxiliary port ever again! The subwoofer also comes wirelessly, for easy placement around your home.
And the great thing is, VIZIO has an entire line of soundbar systems, including a variety of setups. If you don't have room or the desire to include a subwoofer, there are more simplistic options as well. Although we recommend the full-fledged units, if you really want to drive home the usability and practicality of creating a theater environment right in your living room. With a large portion of 2020 being spent indoors (and 2021 remaining uncertain), you're going to appreciate having access to all VIZIO has to offer. Next-level visuals and sound without ever having to leave the comfort of your own home!

Numskull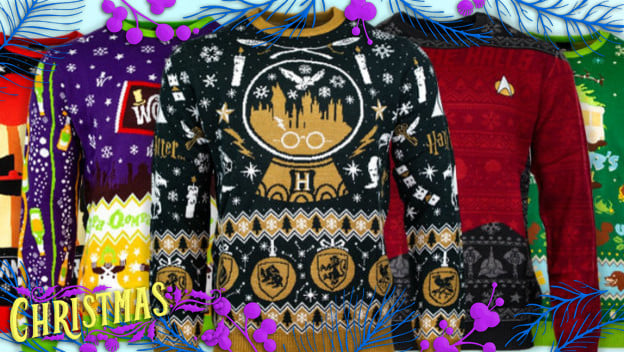 There's nothing like the holidays to embrace absolute silliness. Ugly sweaters rule. People get a chance to find out about all sorts of amazing merchandise involving their favorite characters. It's a wonderful time. It's an even more wonderful time with Numskull , a company known for high quality apparel, gifts, and accessories.
For example, Numskull is home to the Tubbz . These are amazing rubber ducks inspired by iconic video game characters. Love pop culture icons? You can get Back to the Future Tubbz based on Marty McFly or Doc Brown, Friends ones that look like Ross, Rachel and the gang, and an Exorcist Regan one with her head backwards. Are you a gamer? There are Resident Evil, Crash Bandicoot, Spyro the Dragon, Metal Gear, and Sonic the Hedgehog ducks.
But the crowning glory at Numskull each holiday season comes down to holiday sweaters . These are nondenominational sweaters inspired by your favorite shows, games, and movies. So you could have a Wizard of Oz, Harry Potter, Elf, Christmas Vacation, Star Wars, Star Trek, Spyro the Dragon, Sonic the Hedgehog, or Street Fighter look. Yes, The Mandalorian's Child is there. So are some really recent games that are crazy popular, like Fall Guys. You can't lose!