You have to wonder what's going on with Rockstar Games lately. Their major games are great. Things are good. We loved Grand Theft Auto V . We can't wait to see Red Dead Redemption 2 . But everything going on with Grand Theft Auto Online as of late could make one wonder if priorities have shifted in the worst possible way. It seems like money is becoming the main focus, instead of delivering a full gaming experience that enhances the story and player experience.
What brings this up? Glad you asked! There's always a culprit when people begin having questions about companies. Grand Theft Auto Online recently introduced Smuggler's Run. It's an update that lets you get engage in smuggling operations, as well as obtain helicopters and planes. Seems typical, right? Well, it also added a change to the insurance mechanic. This is a bad change, as it has people who have their vehicles blown up also have to pay some of the replacement fee and wait for a new one.
Here's how insurance used to work in Grand Theft Auto Online . Before, if someone was trying to cause trouble for other players by blowing up their vehicles, insurance would make them have to pay a fee as punishment. You'd have to wait for your item to be restored. Now, you have to pay too. Say you have a helicopter and it is blown up by someone else. You now have to pay GTA$1,000 and wait for the cooldown. Which makes the whole process even more unfair. Something happens beyond your control and now you not only have to wait before you can get a vehicle you need again, but you also need to pay. And earning money isn't easy.
That is, unless you're buying those Shark Cards. People who do that probably wouldn't blink at paying that extra insurance fee in Grand Theft Auto Online . GTA$100,000 is $2.99, and that GTA$1,000 is a small portion of that. But, these things all add up. Look at Smuggler's Run's update. It adds hangers, which let you manage Air-Freight businesses and store aircraft. The cheapest one of these, the LSIA Hanger A17, is GTA$1,200,000. Of the newly added aircraft, the cheapest are a GTA$665,000 Nagasaki Ultralight and GTA$1,596,000 Western Company Rogue. Considering how difficult it can be to earn cash, you can't look at these prices and say Rockstar isn't trying to not only nickel and dime people with insurance, but price gouge them with locations and vehicles.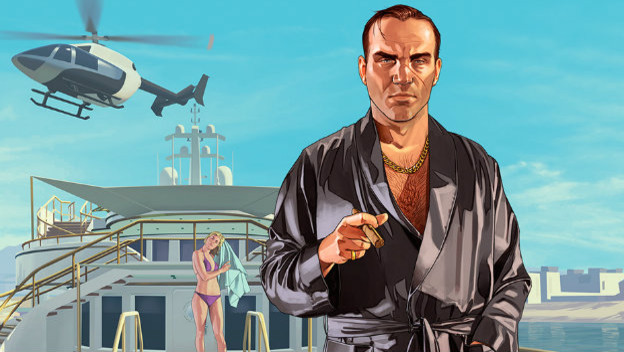 What clinches this mindset is the lack of single player DLC. Grand Theft Auto IV kept growing, with campaign expansions that improved our view of the world. Grand Theft Auto V has not. While there have been no official reports, there have been rumors that the ability to get this constant revenue from Grand Theft Auto Online is what has kept this from happening. The money from these updates and Shark Cards is too good, making campaign DLC an impossibility. Given the frequency of the updates, cost of real estate and vehicles, and the fact that Grand Theft Auto V is now actually four years old and Red Dead Redemption 2 is a year away, that seems likely.
It just feels like Rockstar keeps pushing it and pushing it. There's an air of greed surrounding Grand Theft Auto Online now. Seeing what the company is willing to do here, what with insurance, expensive items in updates, and neglecting the solo campaign, could make someone worry for the future. Can we really trust them to not nickel and dime us in other games too?