Anyone Can Have Fun With Just Dance, but Only if They Want To
Just for the record, I don't dance. It's not that I don't like to, it's just that I'm not any good at it. I'm 6'3" tall, 200 or so pounds, and have the dancing coordination of Elaine from Seinfeld . So, when I found out that I would be reviewing this game I thought–"Well, this is going to be interesting." Yes, I am a bad dancer.
My boss also thought it would be a good idea to add insult to injury by holding a gathering to witness my dancing degradation. He and his family, some other writers from CheatCC, and my wife and kids were all going to be privy to my uncoordinated medley of flailing, jumping, and gyrating. It was at this point that I decided to let my pride go, step out of my comfort zone, and let myself have fun with Just Dance 2014 . I'm sure glad I did, otherwise it would have been a much less enjoyable experience.
Since my dancing skills could be described as less than favorable, I started off slow. It was easy to get going; I just selected a song and went for it. There aren't any complicated menus to navigate to get to the dancing, simply select a song from the main screen and let it load. I was thankful for the ease-of-use and the lack of an overly complicated settings menu. I guess the name Just Dance was fitting here, to say the least.
What followed was an exercise in effort, pain, and enjoyment–the likes of which I have never experienced before. I went for it. I gave it my all. I failed miserably.
But that's okay. I didn't give 110% because I thought I was going to be a dance master; I gave that much effort because I knew it would be funny–and funny it was. The JDTV (Just Dance Television) function captured my antics on screen while a bevy of camera phones captured the action live from behind me. Even though I was adamant that there would be no recording devices of any type, I knew it would happen. And yes, some of those videos did end up on Facebook. But I didn't really mind, because I had fun.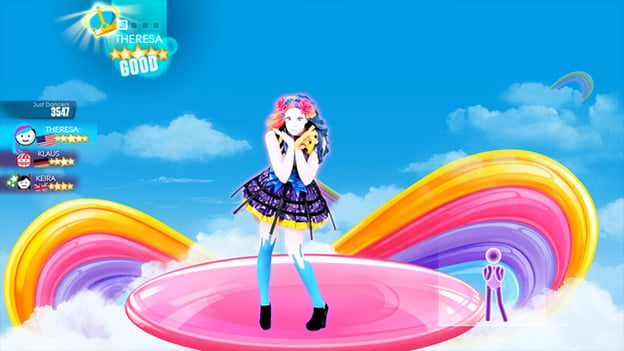 And that's what Just Dance 2014 and its predecessors are all about–fun. Anyone can play this game and have a good time doing it, as long as they leave expectations at the door. It's a great time to be had with good friends. You don't have to be a good dancer, and that's the best thing about the Just Dance franchise.
After my initial foray into the world of dancing, I decided to delve into other game modes. There are several–World Dance Floor, Just Sweat, Mash-up, and On-Stage mode–but I chose to go with Just Sweat. In Just Sweat, you are able to pick a custom playlist and the amount of time you want to dance–10, 20, 30, or 40 minutes. I chose 10 minutes (because I didn't want to die) and a couple of songs from the track list, and I was on my way. In Just Sweat mode, there's no real break between the songs you select, and let me tell you–you're going to sweat. After completing what felt like a lifetime of dancing, I was truly worn out and realized just how beneficial this game can be. I haven't worked out in years, and during my time with this game, it showed. With this type of cardio workout, I could see how people could use this game as a tool to become healthier while having fun at the same time, which is definitely a good thing. Just Dance 2014 even tracks the amount of calories you burn during this mode, making it an effective workout tool with information you can track.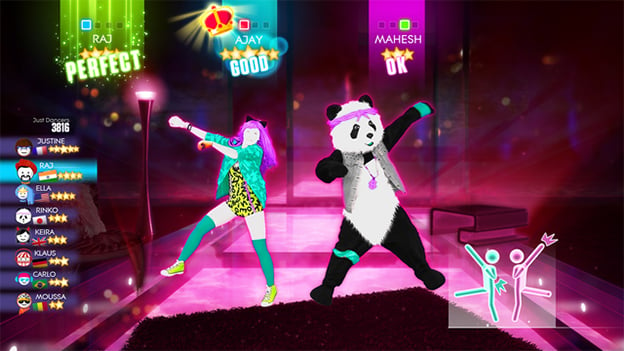 Other modes were just as strenuous. World Dance Floor, for example, keeps rolling until you tell the game to stop. You are matched up with other dancers via the game's first ever online mode. You can dance against or with others, and it's as easy as just clicking the button and entering the mode. Mash-up is exactly that, a mash-up of different dance types to a song that keeps you on your toes and keeps you guessing. You have to adapt as the song progresses, and the stark contrasts between styles can make for some hilarious transitions. On-Stage mode gives you the ability to lead two back-up dancers and create a show, either seriously or for jest, whichever you prefer. These diverse game modes give any level of dancer a playground of musical range that anyone can enjoy.
One of the best parts about the Just Dance franchise is the range of music plugged into the games. While pop music is easily the most prevalent category, you will find all other types of music to "get your groove on." This time around, Just Dance 2014 finally includes "Just Dance" by Lady Gaga Feat. Colby O'Donis, an oversight that has finally been corrected–it just makes sense to include that song considering it carries the game's namesake. More of my favorites are "Ghostbusters" by Ray Parker Jr., "Prince Ali" From Disney's Aladdin, and "Gentleman" by PSY. These licensed songs give the game a sense of familiarity and something that almost anyone can relate to, lending to it broad appeal. Of course, the music sounds great, and along with dancing, you can even gain bonus points for singing along with the lyrics that are provided at the bottom of the screen.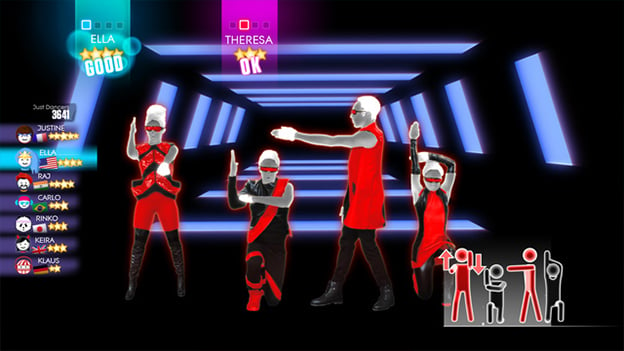 Visually, Just Dance 2014 is easily the best of the franchise. The backgrounds this time around are the sharpest and most engaging the game has ever had to offer, and the dancing avatars are varied and increasingly crazy. You can dance as a panda bear, a piece of fruit, a belly dancer, and a Voltron lookalike–just to name a few. The trademark neon coloring of the game works well here, helping to deliver an intense visual experience for onlookers and participants alike. It is just as much fun to watch others play this game as it is to play it yourself, something that most games do not accomplish, helping to make it one of the premiere party games of this generation.
Additionally, the online shop will offer tons of DLC content in the form of new songs, avatars, and other extras that have become expectations in Just Dance . You can even purchase some items in the shop with points that are earned in-game instead of having to fork out your hard-earned cash every time you see something you'd like to have. This gives some additional incentive to keep playing the game, complete different songs, and participate in all game modes.
I never expected my time with Just Dance 2014 to turn me into the world's greatest dancer, but I didn't really expect to enjoy it either. After leaving my own issues of dancing incompetence at the door, I was able to have a thoroughly good time and provide some laughter for friends and family, and that was very enjoyable. I can't say that I am going to start playing Just Dance 2014 on a daily basis, but I do believe this game has broken down a long-standing wall that I had been unwilling to demolish for a long time.
Will I play Just Dance 2014 again? Sure, after I recover from this last outing–I'm a little sore.
RATING OUT OF 5 RATING DESCRIPTION 4.5 Graphics
This is the best looking Just Dance to date. 4.0 Control
Motion controls work well, with only a few hiccups. 4.5 Music / Sound FX / Voice Acting
It's a game about music, of course it sounds excellent! 4.0 Play Value
It's great for experienced dancers who want to "just dance" and inexperienced dancers who just want to have some laughs. Anyone can enjoy this game. 4.3 Overall Rating – Great
Not an average. See Rating legend below for a final score breakdown.
Review Rating Legend
0.1 – 1.9 = Avoid
2.5 – 2.9 = Average
3.5 – 3.9 = Good
4.5 – 4.9 = Must Buy
2.0 – 2.4 = Poor
3.0 – 3.4 = Fair
4.0 – 4.4 = Great
5.0 = The Best
Game Features:
World Dance Floor: Dance with anyone anywhere in the world in Just Dance's first-ever online multiplayer mode! Players join a virtual crew – made up of real-life friends or other Just Dance fans – and compete based on different themes ("Boys Vs Girls", "Crew Vs Crew"). Players can also track their standing on global leader boards, check out fun stats about other players around the world, and see community updates.

On Stage Mode: Own the spotlight in this new mode where one player will dance, lead 2 back-up dancers, and even sing if they want! As the star of the show, the player can take it seriously and show off how talented they are, or just goof off with friends.

Custom Sweat Mode: Players can personalize their Just Sweat workouts by creating custom playlists and tracking calories. There's also a new option to track calories in all gameplay modes, even outside of the dedicated Just Sweat mode.