Madden NFL 21 Feels a Lot Like Madden 20
2020 is a crazy year. Real-world sports came to a halt or were being played in unconventional ways. Games encountered roadblocks of their own, with development delays. It makes me wonder if Madden NFL 21 could have been a different game under different circumstances. What we have is, essentially, a year without much innovation. The Yard is an attempt at something new, sure. But there's a lot here that feels like the same routine, complete with the growing pain bugs that accompany any Madden launch.
As you might expect from a Madden game, Madden NFL 21 comes at you with different ways to play. Face of the Franchise is its story mode, where you create a custom character and go from high school to the NFL, then potentially into Franchise. You can head into Franchise right away, in a simulation where you're the player, coach of a team, or an owner. Both The Yard and Exhibition are ways to quickly hop into a game, with the former being more relaxed and the latter more professional. Both Superstar KO and Ultimate Team rely on building up dream teams and playing through challenges.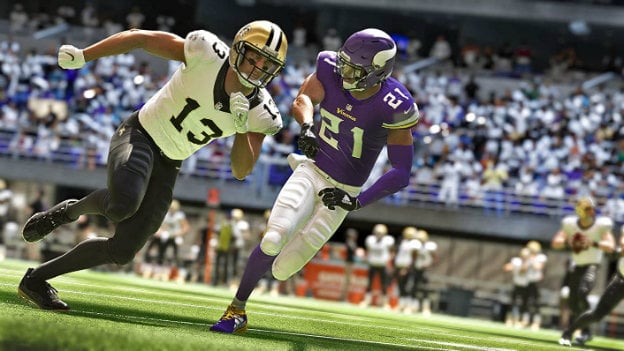 Face of the Franchise: Rise to Fame is probably the most clichéd and telegraphed story yet for Madden. Madden 18's Longshot storyline set something of a standard for the series, and this tale of a high schooler heading to college, NFL Combine, and NFL. Except the character creation suite is shameful and leaves you with an incredibly unrealistic looking player who speeds through his early career, especially college.
It is fine to try, but anyone who remembers the older campaigns will be left wanting more from it. Especially since, even if you perform well in games, it's scripted in a way that disregards your skills and glosses over everything. Also, it was incredibly buggy when I played and featured things like inaccurate announcing, incorrect jerseys, and even disappearing players. Like sure you can change from quarterback to, say, running back, but it doesn't feel like it makes a big deal.
As for Franchise Mode, it's a disappointment. It is there for people who want to really get into a simulation, and it delivers on that promise, but I feel like I struggled to see how it's really changed in Madden NFL 21. I always enjoy these sort of detail-oriented modes, so I did still have fun with it, but there's a lot missing from it. Like players' and coaches' profiles could have been more detailed, we could have had more control over what the stadium offered fans, and it felt like I needed more to manage.
Speaking of largely unchanged, MUT is pretty much the same experience as usual too. It's bogged down in details as you get packs of characters, manage them, then go through solo challenges or play online against people who all seem like they clearly spent money on their collections. It feels like a pay-to-win section filled with card organization and determining if you really want to invest the time and money into making it worth playing.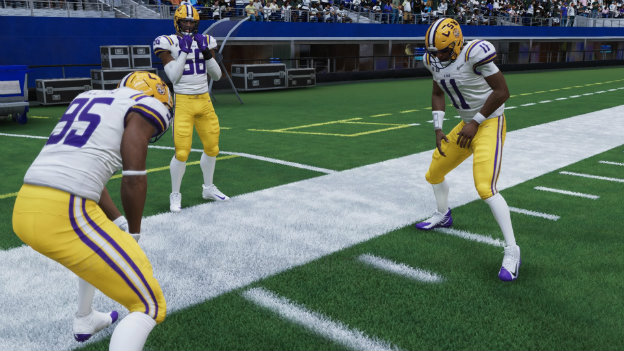 So you're left with Madden NFL 21's two good modes, Exhibition and The Yard. Exhibition is about setting up games and getting technical on the field, and it works well. I noticed the AI for my team members was surprisingly competent when I was on defense, and the Skill Stick mechanic would let me use the right analog stick for pass rush moves to help with blocking and tackling. (I was even able to carry out quite a few sacks this year, something I'd have issues with in the past.) I also felt like the Skill Stick made things easier when running downfield, since I'd have more evasive maneuvers available. Passing is great and feels smooth, and the game is great about helping you understand plays regardless of skill level.
I do wish that the Kickoffs were a little more accessible. The gauge goes from dark blue to light blue and… that's not great. It's fine and functional, but hard to see compared to previous years.
The Yard is the mode I was most excited about and it was great… when it was working. There was quite a bit of time when, ahead of patches, I couldn't even get a match with other players to work without crashing. (This was happening even though we all had completed the tutorial. It's an issue that seems to have been patched.) If I played alone, there would be players that wouldn't load. It is very buggy, but it's even easier to see plays, get through games quickly, and build up Prototypes' Superstar Abilities and Skills to make them all better for when you swap between players. It is essentially the arcade experience to the more serious Exhibition and, after a few patches, could be great.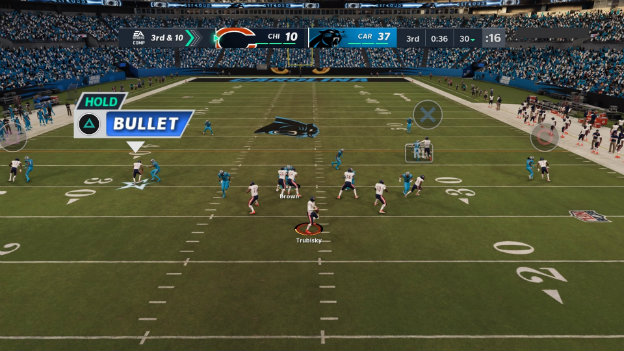 As for Superstar KO, it's back from Madden 20 and, well, has some multiplayer issues. It's another situation where we have an arcade mode that could have potential. In a continuing trend, it seems largely unchanged. Except if you play 2v2 or 3v3, there's an issue where if you are supposed to be the QB, you won't be and one of the people you're playing with instead will be. This is frustrating, as you might expect, but will likely be among the many things patched as time goes by.
Madden NFL 21 is a game that is generally fine. It's not extraordinarily exciting, sure. There are some minor additions that work well, like the Skill Stick, and major ones that could have promise after the growing pain patches are out, like The Yard. A lot of elements feel the same as they did last year, like Franchise and MUT, and Face of the Franchise shows there's still a struggle to have a really good story mode. It's okay, but people who have and are still enjoying Madden 20 might not feel a need to upgrade.
RATING OUT OF 5 RATING DESCRIPTION 4.5 Graphics
All of the players look pretty good, your custom avatar aside. The animations seems smoother this year too 4.5 Control
It's very easy to play Madden and the new Skill Stick mechanic fits 3.0 Music / Sound FX / Voice Acting
The commentary sounds good, but sometimes it isn't accurate. The soundtrack is pretty well done. The campaign actors do the best they can with the average story 4.0 Play Value
There are some modes where I felt like enough things didn't change. But after some patches, it might be serviceable enough 3.5 Overall Rating – Good
Not an average. See Rating legend below for a final score breakdown.
Review Rating Legend
0.1 – 1.9 = Avoid
2.5 – 2.9 = Average
3.5 – 3.9 = Good
4.5 – 4.9 = Must Buy
2.0 – 2.4 = Poor
3.0 – 3.4 = Fair
4.0 – 4.4 = Great
5.0 = The Best
Game Features:
Fresh new features, innovative new gameplay mechanics, and Madden's newest mode, The Yard.

Face of the Franchise – Push the limits of your legacy and rise to Hall of Fame immortality.

Superstar Feels – Explore more than 50 new Superstar and X-Factor abilities designed to elevate the starts of a new generation.