It's Just Plane Fun!
When I was assigned the task of reviewing Magic: The Gathering – Duels of the Planeswalkers 2014 , I was both excited and nervous. As a devout supporter of Wizards of the Coast, I immediately accepted the task offered by my editor, only afterwards realizing that my deck of Magic playing cards have been collecting dust for the past decade. With this being developer Stainless Games' fourth entry to the series, I expected to be immediately pummeled into submission by rules I had long forgotten, a vicious AI, and trash-talking multiplayer matches. Surprisingly, I found the opposite in every respect. I was presented with the best tutorial of any game I've ever played and features and game modes that would entice even the hardcore card players.
Being a video game rather than a table session, Stainless Games incorporates a humble story campaign, where you take the role of a Planeswalker who must conquer five different Planes corresponding to their respective mana color (white, blue, black, green, and red). The intro cinematics welcomes fire-wielder Chandra Nalaar to the stage, with the impetus of revenge driving her forward. You, however, are the first Planeswalker in her way, thus thrusting you into an engagement. The game then asks you a simple question about how familiar you are with the playing card game; your response dictates the frequency in which you are presented with tips and guidance.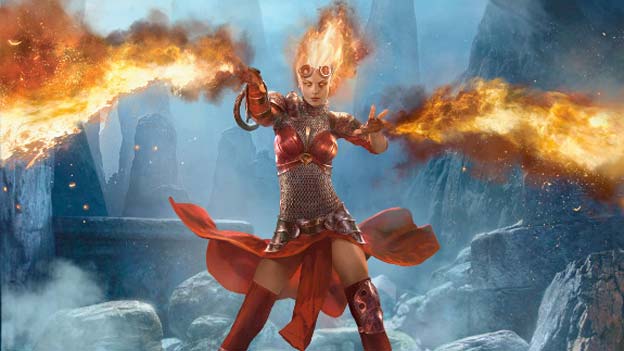 The tutorial is set-up exactly like the campaign, with a linear skewer of encounters that ends with a final showdown against another Planeswalker (the tutorial boss being Chandra herself). Tackling each goblin-led encounter will introduce a new element of the gameplay. You'll start with casting spells, which summon creatures, discover the importance of land cards, and progress through the different card types such as enchantments, sorceries, instants, equipment, and activated abilities. Every new element is delivered vocally by a clear and unpatronizing narrator–one eager to show you the ropes, rather than a derisive player rushing you through the rules with the ulterior motive of destroying you quickly and painfully. Yet after each element is introduced in the encounter, the task of victory is still left to you. Since the tactics compound gradually, you'll find it easier to progress, taking everything you learnt from past encounters with you.
After emerging from the tutorial campaign victorious, all my decade-old knowledge had returned. However, with only the basics ingrained, diving into a multiplayer match online still felt threatening. So I instead moved onwards with the story. At this point, I had my green starter deck as well as Chandra's red deck at my disposal. Magic 2014 includes a user-friendly deck-building tool that allows you to easily sort your cards based on spell type, power level, mana color, as well as offering a suggested amount of land pieces depending on the size of your deck.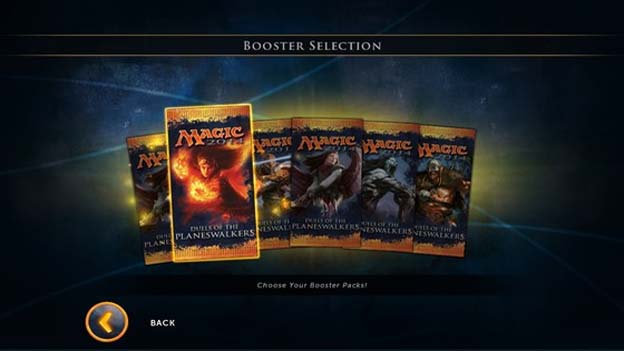 But the starter deck is simply that, and there are plenty of things to unlock in Duels of the Planeswalkers 2014 . There are ten decks to unlock in total, and each deck has another thirty rare cards to collect through playing matches. Then there are character customization features to reveal. Titles for your avatar are ceded upon completing campaign objectives. Single-turn challenges (some requiring a taxing amount of brainwork to deduce) will reward you with trophies. There are also a total of thirty profile pictures to choose from, but of course, not all are available at the start. The avatar images, like the card art, are all beautifully hand drawn, with Stainless Games and Wizards of the Coast acknowledging each artist with their moniker visible below the artwork.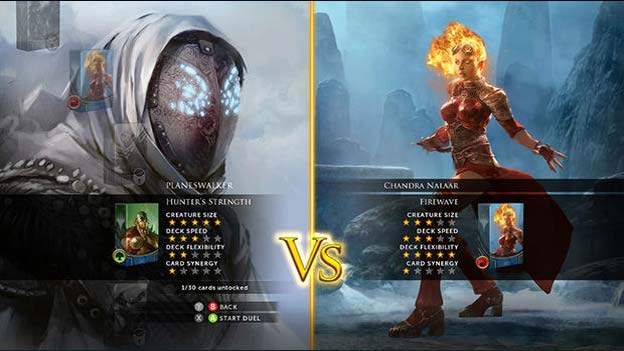 Playing single-player against the AI becomes more challenging as the campaign continues; however, the game does give you a hefty advantage. In each encounter, your opponent will play the same cards in the same order every time. Therefore, failure gives you the incentive to rework your deck, stacking it with the appropriate cards to bring down the AI. Playing against human opponents is where your skills are really put to the test. Seasoned players will claim victory with a strong grasp of effective card combinations, sending you back to the drawing board if you only stick to the basics. The element of chance grows as the player pool does, and you can partake in up to four-player free-for-alls online. The Two-Headed Giant Mode is also available for team matches.
Yet the most engaging mode is the newest addition to Magic 2014 ; it's called Sealed Play. Here, you are given six sealed Booster Packs to unwrap, and must create a deck of only forty cards from this pool. There is an inherent excitement about not knowing what each pack will contain, and Sealed Mode is probably the closest fans of the real card game will come to draft rules (as well as digitally unwrapping a crispy, crinkly pack of cards). There is even a campaign specifically for Sealed Play, as well as a multiplayer mode.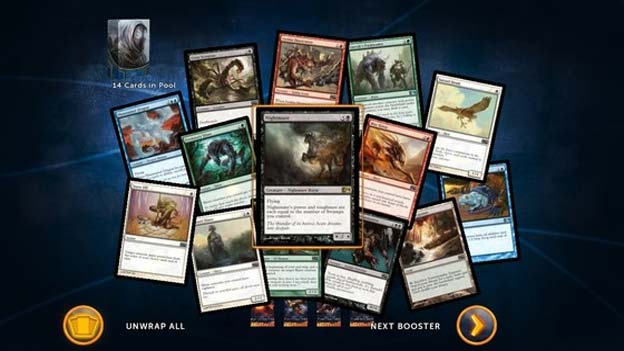 Along with all the unlockables and game modes, Stainless Games has also addressed technical issues from past versions. Load screens are very quick, the turn timer is slightly faster, and the interface has been fine-tuned. Little adjustments such as the option to attack with all your creatures rather than having to individually select them makes the game more accessible and engaging for all.
Magic: The Gathering – Duels of the Planeswalker 2014 will never trump the physical card game, though I don't think that is its intention. For me, it was a way to become reacquainted with the rules and mechanics without the embarrassment of asking a group of veterans. It offers plenty of challenges for solo gamers and a great deck building tool that, with a little time, will have every card seared into your memory. Though not as socially engaging as playing with others around a table, the online multiplayer runs smooth, with players eager to show off their combo skills in the handful of impressive game mode. And best of all, at a mere ten dollars, it is by far the cheapest way to get your hands on a plethora of digital cards.
RATING OUT OF 5 RATING DESCRIPTION 3.5 Graphics
Many of the animations are recycled from past versions, but the hand-drawn artwork is represented nicely. 4.4 Control
It's a simple button scheme that you'll have down pat after only a couple encounters. The menus and deck-building tools are user friendly. 4.5 Music / Sound FX / Voice Acting
The best tutorial narration ever. The synthesized fantasy tracks are great as background ambience, though they do get a little repetitive. 4.6 Play Value
It's not the real thing, but at ten dollars, it's an incredible value with a great selection of modes and plenty to unlock. 4.4 Overall Rating – Great
Not an average. See Rating legend below for a final score breakdown.
Review Rating Legend
0.1 – 1.9 = Avoid
2.5 – 2.9 = Average
3.5 – 3.9 = Good
4.5 – 4.9 = Must Buy
2.0 – 2.4 = Poor
3.0 – 3.4 = Fair
4.0 – 4.4 = Great
5.0 = The Best
Game Features:
10 decks, each with cards to unlock

250+ cards unlockable through gameplay

Single-player Campaign across the planes of Shandalar, Ravnica, Alara, Innistrad, and Zendikar; plus 11 revenge matches

4 deadly opponents, including the Planeswalker Chandra Nalaar

Multiplayer modes; including Two-Headed Giant and custom games

Sealed Play Mode–introduces deck building

10 puzzling challenges