Be The Most Wanted
The new Need for Speed: Most Wanted is not your standard racing game. It's a strange fusion of GTA, an RPG, and Burnout Paradise. In fact, Criterion, the studio behind Burnout, is in charge of making this one, and while it certainly feels like it has more Burnout DNA than Need for Speed DNA, it's simply better off for it.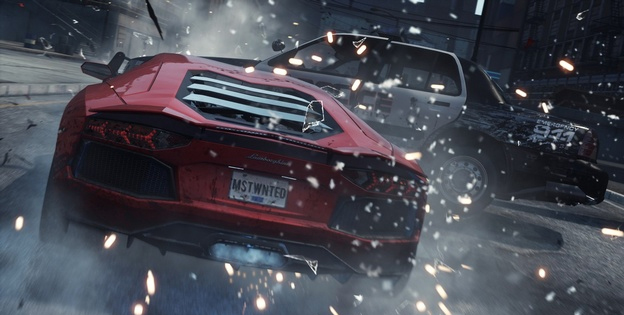 All the racing games of the past kind of blur together in my brain anyway, so comparisons to past titles aren't all that important. What is important, though, is that Need for Speed: Most Wanted gave me a unique gameplay experience that wasn't like anything I've played in the racing genre before.
Need for Speed: Most Wanted sets you down in an open racing world. As you drive around the city, you'll get points for doing cool stuff like jumping, crashing through fences and signs, finding interesting shortcuts, and more. You'll also build up your boost by drifting, drafting, and generally driving recklessly. Drive recklessly enough and the cops will start to tail you, busting you if they manage to stop you for long enough. Of course, you can run them off the road, smash into them to flip them over, jump over their spike traps, and more. In fact, the more stylishly you outrun the cops, the more points you get!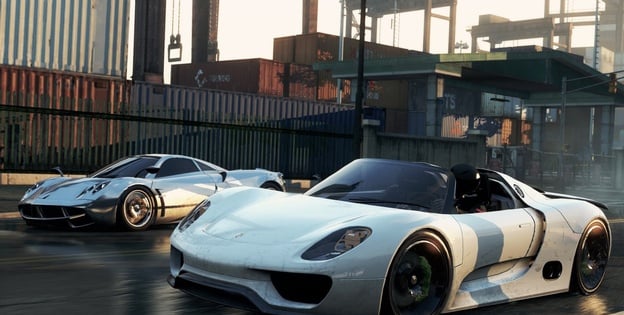 These points are sort of a combination between leaderboard score and experience. Earning them allows you to pimp out your ride in interesting new ways. You can make your ride heavier to be more stable or lighter to fly higher with jumps. You can give your car more traction, increase its boost meter and the rate it earns boost, tweak its acceleration, speed, and handling, and much more. Of course, these upgrades let you perform better on the road, giving you more points, which let you purchase more upgrades, and so on. The classic RPG cycle goes on.
Now, the main focus here is to literally become the Most Wanted. You are ranked at just about everything you do in the game. You have a ranking for number of signs you smash, fastest speed through a red light, amount of carnage and destruction caused, and more. The better you are at being a reckless racing machine, the more points you get, and this makes you, in essence, more wanted than your friends. You can try to outdo your friends in specific areas, or simply try to get the most points out of all your friends in an attempt to climb the charts to the very top and become racing's Public Enemy Number One.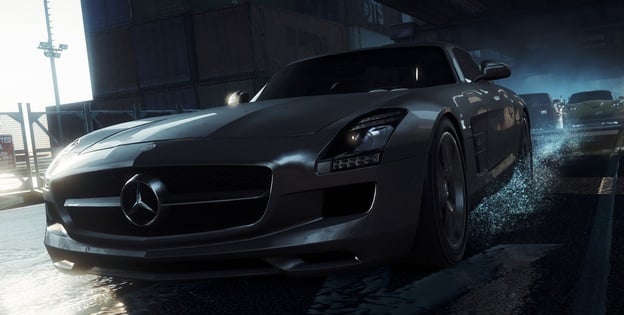 Until now, I've only talked about driving around the open world, but you gain the most points by completing challenges. These challenges can be races, time trials, attempts to outrun the cops, or the classic Burnout style "make the biggest crash" game, but they can also be much more. While a majority of the challenges are isolated racing game-style events, some are simply challenges that activate as you drive around the overworld. Like speed cameras, these challenges just check your progress whenever you perform them, updating your points in the process.
For example, there will be challenges that mark the top speed through specific intersections or the highest jump over specific gaps. You may actually complete some of these challenges while in the process of others. As you play the game, the game's built-in autolog will keep you updated on the progress of all of your friends. So if your rival manages to suddenly outdo your best time on a specific race, you can speed right to that race in an attempt to take him down.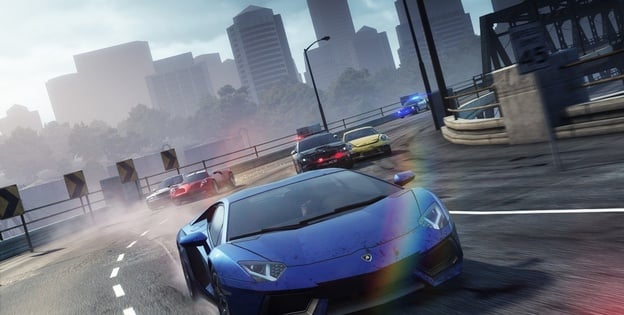 Then there's the game's multiplayer. Essentially, joining a multiplayer lobby just puts you and your fellow racers on the same map at the same time. If you drive to an event start point, then all the other racers will be notified and are asked to join you. When all the other racers meet up, the event begins. Of course, they also can spend as much time as they like preparing for the race, getting as much boost as they like, or merely interfering with you reaching the event's start point. When asked if there would be anything that prevents people from infinitely stalling a race by not joining the host of the room, the response was that griefing was part of the fun.
Final verdict? Need for Speed: Most Wanted is incredibly fun. Sure it's more Burnount that Need for Speed, but the quality of the game was so great that I'm not entirely sure Need for Speed fans will care. Be on the lookout for Need for Speed: Most Wanted when it launches in the near future.
Game Features:
Limited Edition Perks – Get double Speed Points for your first four hours of multiplayer and get early access in online multiplayer to two of the world's hottest cars, complete with the exclusive Satin Black livery and the latest performance modifications.

Beat Your Friends – Autolog 2 ratchets up the intense competition with personalized race recommendations and feeds broadcasting all of your most newsworthy scores, speeds, and times to your friends. Earn Need for Speed points at all times on any system as you try to outdrive your friends and become the Most Wanted.

Nonstop Multiplayer – Pick a car, hook up with friends, and jump into a nonstop playlist of tight, competitive events. No lobby screens means the action never stops. Score big, rank up, and earn endless rewards and upgrades. Keep the fierce rivalries going between events with endless opportunities to race, battle, and explore in a huge open world.

Open World Action – Lose the cops—your way. Hit jumps and shortcuts, lay low, or shake the cops in surroundings that play to your car's unique strengths. Freedom is everything. Drive anywhere with your friends, discover hidden gameplay, or utilize your knowledge of the city to beat them in a never-ending supply of challenges.

Racing Without Rules – It's survival of the fastest as "Need for Speed Most Wanted" fuses the franchise's, authentic "real car" feel with the intense speed and aggression of Burnout. Power down, slide out, and battle your way past cops and rivals using pure driving skill and heavy doses of nitrous.