Freshly Sharpened Blades on a Well-Worn Skate
EA Sports has honed the formula for the annual releases of their sports franchises. It basically involves packing in tons of modes and delivering tight gameplay controls, but leaving just enough of a crevice to promote improvements and added content the next time around. NHL 18 does exactly that, adding a few more offensive dekes and the much needed Defensive Skill Stick, as well as opportunities to create an entire new team from scratch or ditch conventional rules for a more arcade-inspired campaign mode. It does just enough to warrant a full label, and not simply bite-sized extras crammed into what would otherwise be dubbed NHL 17.5 . It keeps the series moving forward, with enough meat to keep fans satisfied until next year.
On the ice, the controls feel very similar to those of the past few titles, except this time there is more of a push for players to adopt the full breadth of maneuvers using the Skill Stick option, making the Hybrid and NHL 94 schemes extremely limited in versatility. To get you acclimated to the system, the Hockey Canada Training Camp goes through the basics of shooting, passing, defense, faceoffs, and deking. The new advanced dekes, such as the backhand drag shot and one-handed tuck, have great animations and enough deftness to confuse the AI and look highlight worthy on instant replay, but are extremely situational, requiring skating angles and opposing formations to be just right in order to pull them off successfully. The Defensive Skill Stick, on the other hand, is a useful application every time you're on defense. Using the right analog to fully control the hockey stick lets you compensate and counter whatever deke your target is attempting and allows you to adjust when your opponent is attempting to lure your poke check into a penalty.
But the Training Camp has some omissions. Though it does teach you poke checks, body checks, and stick lifts, there is no formal instruction of proper use of the Skill Stick on defense. Other elements, such as diving in front of a slap shot or how to start a fight and throw punches, requires you to learn by accident or manually check the controller configuration.
There are several expansive modes in NHL 18 , each of which could easily soak up dozens upon dozens of hours individually. Franchise offers the full breadth of ownership and management, giving you the powers to create a team from scratch, customizing logos, mascots, arena features, and other backend elements. You start right from the draft, move into signing contracts and wrangling in free agents, and oversee revenue and fan happiness to make your team the one everybody wants to watch. It is by far the best mode for those who like to control every minutia, but more than a little intimidating for those who'd rather just hit the ice. If you'd prefer to focus on a single user-created player, the Be A Pro mode allows you to start from the junior leagues, train in different areas, build experience, and improve your stature going into the draft, then work your skills in the NHL to continue growing in skill and fame.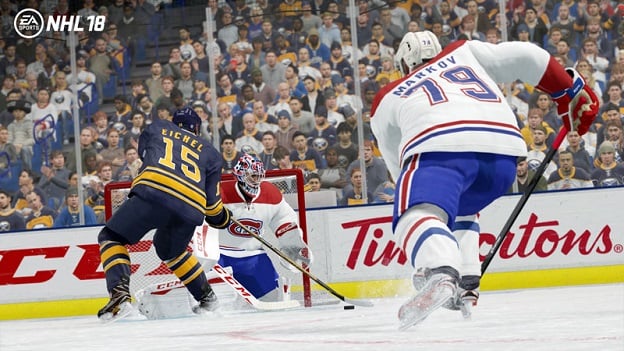 There are also modes to jump right into the Stanley Cup Playoffs, do quick shoot outs, or play entire seasons in the NHL or in another league, such as the ECHL, Liiga, and Switzerland's National League. It's nice to see global recognition in NHL 18 . However it is a shame you can't use these teams outside of Season Mode, not even in a Quick Play match.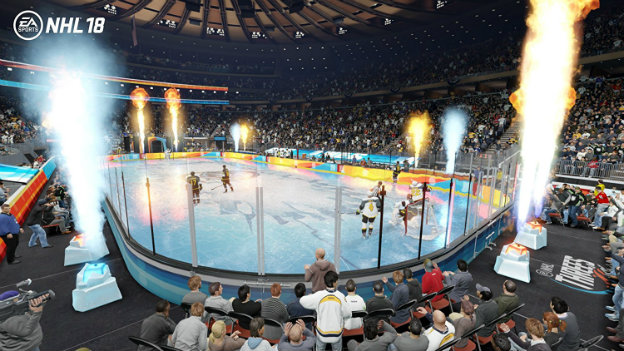 The most disappointing mode is the newest one, called NHL Threes. This arcade-focused mode shrinks the rink, speeds up the actions, and dispenses with icings, offsides, and a few other rules. In its place are flames, mascots in the line-up, and commentary pulled straight from a WWE match. The vocal jabs are terrible, and the atmosphere is cheesy and painful to submit too. There is a full campaign to play through, with unlockables to collect, objectives to complete, and a lineup to fine-tune, but with the whole setup is so cringeworthy, it's hard to imagine many hockey purists opening up this can.
Hockey Ultimate Team, or HUT, is the NHL 18 mode that will see the heaviest action from the community. This beefy mode blends many modern gaming features, such collectible card trading, synergy buffs, challenges, and EA tracked seasons for ladder climbing. Along with the Draft Challenge rewards carrying into HUT, it has all the elements to keep players hopping back to their personalized hub to check for new rewards and tweak their collection, along with playing hockey, of course.
There are few improvements in the graphics department from recent entries. NHL 18 has accurate character models, a wide range of spectator animations, and fairly smooth motions on the ice. There's still a bit of choppiness in the transitions between actions, which is more noticeable during zoomed-in replays, but overall the movements feel authentic.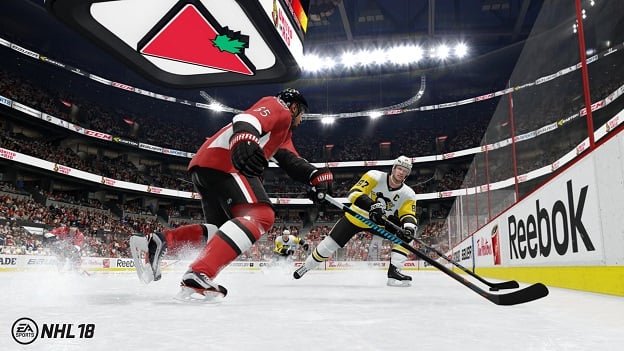 NHL 18 sounds pretty close to the real thing as well. Sticks clack together, pucks ping off crossbars, and skates shave through the rink. The only effect that could use a boost is the checking, which sounds too light and far away from the mic. The confined arenas also do a great job reverberating goal horns and echoing the crowd cheers and boos. The music selection for the menus is also perfect for the hockey setting. The rock and synthpop tracks from bands such as The Kooks and Future Islands make you want to grab a stick and knock out "We Will Rock You" on the boards and glass. NBC Sports' mainstay commentators Mike Emrick and Eddie Olczyk do a fine job calling the game, but I think we're ready for them to pass the mic to some fresh voices.
NHL 18 delivers the gameplay improvements, renewed rosters, and added content that are the expected additions in an annually updated EA Sports game. Not every mode fits comfortably in the menu screen, but there's enough variety to satisfy gamers who like to control every inch of their season and those who prefer a quick thrill.
RATING OUT OF 5 RATING DESCRIPTION 4.0 Graphics
Everything from the character models to the animations look authentic, but they just don't look much improved from the last entry. 4.2 Control
The addition of the Defensive Skill Stick is very much welcome. The extra dekes are flashy, but situational, and the hybrid controls are even more limited. 4.5 Music / Sound FX / Voice Acting
The music lineup is stellar, and the sound effects are crisp. Commentary is well scripted, but the actors need to pass the baton. 4.3 Play Value
There are lots of ways to play, both for extended periods and briefs bouts, but the new arcade mode Threes is an absolute joke. 4.2 Overall Rating – Great
Not an average. See Rating legend below for a final score breakdown.
Review Rating Legend
0.1 – 1.9 = Avoid
2.5 – 2.9 = Average
3.5 – 3.9 = Good
4.5 – 4.9 = Must Buy
2.0 – 2.4 = Poor
3.0 – 3.4 = Fair
4.0 – 4.4 = Great
5.0 = The Best
Game Features:
New Creative Attack moves give you full control to execute the highlight-reel, jaw-dropping plays seen by young superstars in today's new NHL.

New Creative A.I. also means your teammates leverage all the same creative tools as you do for beautiful, intelligent decision-making all over the ice, including board passes and through-passing into space.

Introducing NHL THREES, a bold new take on fast-paced, over-the-top 3-on-3 hockey action. The all-new, arcade-inspired hockey experience features faster gameplay, bigger hits and high-scoring action that's easy to pick-up-and-play.

In Franchise Mode, reshape the entire NHL with the new Expansion Draft feature where you get to create and draft a 32nd NHL team and shake up the league. Run an authentic expansion draft where you select the best players from across the league, build a unique roster and take on the front office role to manage the team, the business and the games.

Whether you're playing cooperatively or competitively, offline on the couch or online with up to 12 players, NHL 18 delivers more than 64 combinations to team up with – or against – friends locally and online.