Back in 2015, Nintendo started getting creative. The Wii U wasn't performing as expected. The company was already preparing for its next console, the NX. It needed to make moves that would bring in more money. So, it decided to gamble on nostalgia. During business meetings, Nintendo decided to start exploring more merchandise deals and mobile gaming. It'd already begun putting out figures and toys with Good Smile Company and Jakks Pacific. This desperation move also led to a DeNA deal for mobile games. Now, a year later, it seems like that risk could bring about unprecedented success.
Nintendo toys are in almost every store now. I was walking through a Meijer's toy section and found an Animal Crossing Villager figurine looking up at me, sitting next to a stuffed Fox McCloud and Pikmin. We're up to three The Legend of Zelda Nendoroids and three Fire Emblem ones. Clearly, the toy end of the bargain is working, since the World of Nintendo line's best figures are being snapped up by resellers and we keep seeing more and more high end figure releases.
It's also led to an incredibly popular apparel deal. Vans and Nintendo teamed up for shoes, backpacks, and t-shirts this year. They were popular, to say the least. People were pre-ordering these $40 (and up) shoes online. When I went to my local store the week they came out, they were rather picked over. People wanted Donkey Kong, Link, Mario, and Luigi on their feet. And can you blame them? If they'd had the Donkey Kong shoes I wanted left in my size, I'd be taking walks with that big ape, too.
This move is likely connected to the Pokemon Go phenomenon too. Can you imagine the Nintendo of five or ten years ago getting in on such a deal? Yet here we are – Nintendo's invested in Niantic. The game's a success, with stores and restaurants offering incentives to stop by when they're PokeStops and T-Mobile offering unlimited Pokemon Go data for a year. Estimates already say it's added about $11 billion to Nintendo's value, causing the stock to increase by 24.52% on July 11. It's topping the Google Play and iTunes charts.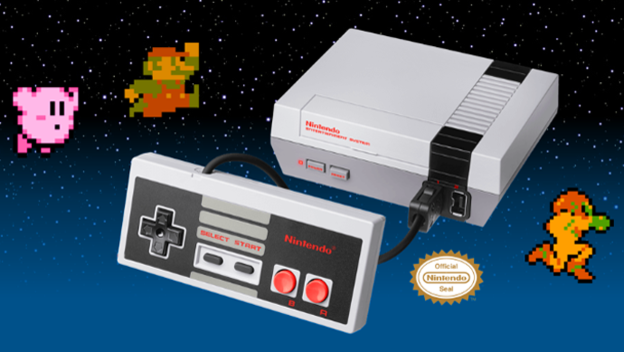 And now, the next smart move has appeared on the horizon. Nintendo will release the Nintendo Entertainment System: NES Classic Edition in November. For $60, people get 30 of the best first and third party Nintendo games, as well as a controller that works both with this plug-and-play system and the Wii and Wii U. That's $2 per game, and it's giving us games like Castlevania, Donkey Kong, Double Dragon II, Dr. Mario, Final Fantasy, Ghosts 'n Goblins, Kirby's Adventure, Mega Man 2, Pack Man, Star Tropics, The Legend of Zelda , and the first three Super Mario Bros. games. Also, it's adorable. people are already enthused and, when the announcement was made, were ready to give Nintendo their money. Again, can you blame them? For the price of a trip to the movies for four people, you're getting a system that will provide hours of entertainment.
Nintendo is finally doing something right. No, it isn't going to help the Wii U. But the recent moves have done a lot to restore our faith in the company. We know the 3DS is a success. We know the NX could have potential. Going ahead and taking these risks to give us more access to merchandise and games was a smart idea, and it looks like it's paying off.