Publish Date: Tuesday, October 6, 2020
Roccat's always offered all sorts of headsets for people to use. There are different levels of quality too. While someone might look to the Roccat Elo 7.1 Air as something like a peak, given it costs $99.99, there are options that can be more affordable and offer some similar sorts of experiences. Options like the $49.99 Roccat Elo X Stereo and $69.99 Elo 7.1 USB . Each one offers Roccat quality at different levels of affordability.
The Roccat Elo X Stereo headset is your basic 3.5mm, wired headset. Its 50mm neodymium drivers are designed to provide as rich a quality of sound as possible. You're covered with frequencies ranging from 20 ~ 20000Hz. It also has a unidirectional mic with TruSpeak technology that you can have attached or detached, so you're ready no matter what the situation is. Which could be any possible one, as it is designed to work with all current consoles, the next-gen PlayStation 5 and Xbox Series X, PCs, and even your mobile devices.
Comfort is also a big deal with the Roccat Elo X Stereo headset. It has a 1.65m cable, so you have plenty of space to actually game and move around. The over-ear headphones have memory foam cushions that also use the ProSpecs Glasses Relief System to keep them from pressing glasses into your ears and skull. The headband itself also has memory foam built into it. Also, the headband is made of metal and is adjustable, so you can ensure it is durable and fits just right. And, when you need to control it, you have a master volume wheel, a microphone monitor wheel, and a button to mute your mic.
With the Roccat Elo 7.1 USB, we have a headset that is kicking things up a notch. Instead of stereo sound, we have 7.1 surround sound with 360 degree accuracy. It also relies on those 50mm neodymium drivers to offer that 20 ~ 20000Hz range. Like its sibling, it has the same unidirectional mic with TruSpeak tech that you can have attached or removed from the headset.
Its base look and feel are similar too. We have the memory foam on the earcups and headband, so you have protection and comfort, and the ProSpects Glasses Relief System is in place here too. It's adjustable, with metal bands, to ensure durability. You also have a 2.5m cable, so it lets you have some distance from the Windows PC you're using them with. And you have the master volume and mic monitor wheel there, along with the button to mute the mic.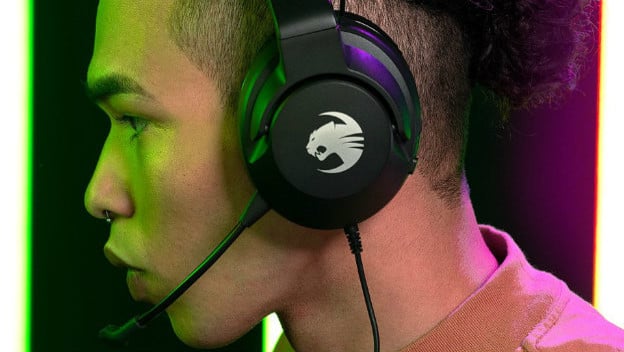 What really makes the Roccat Elo line special is the wow factor of the RGB lighting system (a feature available on both the Elo USB 7.1 and the Elo Air 7.1 models). It uses AIMO Illumination to light up the cups of your headset while you play. In fact, it connects to any other AIMO devices you own, so all of the lights will be in-sync. While you wouldn't personally see it happening, people around you would and know how cool and bright it is.
Each of Roccat's Elo line of headsets do something special. They build on a quality foundation, then offer additional options to cater to your needs. Not everyone might need the Elo 7.1 Air, as cool as it may be. For them, a Elo X Stereo or Elo 7.1 USB headset could be just as helpful for their needs. But no matter what, saying "hello" to Elo might be a good idea.