What happens when you spend years playing games on a console, handheld, phone, or PC? Getting real good at certain titles is one possibility. Of course, another is that you screw your posture up. After all, you're hunched over a screen for hours or perched on a chair. It starts bad habits, which can hurt you as you go about your daily life. But there's a quick sort of fix. People can turn to IFGfit . This company makes a collection of clothing that straightens you up. That means both shirts and shorts to save the day.
Here's how the IFGfit clothing works. Each piece is actually classified as activewear, but still can be used for any occasion. You could be real comfy around the house and gaming, but still wear it. Each piece has Posture, Performance, and Recovery (PPR) technology in its seams. These bits and pieces get you standing, sitting, playing, and working in the right positions and are actually using the same things people would find in FDA Class II Medical Device Posture Correction Technology items when doing physical therapy or working out.
It also is designed to be real accommodating to normal life. Some posture clothing is basically like stepping into girdles your grandparents would wear or medical harnesses. The IFGfit doesn't have any of that. They're wire-free, which means nothing poking you as you work or play. They're no braces in there. They're not super clingy or binding. They look and feel like normal clothing that happens to have the tech in there to train you to stand and sit normally instead of hunching over.
The IFGfit clothing does its job in a number of ways. Some of the items involve things you'd expect. Of course there are shirts for men and both shirts and bras for women. The part of your body that's gonna slouch is going to be your upper body as you play a game or work on a computer. These target your shoulders, back, and chest to help get you standing straighter and breathing better. With them on, you're encouraged to perk up a bit. These tend to be around $188 to $198 per bra, with the Arya being the cheaper of the two and the Christine more expensive. The women's shirts are $188, while the men's range from $178 for a Tech Crew Neck Posture Shirt to as much as $228 for a Jersey Posture Polo.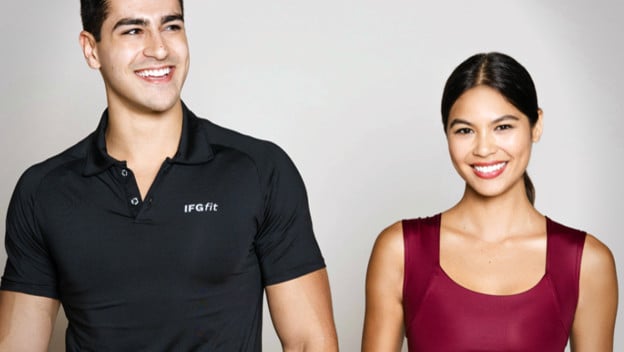 But the unexpected areas also get their own pieces of IFGfit clothing that can help. Men have shorts. How do these potential gamer shorts help? Well, they have a hip and pelvis alignment system to stabilize you and keep you centered and standing tall. Women have both shorts and leggings. Again, these help with hip support. At the same time, they take care of your core and protect your spine, offering additional aid in keeping you at your best and standing tall. The men's Ergonomic Posture Shorts are $118. Women's Luxe Ergonomic Posture Shorts start at $78, but can go up to $108 for the Align Ergonomic Posture Shorts. The women's leggings start at $108, but can go up to $128.
The IFGfit clothing line is something to consider if you feel like you're getting real out of whack when playing games. It might take adjustments, but it's the kind of stuff that's gonna get you in a better position and perhaps help with posture. Of course, it's also an investment, but it's something for people to consider.