Smashing Till Dawn
I have to be honest. I don't drool every time a Super Smash Bros. game comes out. In fact, rarely do I even pick up the game longer than a couple of hours. It's always been fun, it's always been enjoyable to play with my family, but it never pulled me in like many other fighters. So looking at it in that regard, Smash was not on my radar, and I feel bad for that, but only slightly. After all, it is totally on my radar and I (nor my family) couldn't be happier. However, I cannot stress enough that the following review is not from a die hard fighter, but from the point of view of someone who just likes to smash other players.
When I say that the game really feels like it was meant for every skill level of player, it's also kind of an understatement. In my house alone, I had so many different aged players enjoying the game. It never felt like one person was more skilled than the other; it never felt like someone had an advantage over the other. I mean yes, some were playing who had advanced skill, but no one felt like the fun had stopped. When you factor in the varied controls people were using this only increases the "everyone plays" feel to the game.
Using the Wii U gamepad feels very natural, and if you have some difficulty in controlling the game you can also adjust the button layout. The 3DS has also been included as an optional controller (as long as you have the Super Smash cartridge for your 3DS). In addition to these and the other traditional ways on the Wii U–eg. Pro Controller, Wii Remote, and Wii remote with Nunchuck–there is also the option of using the GameCube controller. This might not seem like much, but using the adapter to allow up to four GameCube controllers is probably the best thing to happen to this title, and no it's not pure nostalgia making I say that. It just feels right.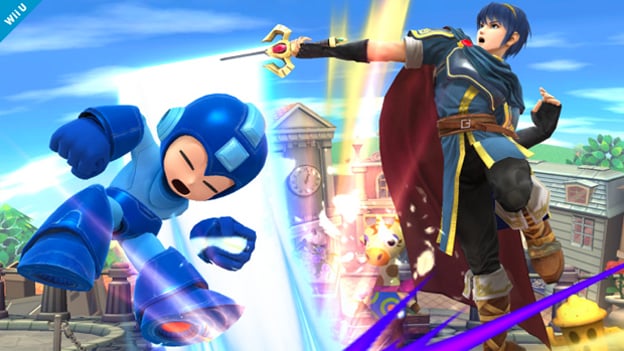 The roster for Super Smash Bros. is surreal. There are so many characters you get to play as. Ranging from the traditional combatants like Mario and Link all the way to someone you'd never assume to be that great of a fighter–Pacman. Let me tell you first hand, Pacman is a beast of a fighter. But in addition to the normal roster of character you start off with, there are a few surprises. I won't talk about them all, but I have to mention one unlockable fighter in particular, Duck Hunt. When he was first announced I felt both giddy and questionable towards the inclusion. Well I have to say that aside from Luigi, Duck Hunt is my go to fighter in the game amongst the champions of Smash Bros.
In addition to the unlockable characters and impressive startup roster, you can also play as your created Mii. With three classes to choose from–fighter, swordsman, and gunner–it offers quite a bit of customization for you to feel in complete control of how your fighting Mii will handle in the game. Changing up the special moves, the traditional fighting capabilities, and even the items the player wears are up to your own discretion. I would have to say if there was one thing Super Smash Bros. is this time around, it would be customizable. Because the customization isn't just restricted to the Mii avatars you put in. It also holds true to the other characters as well.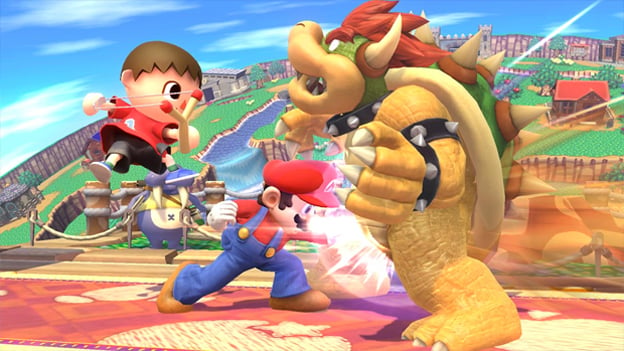 There is also a new mode in the game I enjoyed. It's not Mario Party but it is a unique blend of the mode. For example you and three others set out on "game board" where you will acquire different powers and the like. If you happen to bump into another player then you get to smash it out. After you have completed 15-25 turns then you and the other players are in a battle royal free-for-all event to see who can come out on top. This mode was a lot of fun, but I think I would have liked a few other advancements in this mode, but I digress.
There are so many different ways to play in Super Smash it is very intimidating. Classic Mode, Event mode, All-Star mode, I mean this alone almost feels like it could be daunting to so many groups of players. But if you are a gamer who has to have everything unlocked and everything player, even if you only play with the unlockable once or never, it's going to take you some time to do everything in this game. This alone increases the amount I love this game. As a collector it has become a mission to get everything. Duck Hunt and I shall conquer it all!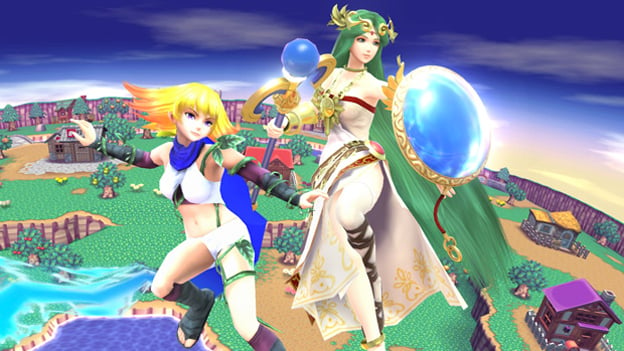 Graphically, this game truly impressed me. I have played a lot of games on the Wii U and I dig the graphically prowess of the machine, but regrettably never felt wowed. However, Smash is a beautiful game. It flows well, it doesn't hiccup (to the best of my knowledge) and even more impressive is that when you have 8 players duking it out plus the environments, plus the vast amount of Poké Balls being thrown out, the game never feels hindered by what is going on. This to me is a huge accomplishment.
Speaking of accomplishments (or is it more nostalgic love?) the score for the game is fantastic. The clarity of the sound is beautiful. Pumping the original Duck Hunt music through the sound system I have made me feel like a kid again. This happened many times with many characters. The only "issue" I have with the sounds in the game is a ridiculous one. The fighter sounds of the characters can get on your nerves, but then again this can be and is the issue with many fighting games.
As I mentioned earlier, I am not a fighting game expert, but I know what I like. I also know the enjoyment I had playing this with friends and the enjoyment I saw when my kids played. In the end Super Smash Bros. is a great game. It is a game meant to be played by every one who has ever wanted to fight Mario versus Peach, and then some. But it is also more about the players who love just smashing the buttons to make their character do cool things, and that's alright too. If you want a fighting game that is easy to get into and even easier to enjoy Super Smash Bros. for Wii U is the only fighting game you need to have.
RATING OUT OF 5 RATING DESCRIPTION 4.5 Graphics
The varied styles all mesh really well. 4.2 Control
With so many varied ways to play this is for everyone. 4.0 Music / Sound FX / Voice Acting
Background music bringing nostalgia face front. 4.5 Play Value
I've had the most fun with this entry than any other before. 4.6 Overall Rating – Must Buy
Not an average. See Rating legend below for a final score breakdown.
Review Rating Legend
0.1 – 1.9 = Avoid
2.5 – 2.9 = Average
3.5 – 3.9 = Good
4.5 – 4.9 = Must Buy
2.0 – 2.4 = Poor
3.0 – 3.4 = Fair
4.0 – 4.4 = Great
5.0 = The Best
Game Features:
Compete with classic players from the Super Smash Bros. series, along with new challengers like Mega Man, Little Mac or newly announced Palutena, the Goddess of Light from the Kid Icarus games. For the first time, players can even compete as their own Mii characters.

Use a variety of control methods during the high-energy and action-filled battles, including Nintendo GameCube controllers – the longtime controller of choice for hard-core Super Smash Bros. players.

Customize move sets when playing locally or online with friends.

Connect with amiibo for added fun.

Experience the beauty of Super Smash Bros. for Wii U in stunning HD, a first for the series.

Fight against friends and family locally or online, or battle random challengers from all over the world online in "For Fun" or "For Glory" modes.