When we think of Tomb Raider, we think of a brunette, Lara Croft, wearing her sunglasses and shorts and carrying a torch or blasting dual pistols. Her first incarnation is probably the most iconic, which is funny as her original blocky graphics are the most challenging to look at. She first appeared in 1996 from developer Core Design for the Sega Saturn. Since then, she's appeared in 12 main games, spinoff games, movies, and action figures.
Lara Croft fills the gap that Indiana Jones left after his last movie for quite some time hit theaters in 1989. The mania for hunting treasure and exploring tombs never disappeared, but new content was sparse. Enter a tough-looking woman carrying double pistols in a playable game, and a new hero is born.
The Tomb Raider series is a bit complex, though, regarding understanding how it all played out. There have been twenty games, and they take place in multiple trilogies and continuities. The main continuities are the Tomb Raider original sage games, the Survivor Trilogy, and the Legend Trilogy. Add to that list the Game Boy Trilogy, the mobile trilogy, and a pair of games somewhere in the middle, and it's easy to get lost. Of course, with multiple continuities, the games didn't release in chronological order. To simplify things, below is the closest order to a chronological storyline to play all the Tomb Raider games.
Tomb Raider (2013)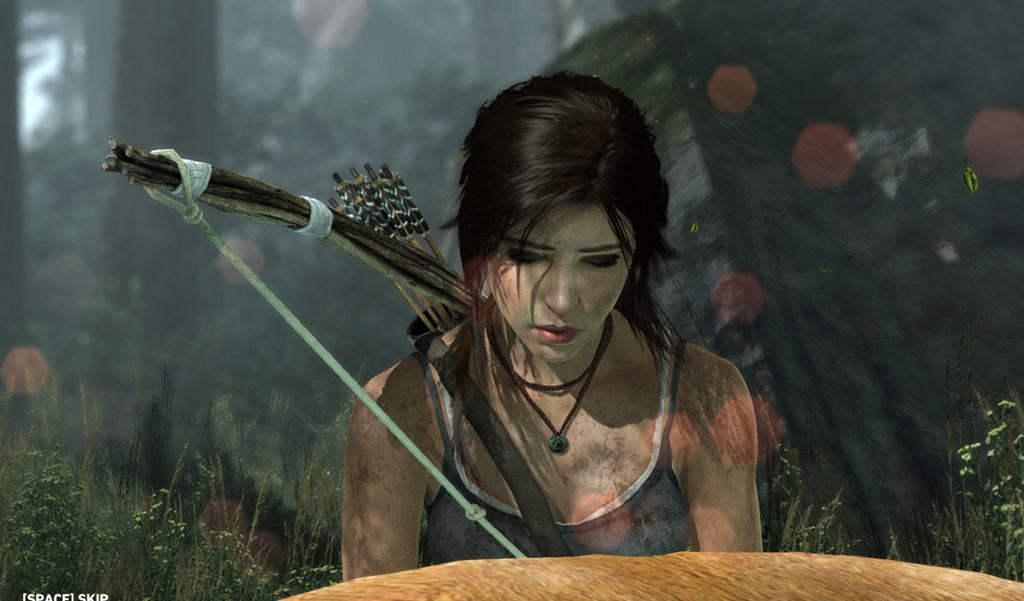 The first game in the story is the 2013 reboot of the series from Crystal Studios, published by Square Enix Europe. Enix was previously Eidos Interactive, which published many of the original saga games. Tomb Raider is the first of the Survivor trilogy. This group is named Survivor because both the gameplay and the story are survival-based. This third-person Croft adventure, available on PC, PlayStation 3, Xbox 360, OS X, PlayStation 4, Xbox One, Stadia, and Linux, is the most successful of the franchise.
This plot begins with a younger and inexperienced explorer, Lara, on the island of Yamatai, looking for a lost kingdom. She has to rescue herself and her friends from a cult hunting them on the island.
The gameplay focuses on getting around the island, surviving, and exploring. New combat additions to the franchise in this title are close combat, salvaging guns, and using a bow. You will also upgrade Lara and her items as the game progresses. The new feature, Survival Instinct, reveals items and enemies to Lara. The first version of multiplayer starts with this game, as players can play as hunters and survivors on five maps. The three match types allow for four versus four in deathmatch and capture-the-flag scenarios.
Rise of the Tomb Raider (2015)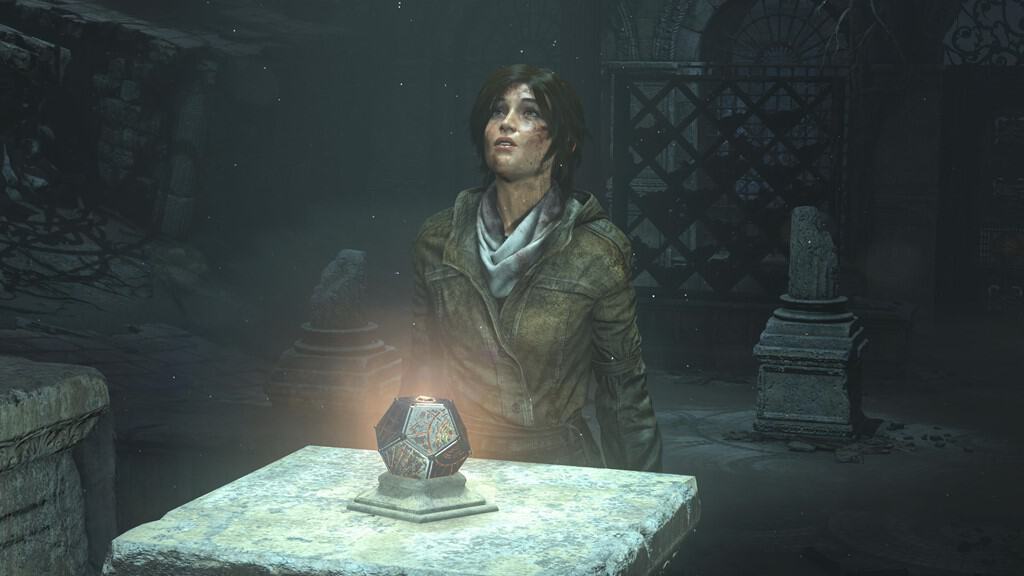 Rise is the second entry in the Survivor trilogy from Crystal Dynamics with Square Enix Europe and Microsoft publishing. It dropped in 2015 for Xbox 360, Xbox One, and eventually PlayStation 4, Windows, Mac OS Linux, and Stadia. The game is once again a third-person adventure with combat, stealth, and many options for exploring.
This time, Lara is in Siberia searching for a city that can grant immortality and battling a sect of knights dealing with the supernatural. Many of the same features from the last game are also available here. Melee combat includes weapons like knives, and Lara can now craft ammunition and bombs. As you progress and upgrade Lara, there are different skill paths you can focus on: Brawler, Hunter, and Survivor.
Other new additions are unlockable outfits with boosts for Lara, the ability to explore previous areas, and fast travel. The downloadable content for the game includes an encounter with Baba Yaga, infected zombies, and nightmares about Croft Manor. Rise also introduces Trinity as an evil, religious organization for Lara to battle in this trilogy. The game received positive reviews, but fans miss the multiplayer option from the previous game.
Shadow of the Tomb Raider (2018)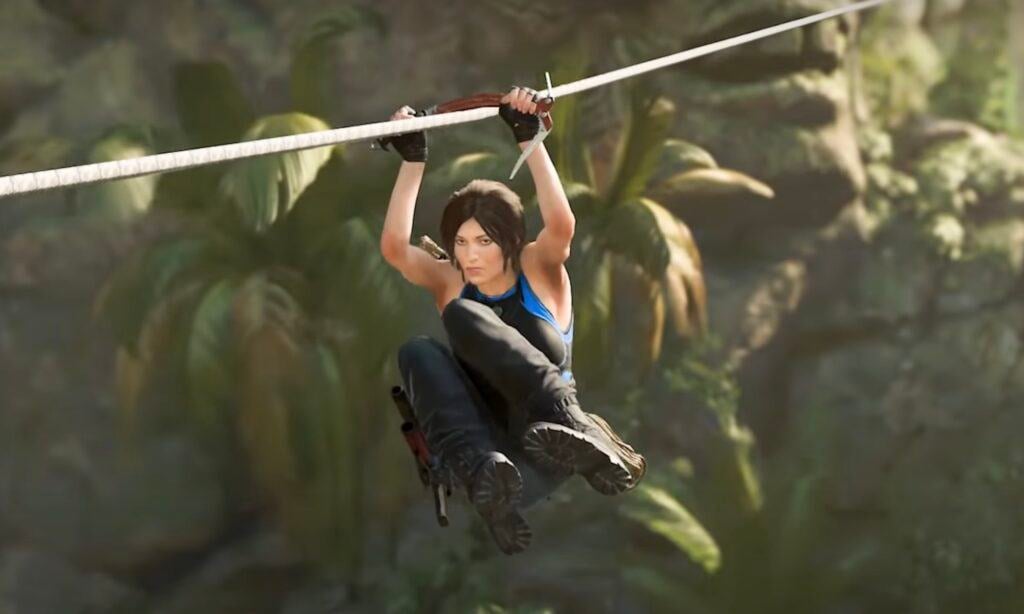 The final game in the Survivor trilogy from Eidos Montreal and publisher Square Enix Europe debuted in 2018. It's available for Xbox One, PlayStation 4, Windows, Stadia, MacOS, and Linux. The game takes place a year after Rise and keeps much of that game's play and elements.
This adventure features Lara in South America looking for the city of Paititi while battling her enemies in Trinity and trying to stop the apocalypse. It's again an action-adventure with much of the same from the last two games. This entry does add some new features, such as a barter system, rappelling down cliffsides, camouflaging using mud, and more. The hunting and crafting from previous games also make a final appearance here.
Seven DLC packs for the game add to the story, outfits, challenge tombs, and skills. The game received positive reviews and successfully ended the trilogy.
Lara Croft and the Guardian of Light (2010)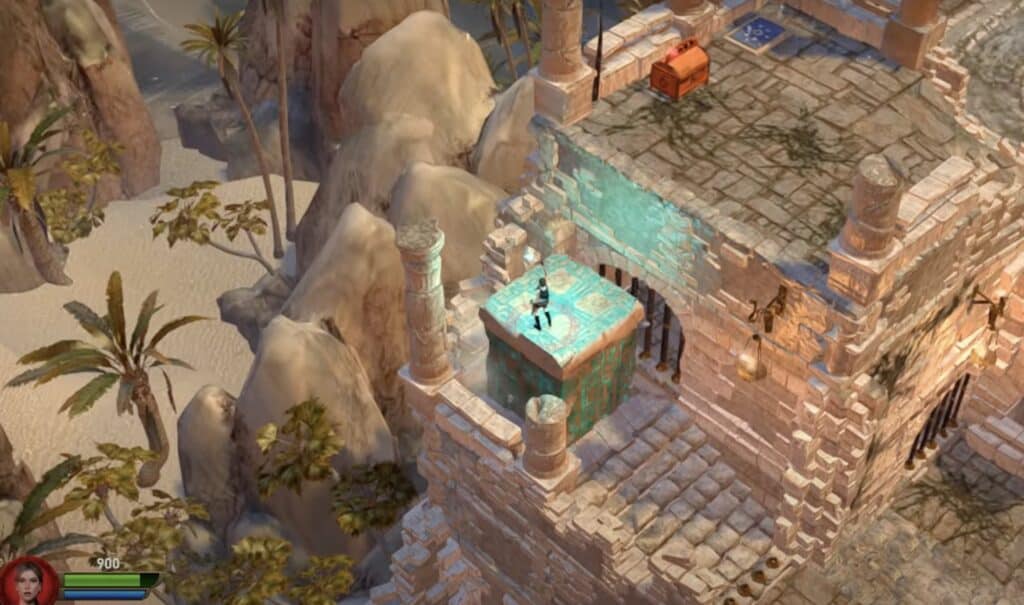 Guardian of Light is the first of the pair of games that go together in the timeline. The game dropped in 2010 from Crystal Dynamics and Square Enix Europe. It's available for PlayStation 3, Xbox 360, PC, Android and iOS. The game is arcade-style, where the player progresses on stages with a stationary camera.
In this game, Lara is trying to find the Mirror of Smoke and stop the spirit of Xolotl. Lucky for her, she gets to team up with Totec, an ancient Mayan warrior. The game allows for two-player co-op, so Totec and Lara can work together to conquer the 3D levels. Lara can play alone, and another player can drop in as Totec anytime.
Each character has unique weapons and abilities, including Lara's dual pistols, spears, bombs, and a grappling gun. The pair solve puzzles and traverse areas by working together. As the game progresses, Totec learns how to use her tools and weapons from Lara.
The well-received game and its sequel are spinoffs as they don't align with the other major storylines and employ unique gameplay.
Lara Croft and the Temple of Osiris (2014)
Temple of Osiris is the sequel to Guardian of Light, released by Crystal Dynamics and published by Square Enix Europe. It's available for PlayStation 4, Xbox One, PC, and Nintendo Switch. Osiris is a non-linear arcade game like the first game in this mini-series. 
The camera is stationary in the game, and the characters battle on the stage together. This game lets you play as Lara, her sometime rival Carter Bell, and the Egyptian gods Isis and Horus. The storyline has the four battling against the Egyptian chaos god Set. Each character has their own look, weapons, and style. A DLC pack released later adds new outfits, items, puzzles, and enemies.
​​Lara Croft: Relic Run (2015)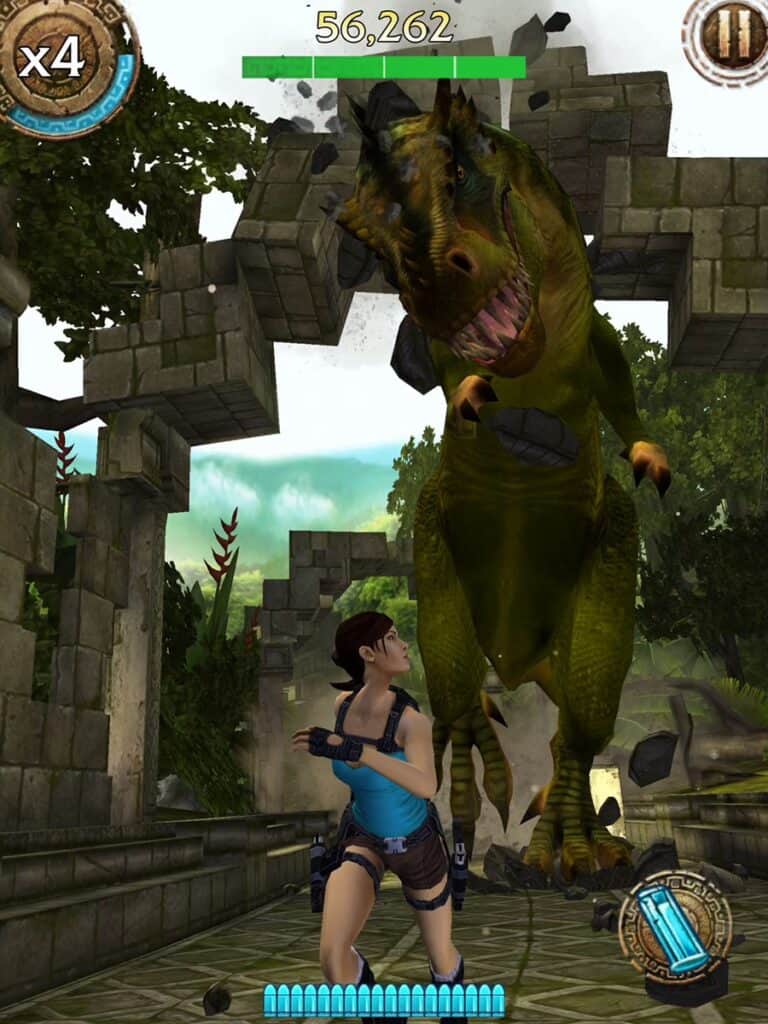 This game is part of the Lara Croft mobile trilogy with Reloaded and Lara Croft GO. It debuted in 2015 from Simultronics and publisher Square Enix Europe for Android, iOS, and Windows. The game is a mobile-only, endless runner meant to allow play and Tomb Raider anywhere you bring your phone. 
Its placement on the timeline is due to it looking like the original games and drawing heavy inspiration from some of its levels. It also references Carter Bell, a playable character in Lara Croft and the Temple of Osiris. In the game, Bell is missing, and Lara is on a journey to find him while uncovering a larger conspiracy.
The gameplay involves navigating environments, dodging traps, and using parkour-like moves. Lara can jump, slide, and run to get through stages and around obstacles. She will also still have to stop to fight enemies that get in her way. Yes, she does have her dual pistols. Yes, she can use vehicles to get through levels, and lastly, yes, there are giant monster bosses.
Lara Croft GO (2015)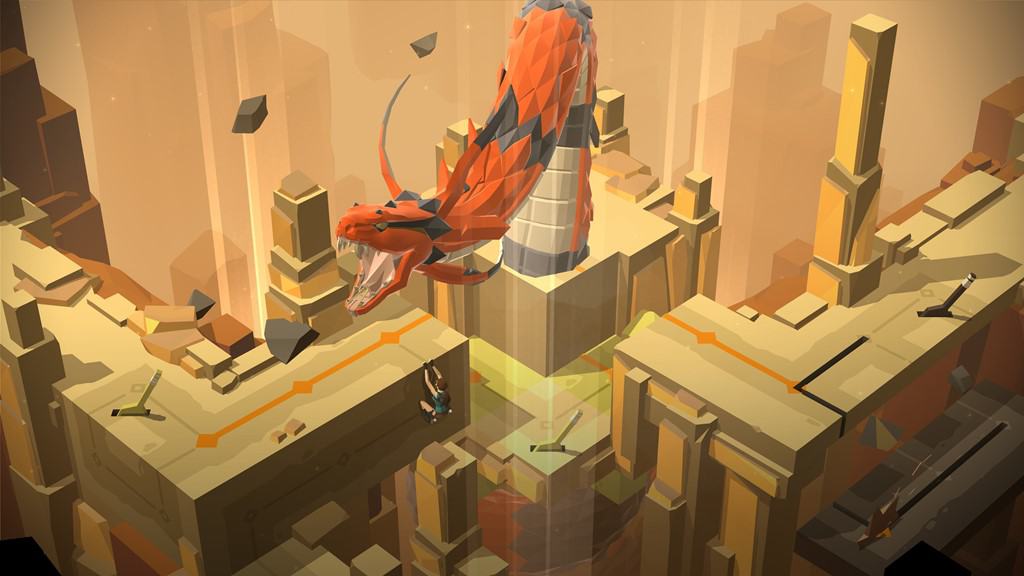 GO is a unique entry in the Tomb Raider series and a part of the mobile trilogy. It debuted in 2015 from Square Enix Montreal and publisher Square Enix for Android, iOS, Windows, PlayStation 4, and PC. This puzzle game is not free but costs about $5.
In this game, though, Lara is a puzzle piece on a giant board game. You will take turns moving her and waiting to see what the computer does to move against her. There is still climbable terrain, boulders to dodge, and traps to navigate as you move through the board. You will still have to fight enemies such as giant spiders and snakes, so it's a good thing there are weapons Lara can grab and use as well.
In this adventure, Lara is looking for the Atlas of Beyond. Despite its unique style, the game still resembles a mix of other Tomb Raider games.
Tomb Raider Reloaded (2023)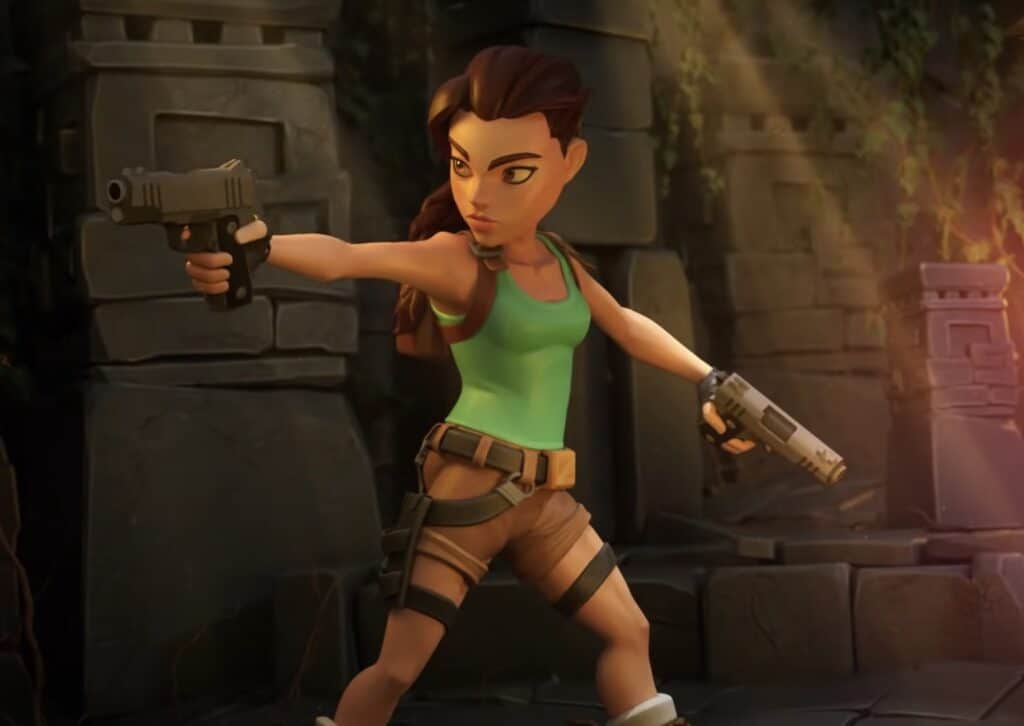 Reloaded is another entry that is somewhat up to interpretation in the timeline. This free-to-play game from Emerald City Games and publisher CDE Entertainment dropped in 2023 for Android and iOS. It is the most recent Tomb Raider game, and strictly for mobile devices. It's a top-down shooter with a cartoonish Lara Croft that resembles the original games. One reason for this essentially standalone story landing here on the timeline is Lara searching for Atlantis, like in the first Tomb Raider game.
Tomb Raider (1996)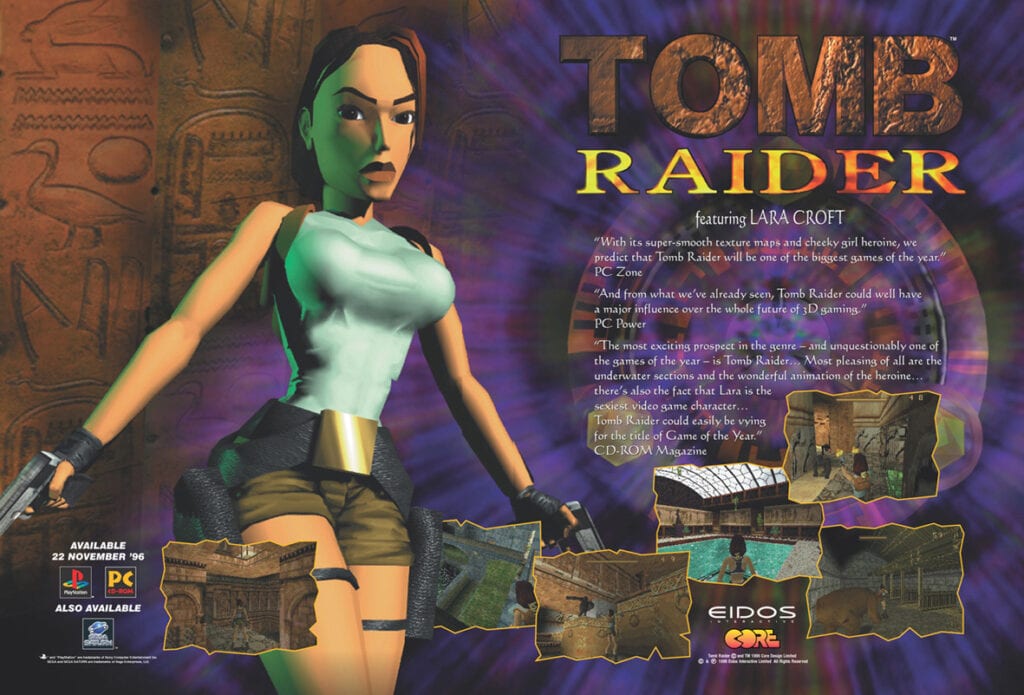 Officially, when looking at the main games, after the prequel Survivor trilogy, it's time to move on to the original saga. This Tomb Raider Game is the first ever, debuting in 1996 from Core Design and Eidos Interactive. This iconic first outing is available for Pocket PC, Sega Saturn, MS-DOS, Mac OS, N-Gage, PlayStation, PlayStation 3, PSP, iOS and Android. The game is a third-person adventure with puzzle solving, gunplay, and terrain traversing.
Lara Croft is an archaeologist hired by a businesswoman to find the Scion of Atlantis. This powerful artifact is now in three pieces, which various rulers of Atlantis previously used. In the game, Lara must use her dual pistols to battle enemies, including animals and henchmen, as she navigates dangerous areas by climbing and swimming. Her dual pistols have infinite ammo, but other guns are also available.
In 1998, Tomb Raider: Unfinished Business debuted as an updated version of this first game with two extra chapters.
Tomb Raider II (1997)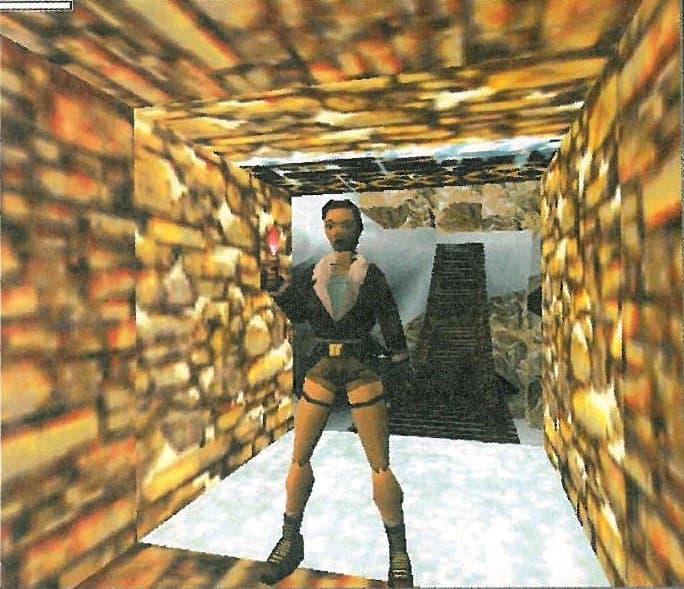 The second game to release in the franchise is more of the same. It dropped in 1997 from Core Design and Eidos Interactive for PlayStation and Windows. Tomb Raider II later expanded availability to PlayStation3, PSP, iOS, and Android. The game continues the saga's style of third-person action adventure with Lara dual-wielding her pistols.
This game details Lara's quest for the Dagger of Xian, which can turn its wielder into a dragon. While searching for the Dagger, she must battle an Italian cult willing to die to get it for their leader.
This game includes more gunplay and adds drivable vehicles. It also expands on Lara's moveset for getting around and battling enemies. New weapons for Lara to dispatch enemies include a harpoon gun and grenade launcher.
Tomb Raider III (1998)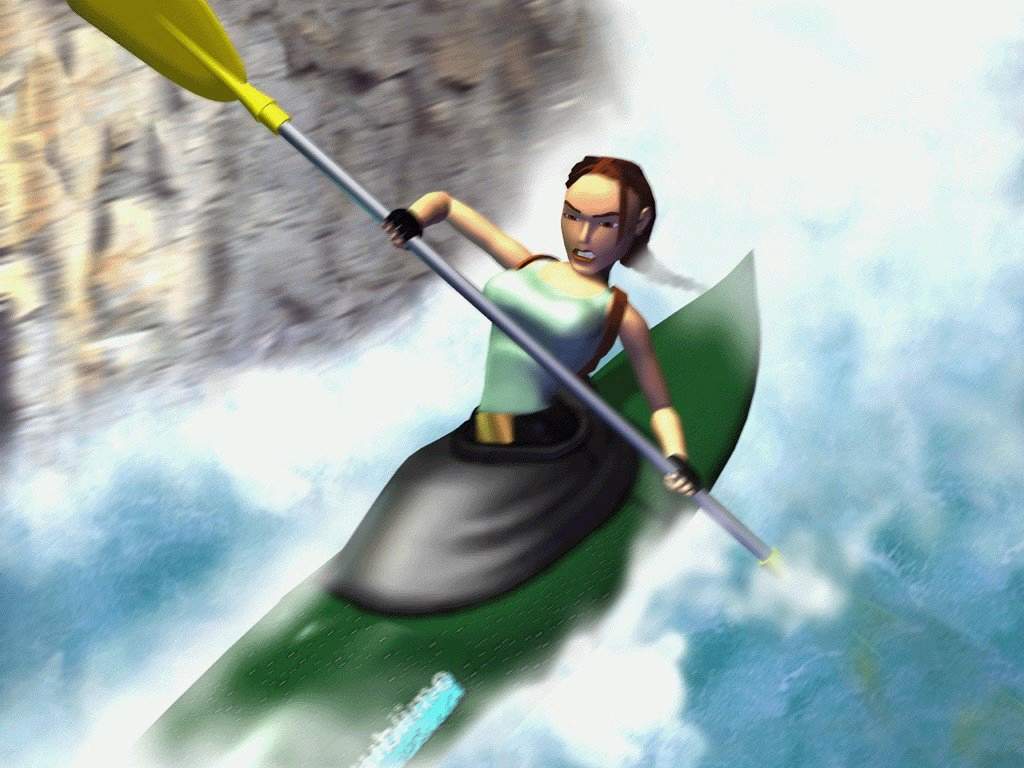 The third entry in the franchise adds more to the standards set by the previous games. This title debuted on PlayStation and Windows and then expanded to PSP, PlayStation 3, and Mac OS. Tomb Raider III focuses on more puzzle solving and battling villains but adds in a stealth element.
The villains in this game have updated AI, making them more exciting and challenging. Lara also has more moves up her sleeve to battle and avoid enemies such as duck, dash, and crawl.
Lara is on a quest to find four pieces of a meteorite that have changed hands through history and are now artifacts. A company hires Lara, who, unbeknownst to her, wants the meteorite to perform mutations.
Tomb Raider: The Last Revelation (1999)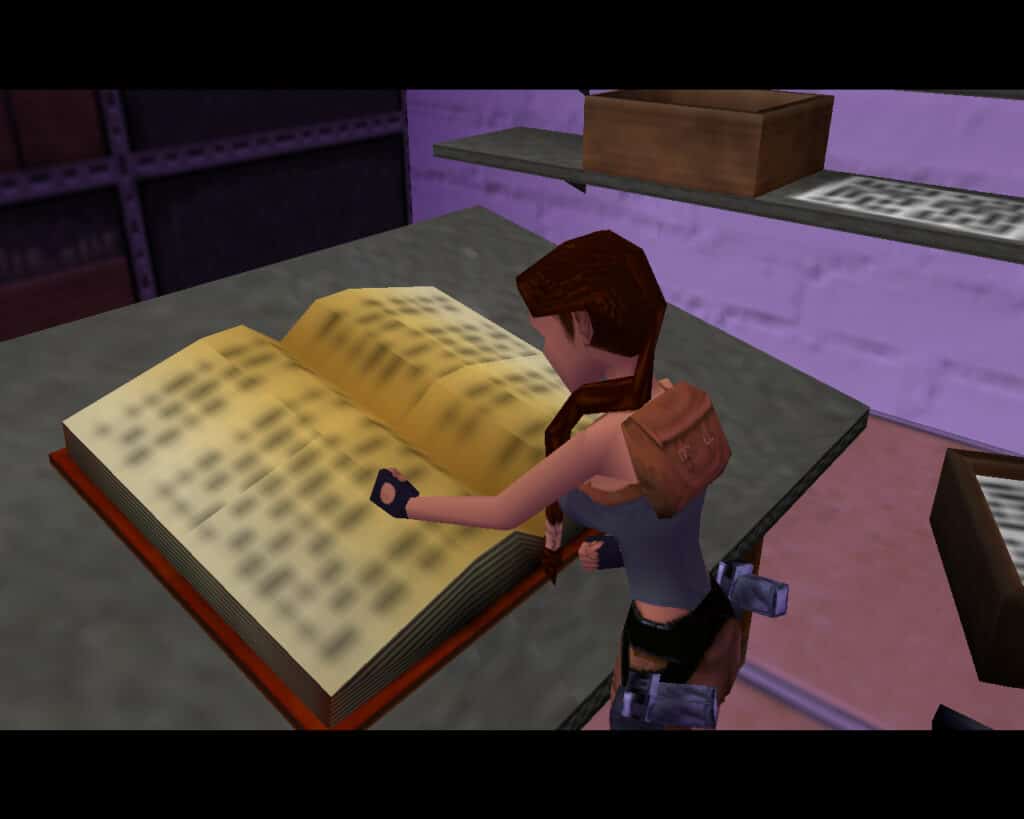 The Last Revelation is the fourth entry in the original Tomb Raider saga released for PlayStation and Windows, and later Dreamcast, Mac OS, PlayStation 3, and PSP. The game follows the same style as the previous original saga games. You play as third-person Lara and fight off enemies while solving puzzles. The drivable vehicles return, including a motorcycle with a sidecar.
Though the game is mostly the same, some additions include tools like binoculars and crowbars, new movements like aiming a scope and climbing up ropes, and new weapon add-ons like laser sights. There is also a downloadable standalone level as part of the promotional campaign in the UK involving a real UK newspaper. In Tomb Raider: The Times Exclusive, Lara visits The Times headquarters before heading to Egypt.
Tomb Raider Chronicles  (2000)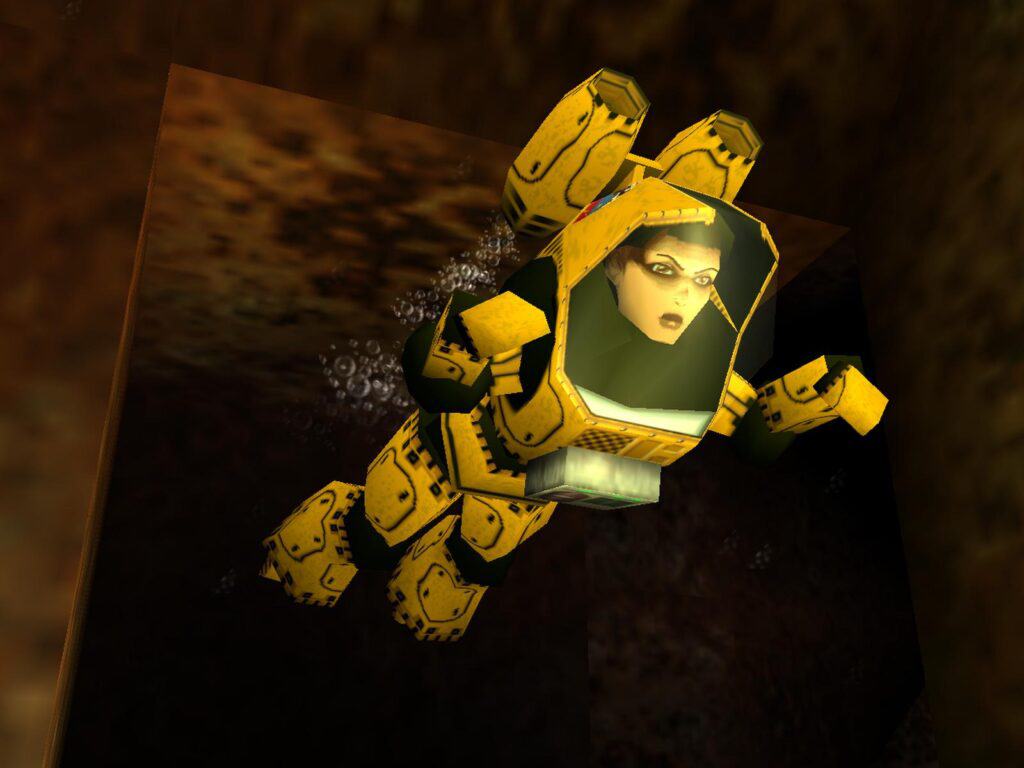 Chronicles from developer Core Design and publisher Eidos Interactive is a direct sequel to Revelation. It dropped on Dreamcast, Windows, and PlayStation a year later and eventually expanded to PlayStation 3 and PSP. The game follows the story from Revelation and uses most of the same gameplay elements. Unfortunately, this game underperformed and is considered a low point of the Tomb Raider franchise.
The story and game surround three friends of Lara's telling stories about her old adventures at her memorial. Their tales flash back to different locations where you will play as Lara. In the stories, Lara hunts for the Philosopher's Stone, the Spear of Destiny, and faces off against an island of monsters.
Notable additions to this game are Lara's grapple gun, her ability to walk on a tightrope, and swinging from poles. Windows later released a level editor where you can create your own Tomb Raider levels.
Tomb Raider: Angel of Darkness (2003)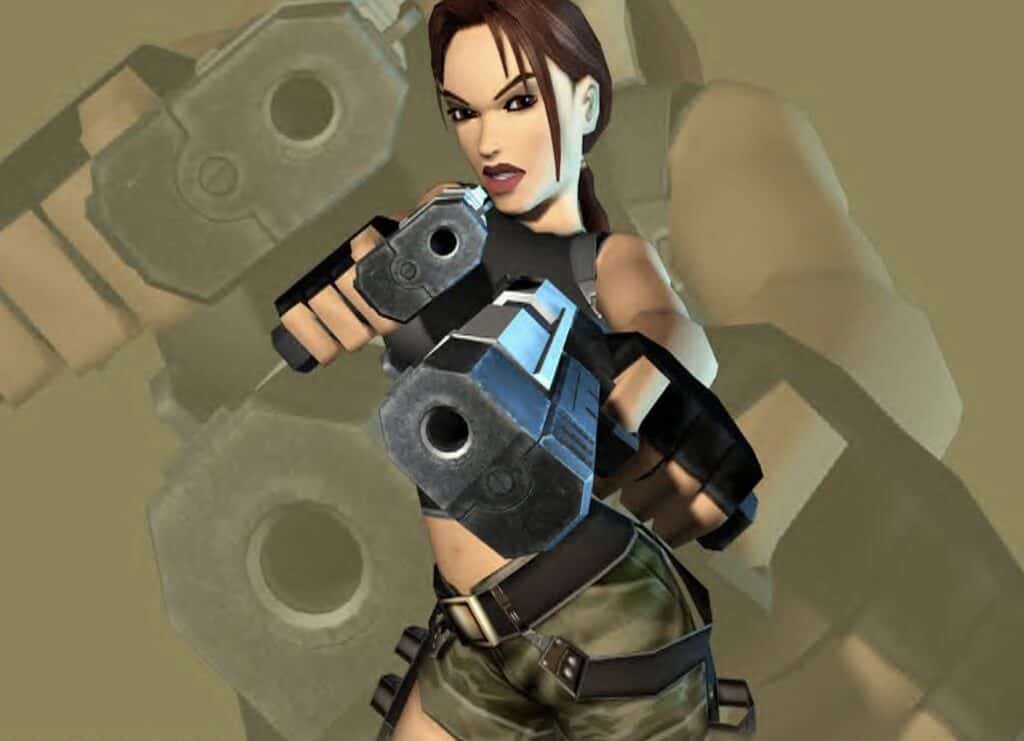 Angel of Darkness is the last game of this era and the original saga. This entry, available for PlayStation, Windows, and Mac OS, is the last from developer Core Design paired with publisher Eidos Interactive. It's once again a third-person action and puzzle game and keeps much of the gameplay from the previous game while adding more.
New additions to this game are moves like super jump, hand-to-hand combat, and stealth attacks. Lara also gets some interesting new weapons, like a stun gun. A significant note is that the game also adds a second playable character for the first time in Kutis Trent.
The story surrounds Lara investigating the murder of a mentor and trying to prove she's not responsible while trying to stop a hostile ancient race from returning. The game is an attempt at the start of another trilogy, but it didn't do well due to poor controls and camera issues.
Tomb Raider: Legend (2006)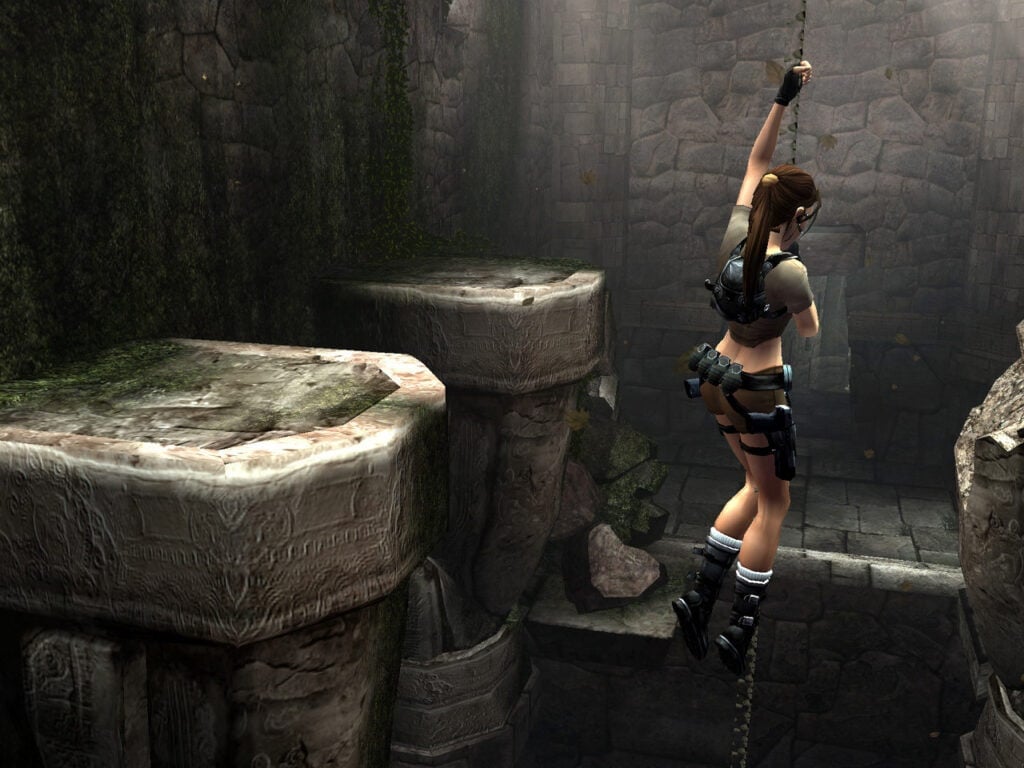 Legend is the first Tomb Raider game from new developer Crystal Dynamics paired with publisher Eidos Interactive. It debuted in 2006 for PlayStation 2, Xbox 360, Windows, PSP, Gamecube, and later PlayStation 3. It is the first reboot of the Tomb Raider franchise and is considered a commercial success.
The story follows Lara as she hunts for the legendary sword Excalibur while facing off against Amanda, a former friend who is also after it. The third-person game consists of eight levels filled with action, puzzles, and combat. Most movements and items from previous games return with a few additions. Lara can now pick up secondary weapons with limited ammo alongside her dual pistols with infinite ammo. The game also adds an interesting time-slow element while performing jump attacks.
Tomb Raider: Anniversary (2007)
In 2007, developer Crystal Dynamics and publisher Buzz Monkey Software released Anniversary. The entry is a remake of the first Tomb Raider game but still has some connections with Legend. The third-person adventure is available for PlayStation 2, PSP, Xbox 360, Windows, Wii, Mac OS X, and PlayStation 3.
There are more options, abilities, weapons, and better graphics than in the original game, as this title incorporated some previous titles' advancements. Overall, the game is seen as a decent attempt at a remake but is still the worst-selling game of the franchise.
Tomb Raider Underworld (2008)
Underworld is the third in the Legend trilogy and picks back up where Legend left off. The game from developer Crystal Dynamics and publisher Eidos Interactive is available for Play Station 2, PlayStation 3, Xbox 360, Windows, Wii, Nintendo DS, and Mac OS X. This ninth overall game in the franchise recovers from the failure of Anniversary but isn't a standout for the franchise.
In the game, Lara is searching for Mjolnir and her missing mother while facing off against her former friend Amanda again. Notable additions include a ridable bike and Lara having access to 7 weapons at a time. The new weapons include fun options like sticky grenades and a tranquilizer gun. Lara also has a PDA, which provides a 3D map and hints to use in the game.
Extra downloadable episodes Beneath the Ashes and Lara's Shadow take place after the story and dive deeper into the doppelganger of Lara that appears in the game.
Tomb Raider (2000)
This single-player Game Boy Color game is the first handheld entry for Lara and is considered a spinoff. It dropped in 2000 from developer Core Design and publisher Eidos Interactive, who also paired to create the original Tomb Raider games released during this time. The game is a side scroller, but Lara still uses similar moves from the main games.
In the game, Lara finds a manuscript that tells of a Nightmare Stone. On her quest for the stone, she must stop the release of the spirit of King Quaxet, an ancient enemy of the Incans, Mayans, and Aztecs. The game feels like another Tomb Raider adventure, yet not connected to any previous game.
In the game's fourteen levels, Lara will use a combination of action moves like cliff diving and ledge grabbing, combat, and puzzle solving.
Tomb Raider Curse of the Sword (2001)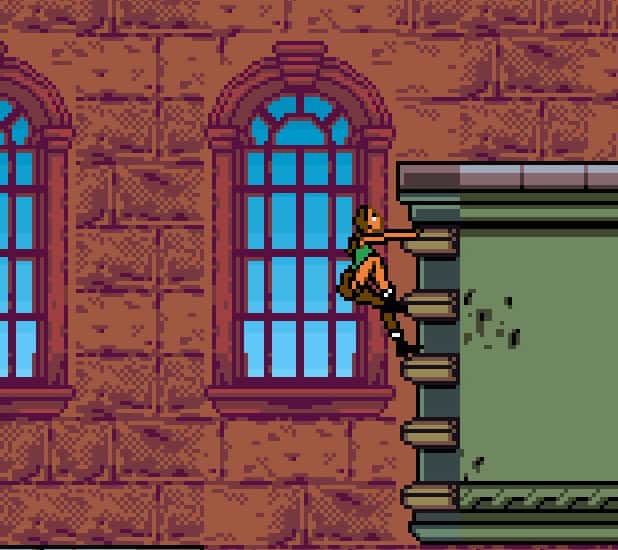 Curse of the Sword is the second in the Game Boy trilogy. It dropped from developer Core Design and publisher Activision in 2001 for the Game Boy Color. It's a side scroller and a direct sequel to Tomb Raider for the Game Boy.
While the gameplay is the same, the cast of characters and quest is new. This adventure sees Lara trying to stop the reincarnation of a dark magician trying to involve her in the process. In this story, the magician's old haunt is New Orleans, so Lara spends more time in American cities rather than exotic locales.
Tomb Raider: The Prophecy (2002)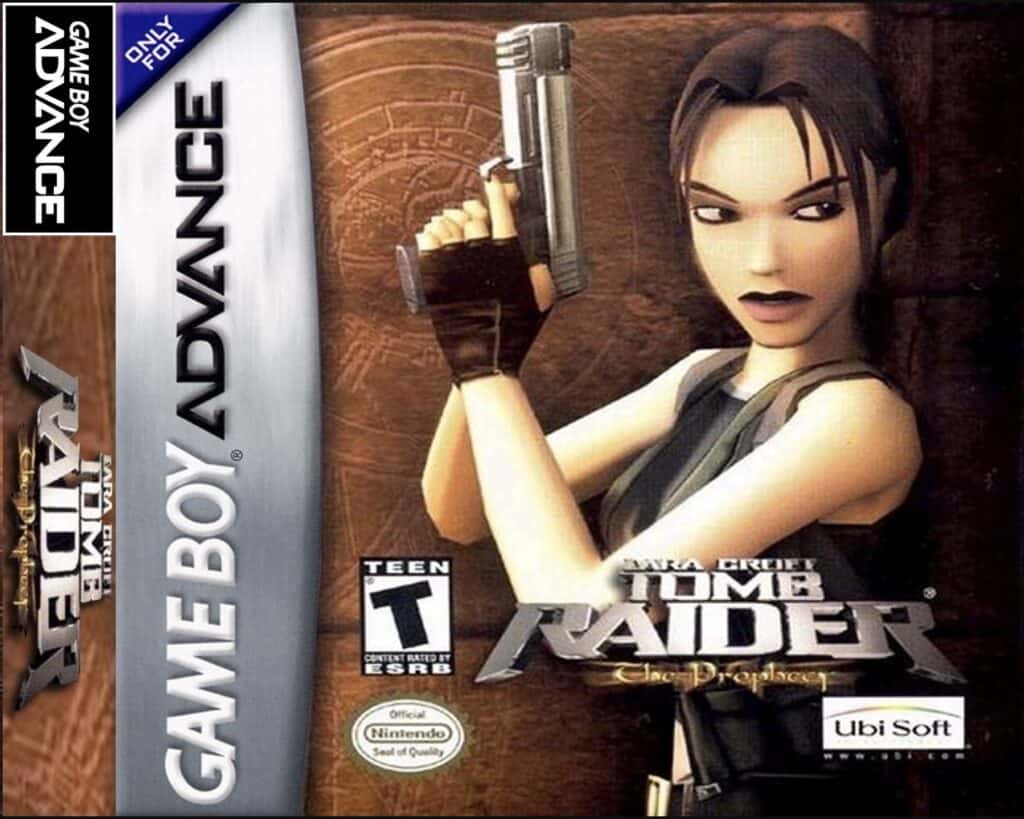 The third entry in the Game Boy trilogy is 2002's The Prophecy for Game Boy Advance. This game takes a step away from the previous two Game Boy entries and is no longer a side scroller. Instead, the view is from the third person above Lara, looking down on the stage as she progresses.
This entry from developer Ubi Soft Milan and publisher Ubi Soft is the first to use the unique view for a Tomb Raider game. There's a new combat style, too, since the game is from a different perspective. Lara can still run, climb, and shoot her dual pistols. The story involves racing the Teg-du-Bhorez cult to three magical stones that will revive an ancient being when brought together. The game received mixed reviews for being somewhat repetitive.
Tomb Raider Game by Saga
Original Saga
Tomb Raider (1996)
Tomb Raider II (1997)
Tomb Raider III (1998)
Tomb Raider: The Last Revelation (1999)
Tomb Raider Chronicles (2000)
Tomb Raider: Angel of Darkness (2003)
Game Boy Saga
Tomb Raider (2000)
Tomb Raider: Curse of the Sword (2001)
Tomb Raider: Prophecy (2002)
Legend Saga
Tomb Raider: Legend (2006)
Tomb Raider: Anniversary (2007)
Tomb Raider: Underworld (2008)
Lara Croft Saga
Lara Croft and the Guardian of Light (2010)
Lara Croft and the Temple of Osiris (2014)
Mobile Saga
Lara Croft GO (2015)
Lara Croft: Relic Run (2015)
Tomb Raider Reloaded (2023)
Survivor Saga
Tomb Raider (2013)
Rise of the Tomb Raider (2015)
Shadow of the Tomb Raider (2018)
Tomb Raider Games in Release Order
Tomb Raider (1996)
Tomb Raider II (1997)
Tomb Raider III (1998)
Tomb Raider: The Last Revelation (1999)
Tomb Raider Chronicles (2000)
Tomb Raider (2000)
Tomb Raider: Curse of the Sword (2001)
Tomb Raider: Prophecy (2002)
Tomb Raider: Angel of Darkness (2003)
Tomb Raider: Legend (2006)
Tomb Raider: Anniversary (2007)
Tomb Raider: Underworld (2008)
Lara Croft and the Guardian of Light (2010)
Tomb Raider (2013)
Lara Croft and the Temple of Osiris (2014)
Rise of the Tomb Raider (2015)
Lara Croft GO (2015)
Lara Croft: Relic Run (2015)
Shadow of the Tomb Raider (2018)
Tomb Raider Reloaded (2023)