We hear a lot about products that companies make "for women." Women's disposable razors are basically just a different color. Bic had a For Her line of pens where the main difference was one was pink . It kind of makes you real hesitant. But then, sometimes we have companies like Turtle Beach where it introduces a gender neutral product, but also uses its launch as an opportunity to do good and be more welcoming. The Turtle Beach Ear Force Recon Spark is many things. It is an introductory headset at a reasonable price. It's also a chance to be more welcoming.
It's best to think of the Ear Force Recon Spark as giving the sort of sound and support someone needs, without making them think too much about what level of performance you need just yet. Rather, it is the sort of headset where you can pick up and go. It has 40mm over-ear speakers with Neodymium magnets and 100Hz-10kHz response. This means it will capture every sort of in-game whisper or soft footstep with the same level of quality. Many of Turtle Beach's offer the same size speakers, and it offers a better frequency response than the slightly less expensive Recon 70, which has 12Hz – 20kHz, which means you'll have a better job of feeling the bass when you play.
Of course, Ear Force Recon Spark also offers the sort of support and durability people would expect from Turtle Beach. The speakers have synthetic leather cushions with memory foam, so they'll contour to your ears and be comfortable for long gaming sessions while blocking out sound. They'll even be comfortable if you wear glasses, since they have ProSpecs technology that puts softer foam where the temples meet your head and ears. It keeps the speakers from pressing in. That same sort of cushioning with fake leather cover is also present over the metal reinforced headband, to keep it from digging in. They also have a white and purple color scheme, which is more neutral than anything. The purple hue is used as an accent, so it isn't the main focus, and it would match perfectly with white consoles like an Xbox One or PS4.
Ease of use is real important too. This is supposed to be a headset for people who might not be sure which one is right for them or want to spend too much money. So, you don't have to worry too much about the mic. You just flip it up to mute it. If you want to control the volume, just reach your hand up to the speaker. The controls you need are on your ears. Worried about what system it will work with? It has a 3.5mm jack that works with every current console and PCs. Mobile devices are fine too. It's the sort of thing where you buy it for $49.95, then don't have to worry about it.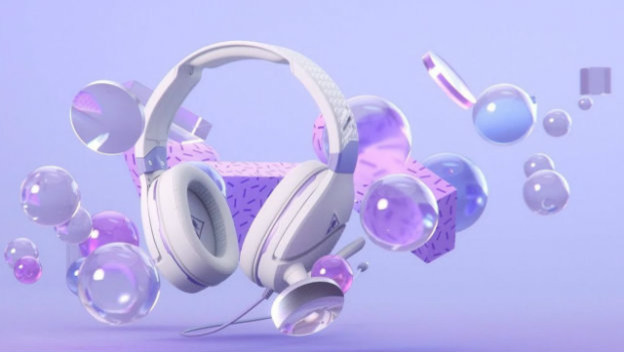 With all of that, someone might wonder why this might get marked as a product just for women. It's because of the connection associated with it. As part of the promotion for it, Turtle Beach became a sponsor for the 2019 Super Girl Gamer Pro Event in Oceanside, California. It was a free festival with CS:GO, League of Legends , Fortnite, Hearthstone, and Super Smash Bros. Ultimate tournaments with Lenovo, ROCCAT and Turtle Beach products as  prizes. While anyone could enter, women were given a priority to enter in the events. The Ear Force Recon Spark was there to try out, since it is new, and the Elite Atlas headsets were there for the competitions.
The Turtle Beach Ear Force Recon Spark seems like the sort of headset for anyone who is thinking, "You know, I need a headset, but don't know exactly how intricate it needs to be yet." It is affordable, when it comes to these kinds of peripherals. It has a good frequency response and the kinds of accommodations to make it more comfortable to use. It works with everything. Plus, it is in an appealing color scheme. It's the sort of device that anyone could favor, and Turtle Beach helped promote it by supporting an event that encourages women in esports environments. It could be a win all around.