As anyone even remotely interested in video games knows, last week was the busiest week in gaming. E3 2014 descended upon the LA Convention Center and, as always, it was a huge event. However, most people only realize what it's like to be a man attending E3. As a woman whose been to E3 four times now, I've found there are quite a few things that stand out when it comes to experiencing the big show.
First, the obvious–you're surrounded by men. I'd say it's usually a 10-1 discrepency, sometimes even 20-1. It's not a bad thing, but it may come across as a bit surprising, initially. Also, I will say that the distribution has gotten better over the last few years. There are more women in the industry and attending than there were back at my first E3 in 2010.
The fact that the population is made up in such a way means that people are going to treat you a bit differently as well. I've noticed two things, specifically. First, is that LA Convention Center staff, and sometimes even PR people, may actually be a bit kinder to a female attendee. This year, I noticed myself getting "sweetie-d" and "honey-ed" a lot. I actually kept count on my last day, before I left for the airport at 1pm, and had been referred to by a term of endearment 8 times. It was never condescending, and usually happened after I'd said hello to one of the LA Convention Center employees, wished them a good day, or thanked them. I also found if a fellow attendee bumped into me when journeying through the halls, I was more likely to get an apology than my male companions.
It also may mean different attention from workers at the LA Convention Center. I found if I stopped by a booth where both men and women were working to assist attendees, I'd usually be approached by another woman. It wasn't just to discuss the game either. When I visited the Nintendo booth, I talked with one of the women for five minutes about her shoes, boots with a 1cm wide, 3in tall heel (I said she was some kind of hero for making it through E3 wearing them. She said that they didn't really hurt, but did make the ball of her foot go numb.)
Interestingly, I didn't find myself getting special treatment at booths' demo stations because of my gender. The people manning it wouldn't go out of their way to explain how a game worked to me, just because I was a woman. Instead, I'd get the same spiel as anyone else. "Are you familiar with the series?"/"Have you heard of this game before?" Depending on my reply, I'd either receive a brief explanation, or exchange business cards and hear that the representative would be over "there" if I had any questions.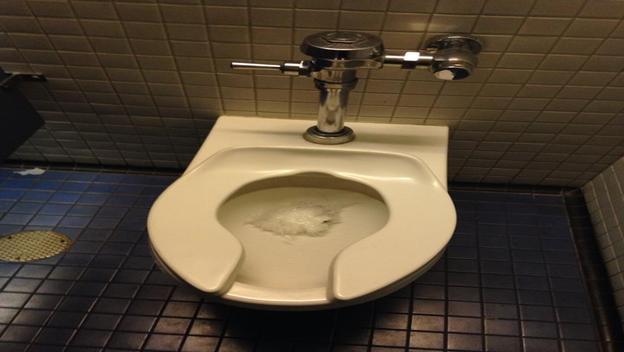 Honestly, what stood out most for me was the bathroom situation. As someone who has been to various comic and anime conventions, I know that there's almost always a line. Not so at E3. Because of the attendee population, a woman going to the bathroom will be in and out far quicker than any of her male companions or coworkers. However, this year there was a downside. Due to a combination of misfiring, automatic flushers and low flow toilets, stuff wasn't going down the hole. The bathrooms were pretty near disgraceful, and when I finally found a single toilet near the South Hall that was pristine, I was tempted to stick an "Out of Order" sign on the door and claim it as my own.
So there you go. You now have some idea of what it's like to be a woman at E3 2014. Fortunately, I've never encountered any situations with disrespectful, rude or hurtful people. Rather, I've found that the attendees of the convention are largely polite and intelligent people, and often quite friendly too. In fact, in all my years of attending events similar to this, I'd say people are far more likely to strike up a lasting friendship at E3 than anywhere else.